Featured in
Ohnmacht als Situation. Democracia, Revolutie & Polizey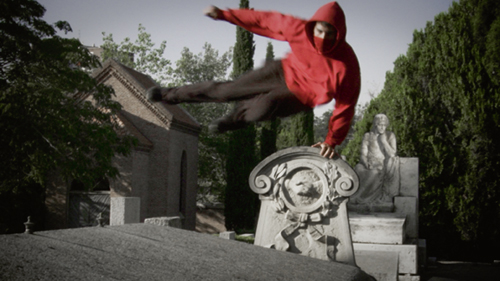 How can artists manipulate, and ultimately navigate their way out of, political impotence? Curator Holger Kube Ventura poses this question in the catalogue for Powerlessness, a Situation. Democracia, Revolutie & Polizey, two solo exhibitions and an accompanying event series (Polizey) which ran from June to August of this year at the Frankfurter Kunstverein.
The first exhibition Democracia was devoted to Madrid-based artist group Democracia, founded in 2006 by Pablo España and Iván López. As showcased here, the group's interventionist practice has brought them from French football fields to Madrid graveyards. The latter was for Ser y Durar (Being and Withstanding, 2011), a three-channel video showing men in red Democracia-designed sweatshirts nimbly practicing Parkour on top of gravestones.
This gesture feels dangerous. Young men wearing brash, red hoodies – an item layered with negative connotation – recapturing, with loping grace, a corner of their city. Added to this, as soon becomes clear, the cemetery they have chosen houses Franco-era leftists and Marxists.
But while this display is provocative, what it means to say or achieve exactly is left unclear. The reason for this could perhaps be found written on a nearby print in the installation: 'Boredom Is Always Counter-revolutionary.' Ser y Durar suggests that merely doing the unexpected can be more powerful than overt political statements. Similarly, for the video Ne vous laissez pas consoler (Don't Allow Yourself to Be Comforted, 2009) Democracia partnered with Bordeaux football fans to create shirts emblazoned with provocative statements like 'The Truth Is Always Revolutionary'. They also printed these on banners, which, when raised, overwhelmed the usual stadium advertisements.
Todos sois culpables salvo yo (2007) is controversially a monument to a suicide bomber with the message 'You Are All Guilty Except For Me' written at its base. The words shift focus away from the monumentalized bomber, primed for action, and instead accusatorily address the passive spectator. The counterpart Victima (2009) is a memorial to victims of ETA terrorism made for the Basque Parliament. A gold-plated cast in the shape of a blanket atop a corpse is paired with two large-format photographs of the sculpture laying on the parliament floor as VIPs and photographers look on in immobilized, almost grotesque, fascination.
While Democracia's pieces demonstrate the revolutionary (or counter-revolutionary) potential in the everyday, the artist duo behind Revolutie, Romanian Mona Va˘ta˘manu and Swiss Florin Tudor, seem far more skeptical of 'revolution'. Revolutie took real, historical revolutions as its theme, and by examining their legacies questioned the effectiveness of the revolutionary impulse. Oil paintings Riots (2009) depict clashes between policemen and demonstrators, but leave the outcome and victor unclear. Nearby, is a rug printed with a news still of 2008 rioters in Athens facing off with police around a Christmas tree in a city square. Next to the rug sits a white, artificial Christmas tree surrounded by tinsel and trash.
The film Procesul (The Trial, 2004) pans over muted communist-era apartment blocks in Bucharest while an emotionless voice reads the transcript of Romanian dictator Nicolai Ceausescu's 1989 trial. Compared to Ser y Durar, the video is halting and slow, as though the historic neighbourhoods were not yet ready for the kind of playful treatment seen in Democracia's piece. In the video Rite of Spring (2011) children set poplar blooms on fire (a nod to a seasonal Romanian ritual) near Bucharest's Parliament. Seconds later, the flames of this small revolution literally, and indeed symbolically, go out.
Revolutie, though compelling in its own right – save for Dance of the Earth (2013), an original installation whose meaning would be impossible to gauge without the catalogue explanation – was anticlimactic after Democracia. Democracia's contributions respond to the question of powerlessness by transforming ordinary moments into opportunities for upending social order; Tudor and Va˘ta˘manu, on the other hand, seem unconvinced about the real change such gestures can affect. Though it likely fostered excellent discussion in the accompanying talks, the pairing of these perspectives in a freestanding exhibition felt somewhat incongruous.