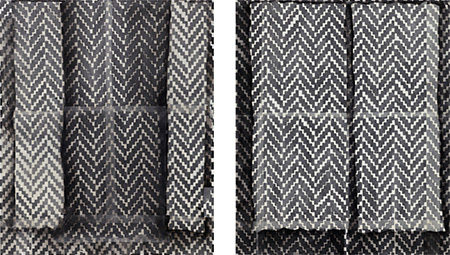 The poster for Phoebe Unwin's recent exhibition at Wilkinson Gallery, 'The Presence of People and Shapes', was a painting titled Photograph (2013). A dappled grey plane, washed with Indian ink on one side, hosts several semi-figurative forms: a scalloped edge, a pair of white trouser legs and a dark rectangle with a masking-taped border and the distinctive dimensions of a 5 × 7 photograph. The shape draws the eye into the centre of the painting, where the sense of absence, enhanced by the visual allusions to a photogram, points to Unwin's uneasiness about photography's pretensions to render experience. As she once noted in an interview, 'photographs provide too much information; too many details'. In an age when image consumption is at an all-time high (84 petabytes of photo content were uploaded onto Facebook last year alone), we risk seeing nothing at all. The work brought to mind Gertrude Stein's famous words about her hometown of Oakland, California, that 'there is no there there', perhaps because the artist seems to share her irreverent attitude towards received sites of significance. The selection of Photograph for the Wilkinson poster was both ironic – in that Unwin is known for never using photographs as source material – and self-conscious, given the problems posed for painters by having their work flattened and distributed in digitized form.
Unwin attracted significant attention after completing her MFA at the Slade in 2005, witha solo exhibition at Milton Keynes Gallery in 2007 and the acquisition of her work by the Tate. Her inclusion in 'British Art Show 7: In the Days of the Comet' (2011) rescued her from being lumped in with the so-called 'London School of Painting' (a group of London art school graduates, characterized by Anthony Byrt in Artforum for their 'semi-naive, figurative approach') animating the concerns that she shares with contemporaries working across other media, such as Juliette Blightman: namely, the matter of how we feel and perceive everyday experiences and the encroachmentof technology upon our modes of cognition.
There were five other works on display in the downstairs space, and the grandest two, Curtains and Curtains Open, Curtains Shut (both 2013), offered a subtle return to this theme. The impressive canvases (each more than two metres wide) were hung around a corner, as if demarcating a domestic room. The simplicity of the titles belies the complexity of the compositions, in which two strips of geometric-patterned material are depicted against a backdrop of the same pattern beyond. The textured surfaces – layered with acrylic, glassine paper, pastel and Indian ink – hark back to a history of painters jostling to flaunt skill through their painstaking execution of fabric, while the monochromatic designs reference Op Art, a movement fixated with the fallibility of vision.
As a feature on Op Art in Time magazine asserted in 1964 (the same year the phrase was coined by sculptor George Rickey and a year before 'The Responsive Eye' at MoMA), 'eyes are not windows […] they can be baffled, boggled and balked. They can see things that are not there and fail to see things that are'. Accordingly, Unwin is an artist who paints with a greatdeal of intuition, creating a sensual impression of her subject. As she has explained, 'it's about the essence of an object, the physicality ofit, or maybe the temperature of it, or the space around it'. The result is most affecting in her portraits, which tend to be painted on a life-sized scale. The Same Person (2013) has the bravado of the great colourist Howard Hodgkin, while Mirror Portrait(2013) appears as if Unwin has captured her own reflection in Roy Lichtenstein's Mirror #10 (1970), complete with dazzling blue Ben-Day dots. Across all of these works there is a relishing of materiality – exposed canvas edges set against a parade of processes, from thick, slow-drying blocks of opaque colour to quick sprays of paint – which implicates the artist's physicality in her work, and suggests the importance of privileging somatic intelligence over sight. Looking at her works, I thought about Picasso's famous portrait of Gertrude Stein (1905–06), in which he painted her face some 90 times, before painting the whole head out and, as Stein recalled in 1932, declaring irritably that, 'I can't see you anymore.' Stein's advice was simple: 'paint what is really there. Not what you can see, but what is really there.' You have to give it to Unwin – there is certainly some there, there.