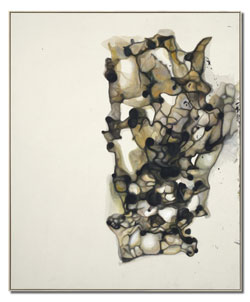 There was something cosy and homespun about Sergej Jensen's recent solo exhibition 'Arbeiten und ein Feuerwerk' (Works and a Firework). The gallery floor was strewn with rag rugs, and the walls were decorated with paintings in muted, harmonious tones – Arbeit II (Work II, 2004), for example, consisted of coarse, dusty, pink hessian with a mountain range painted on it in black. In the middle of one wall a log-laden fireplace originally built for a different exhibition some time ago was again uncovered and put to use, and alongside it a built-in television flickered. It was hard to resist the impression that, rather than being in a gallery, you were standing in the living-room of a mild-mannered, ecologically minded, art-friendly, even vaguely hippy-ish household whose idealism and taste in textiles dated back to the 1970s.
For the last few years Jensen has been showing with more regularity textile works and paintings made by sewing, staining, bleaching, stretching and sometimes dabbing little marks on attractive found fabrics. When colours did appear in this exhibition, they were nearly always subdued autumnal or natural-dye hues, such as those in O.T. (Socke) (Untitled, Sock, 2004), a sweet-looking visual pun that is at once a stitched-together Colour Field composition and a depiction of a green- and red-striped sock. With their cultivated fragility, poetic emptiness and unassuming subtlety, it's easy to imagine these works being overlooked in a crowd or overwhelmed if treated badly. There's probably a lot to be said for using abstraction, as Jensen does, in a manner devoid of machismo and in a completely non-power-seeking fashion.
Despite their radical bareness and shabby elegance, however, taken in isolation, some of Jensen's works are in danger of being downright pretty. What often keeps this problem at bay is the humour and irony that the artist works into his titles or which are provided by extraneous information about the pieces. For example, it's important to know that the porridge-coloured linen used to make works such as Tower of Nothing II (2004) comes, in fact, from recycled moneybags. Another work, consisting of a semicircle painted on raw cloth, needs its title, Halbes Gehirn (Half a Brain, 2003), to make its point. It's quite easy, too, to miss the point of the plain rugs, which look like they were purchased from some cheap carpet shop but are in fact a kind of fake found object, manufactured by the artist from material such as his own old paintings or the cloth shopping bags you get in supermarkets in Germany. Zürich (2000), a silent Super 8 film loop transferred to video, displayed on the built-in monitor, underlined Jensen's taste for simple pleasures and basic economic realities. In this short work a man swings to the sound of a group of street musicians playing in a park by a lake, but it is only after dropping some cash into their pot that he really start to move to the groove.
For an art audience that likes to collect points by flying past well-established peaks in the art-historical landscape Jensen's work may not yet register with sufficient distinctiveness. His formal strategies have, after all, a well-known local lineage that includes Sigmar Polke, Blinky Palermo and Michael Krebber. But like the painter Stefan Müller, with whom Jensen has exhibited jointly a number of times and with whom he shares motifs and plenty of common ground, that doesn't seem to matter at all, and that's fair enough too.
If you visited the exhibition any time after the opening, all that remained of the fireworks promised by the exhibition's title were a few trails of white ash around a rusty steel corral that is an odd permanent fixture outside the gallery. Jensen invited the artist Sandra Kranich to create a display in response to his own works. Kranich took account of the noise restrictions requested by a neighbouring hospital and composed a series of sparkling explosions without too much of a bang. Of course, it's hard not to be charmed by decorative fireworks, but their delicate and whimsical quality made them a perfect companion piece – adding night visions to Jensen's textile daydreams.