On Shaky Ground
20 years after Hong Kong's handover to China, a new generation of artists dive into the city-state's unknown futures and landscapes of possibility
Situated between Macau, Taiwan and mainland China, it seems near impossible for Hong Kong and its people to defy a share in an inherent Chinese identity. And yet that's the desire of a whole new generation of Hongkongers, with a Hong Kong University survey in June finding that a mere 3.1% of those aged between 18 and 29 identify as 'Chinese'. The atmosphere is increasingly fraught: 1 July 2017 marked the 20th anniversary of the transfer of Hong Kong's sovereignty from the United Kingdom to China, an occasion which saw Xi Jinping's first obligatory visit to the city-state as president, framed by clashes between pro-democracy activists and pro-Beijing demonstrators.
'From Ocean to Horizon', a group exhibition of Hong Kong artists at Manchester's Centre for Chinese Contemporary Art (CFCCA), offers an interlude from the heavy online mediatization of the handover anniversary, and in turn, reinforces the complex socio-political contradictions of the era. This intimate show builds on the gallery's 2007 group exhibition 'The Pivotal Decade – Hong Kong Art 1997-2007', by tuning into the next ten years and a new generation of artists through their personal reflections on the pre-and post-handover era.
Asked to respond to the notion of a fluid, imaginary and liminal intersection of sea and sky, these artists have created new works which imply Hong Kong as a kind of 'non-space': a set of in-between lands, experienced through multiple states of being. The exhibition's symbolism is inextricable from Hong Kong's own narrative arc: as you approach the gallery floor, a cacophony of indecipherable sounds rises, presenting themselves knowingly as if on the streets of the city itself. 
There seems to be an expectation that we disregard Hong Kong's politicking on first encountering Ko Sin Tung's porch-like Redundant Waves (2017). Part installation, film and painting, she uses a common, cheap, blue-and-white plastic canvas as the central focus for the video piece (visually akin to the found fabric aesthetics embedded in the on-going 'Red White Blue' series by Hong Kong artist anothermountainman). Accompanied by a soundtrack of the material as it catches in the wind over ocean waves, it can only be viewed by walking across a series of bright yellow trench-cover safety boards, which line the back wall of the space – identified as a quiet nod to the symbolic colour of the 2014 pro-democracy 'Umbrella' protests. Presumably a reference to the artificial islands created by landfill in the region, the use of found sound and objects in Redundant Waves creates a lo-fi abstraction of everyday materials and building sites, commenting on Hong Kong's still frenetic rate of construction, home to the most expensive housing market in the world.
This simplicity continues in Spirit Level (2017) by Trevor Yeung: two fish tanks, full of water yet devoid of aqua-life, are presented on a three-tiered stand – a clinical statement on the illusionary nature of Hong Kong's solid ground. Literally transparent, yet figuratively opaque, Spirit Level makes claim to the difficulty in understanding this complex landscape's identity and its future. Time to look through the clear waters to an ad break by Sarah Lai.
In Let the night breeze send away yesterday's dreams (2017), Lai appropriates moving images of actresses (of Asian descent) stroking and flicking their shiny dark hair at the camera. The alluringly crude female representation is played (and overplayed) on loop with a penetrating narrative-laced Cantopop soundtrack. Drawn in, you watch, and watch again the softness of the hair play out on screen, then realizing your fingers are running through your own hair. In thrall to the power of advertising, Let the night breeze send away yesterday's dreams creates another sound layer within the conflicting narratives of 'From Ocean to Horizon', foregrounding the distinctly heteronormative and gender-biased advertising industry in Hong Kong, and more broadly across Asia.
Ocean Leung presents Star Star Fire Fire (2017): hybrid sculptures and introspective videos, including documentary performance, that comment on the misuse of objects as weapons, and the interplay between their harmless and violent states. A bladeless double-meat-cleaver and double-handled baseball bat are positioned awkwardly on an office table, in part falsely bloodied with red paint. Alongside, two videos displayed on tablets unfold silently: at one point, the artist stands in a lake, taunting viewers with a Molotov cocktail held above the water, only for it to be released and immediately extinguish. No consuming flames, no explosive aftermath, just a cocky fetishization of violence that offers a sharp counterpoint to the endless commentary surrounding the 'civility' of Hong Kong's protest movements.
Softer reflections on the legacy of handover run through Au Hoi Lam's sequence of small-scale paintings in Unutterable Antecedents, Consequences and Coincidences (2017). Each functions as a page from a diary: fragments of her memories from 1997 when the artist was at college. Scratched into the surface of the works, in graffiti-esque handwriting, are statements in both English and Cantonese Chinese characters, including 'Daddy where are you now', 'She can't remember', 'fleeing', '20' and 'She knows'. The series of inscriptions encompasses a feeling of loss and fear, yet conversely a subconscious intuition of what is to come. Au Hoi Lam's rendering of politics as a visual language sets up a conversation between the idealism and ambiguity of the other works through the space.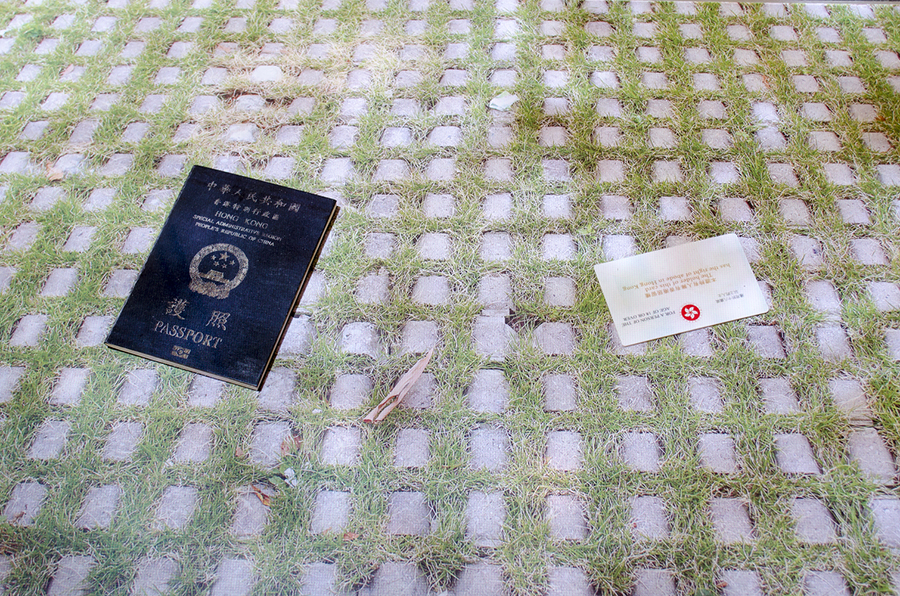 The dual visuals presented in Tang Kwok Hin's photography and film installation Lying in Gardens (2016) examine the demarcations of public space in Hong Kong; borders and boundaries of containment are used by the artist to create a visionary and layered landscape. His identity card sits housed in the corner of a large vitrine on the gallery floor, alluding to a specific Chinese identity, set alongside a series of photographs, which categorize Hong Kong through abstract and, in part, unidentifiable images.
Intentional or accidental, the clashing audio loops across the gallery space create a heightened sensory state. An air of distraction hangs over the artworks' engagement with the narratives and hyper-sensitivities of Chinese identity. As 2047 draws closer, when the 'one country, two systems' deal between Hong Kong and China expires, 'From Ocean to Horizon' attempts to construct an anti- or apolitical state of being, as a cipher for an unknown future. This uncertainty is tempered by the artists' reflections on their own experiences, inviting a search for new individual and collective identities.
Main image: Ko Sin Tung, Redundant waves, 2017, HD single-channel colour video, acrylic on archival inkjet prints, trench covers, installation view. Courtesy: CFCCA, Manchester; Photograph: Constantin Brosteanu