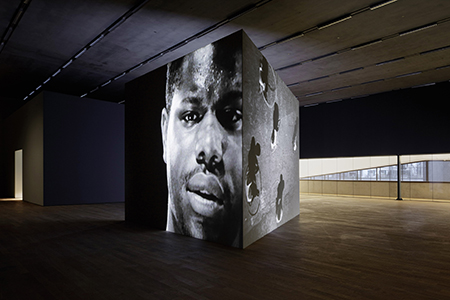 I thought I knew what Steve McQueen did. Although I've seen a great deal of his work, it had come to occupy a place in the background of my mind – still there, certainly, but not often thought about. This was amplified by the fact that, in recent years, more attention has been paid to his feature films – Hunger (2008), Shame (2011) and the forthcoming 12 Years a Slave (2013) – than to his visual art. Yet, on experiencing this exhibition at the Schaulager, McQueen's first major survey, I felt a renewed excitement for his work, not to mention a greater understanding of its depth. The show, which origi­nated at The Art Institute of Chicago last year, also served to complicate the relationship between his work as an artist and as a director, making the two roles feel intertwined.
Within the Herzog & De Meuron building, McQueen himself designed the show's complex set of spaces, described in the exhibition's introductory text as a 'City of Cinemas'. This was transformative: it created a meditative atmosphere, cleverly pacing a quantity of work – more than 20 films with a total duration of over four hours – that would normally seem overwhelming. In a show such as this, light and windows would typically be eliminated. Instead, McQueen chose to replace the outer wall of the galleries on two floors with two-way mirror windows, consciously mimicking the building's outer first-floor windows. This enabled elements of some projections to be visible as you entered the building, and for the world outside to be present inside. Within the galleries, McQueen built a series of differently scaled rooms – a combination of black, white or mirrored boxes – some work displayed in a more typical gallery format (a projection on the wall, or a screen with a bench) and others in mini-cinemas with tiered blocks of seating. These were built around the outside, leaving the larger main space in the middle for variously sized works to be projected, forming sightlines of multiple images. The design reminded me of the Derek Jarman exhibition at the Serpentine Gallery in 2008, curated by Isaac Julien, while McQueen's architectural positioning of mirrors also recalled Dan Graham's model Cinema (1981), which proposed using two-way mirrored glass on a street to shift views of the projection from inside to outside, depending upon the light states.
In an interview with Adrian Searle, published in the accompanying catalogue raisonné (produced in collaboration with The Art Institute of Chicago), McQueen notes that he originally wanted to be a painter, explaining that he always drew as a child and would go to Tate to look at works by Edward Burra. The stillness of pieces such as Charlotte (2004) – a close-up of actress Charlotte Rampling's eye saturated in red – and Running Thunder (2007) – a glossy brown horse, lying dead, framed by grass blowing in the wind – turns the projections into flat canvases composed of light and colour.
Another element emphasized by viewing McQueen's oeuvre was his use of performance. Five Easy Pieces (1995) comprises five slowed-down performances filmed in black and white, including a woman dancing, her breasts bouncing in slow-motion, and five men hula-hooping shot from above, recalling the early-20th-century mass choreography of Busby Berkeley's generation. Behind this, proj­ected on two separate screens that created a triangular construction, were two of his other earliest works: Bear (1993) and Just Above My Head (1996). In the interview with Searle, McQueen acknowledges the influence of Bruce Nauman and Yvonne Rainer. Of the two artists, Nauman's early studio performances have the more obvious relationship to works such as Bear and Five Easy Pieces, in which repetitive actions are framed by the camera in black and white, though Rainer's use of 'everyday' movement, in choreographic works such as The Mind is a Muscle (1968), is also relevant. While McQueen's actions are often far from everyday, like Nauman and Rainer, his use of stripped-down movements and representations of the body stand in politically loaded opposition to mass-media 'spectacle'. His 16mm film Bear, for example (made just after McQueen left art school), depicts two naked black men (one is the artist himself) flitting between playing, wrestling, flirting and stalking one another, penises flopping about. These scenes' ambiguity only serves to intensify questions of race and sexuality.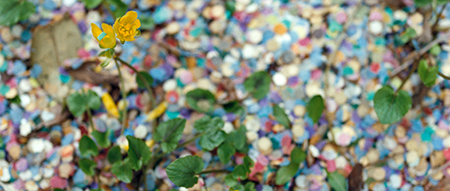 Giardini, 2009, film still
McQueen's understanding of physical space and form (he has described his films as 'sculptures') frequently manifests in his films via movement. Works such as Drumroll (1998), an empty barrel housing three cameras that the artist rolls through the streets of Manhattan, or Pursuit (2005), a blackened room lined with mirrors to create frac­tured images of a projection of the artist's moving body formed from lights, split the planes of the image via movement. The image comes to be composed from discrete elements, as if it were an assemblage. The sound in both these works is physically unsettling – as crucial as the imagery itself. In Drumroll, the clang of the oil tank and camera is relentless; the noise of human breathing and struggle in Pursuit made me feel claustrophobic. It was then that the stubborn silence of McQueen's earlier films fully struck me; the only sound that can be heard in the first space is the eerie hum of projectors.
On the lower floor, sound is again intrinsic to two films, Girls, Tricky and 7th Nov. (both 2001), which use language – more than image – as a performative tool. Viewing them consecutively, they formed an emotive relationship: the former, a film of musician Tricky recording new work; the latter, a monologue by McQueen's cousin Marcus, who accidentally shot and killed his brother. Each forms a kind of portrait: Tricky wheezes slightly between lyrics, repeating the line 'I've never seen my dad, boy'; Marcus tells his story, forming an emotionally intense second 'image' via the visceral language. The only visual for the latter is a single slide projection of Marcus lying down, seen from the top of his head, across which a scar runs – a straight neat line, as if from surgery. The voice-over creates a painfully raw psychological equivalent, as if bleeding publicly. Both works use the 'spectacle' – Tricky's celebrity, the tragic story of a murdered brother – to address issues of the construction and performance of identity and its portrayal and reception in the media to a far greater extent than McQueen's earlier works. Yet they also present the inevitable isolation of human experience.
Given the critical acclaim and relative box-office success of both Hunger and Shame, it is surprising that McQueen has yet to be given a large institutional survey show in the UK. However, exhibitions made up of mostly moving images are perceived as difficult and time-consuming (the Schaulager entrance ticket allowed three visits to the show) for a non-specialist audience and also expensive and awkward to display en masse. However, this exhibition reinforced just how much of McQueen's art-making is embodied in his feature films. The painterly framing, the sculptural qualities of bodies and objects, and the intimate focus on performance come together as a totality in his work as a director, and as an artist.