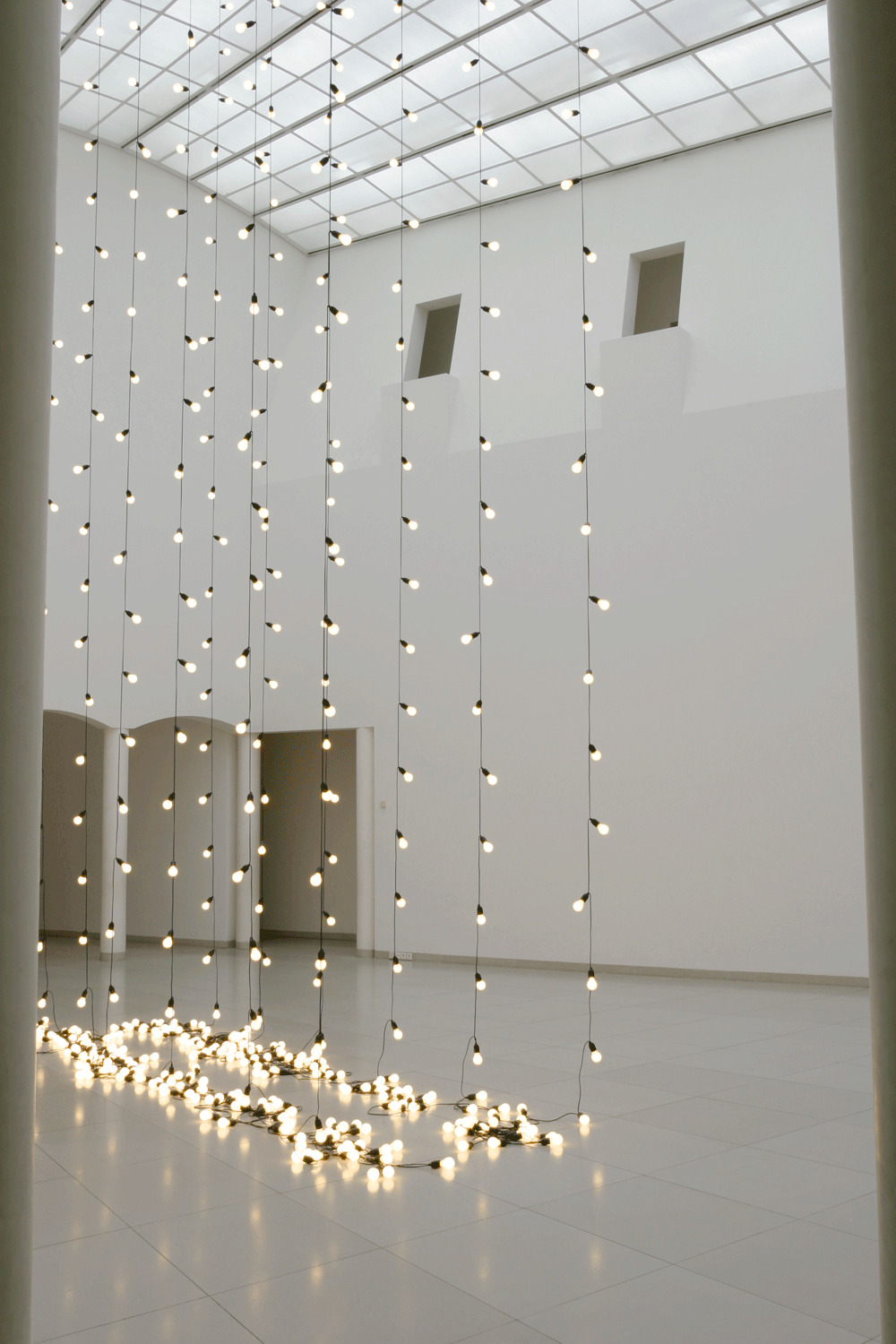 Sturtevant's exhibition, 'The Razzle Dazzle of Thinking', turned the main gallery of the Musée d'Art moderne into a performative space where the viewer's habitual modes of perception were stretched and contorted, and where the conceptual strain that has run through Sturtevant's practice since the mid-1960s came to the fore with unprecedented clarity. How to take in the juxtaposition of the 1989 Stella Union Pacific (a literal re-make of Frank Stella's 1970 aluminium painting) and Haring Untitled (produced by Sturtevant in 1987, a year after Keith Haring's Pop Shop opened and three years before he died of AIDS)? If the paring of these two heterogeneous paintings – minimal abstraction next to agit-pop – were not enough to short-circuit the visitor's sense of temporal coherence, then the replica of Joseph Beuys' 1964 Fat Chair (Beuys Fettstuhl, 1993) facing them a few metres away finished the job. It unleashed a torrent of anxiety: anxiety that re-cognition can blind cognition; that in the presence of apparently familiar but patently deceptive objects, sight premised on the assumed reality of what is seen becomes subject to doubt; and that history (Stella, Haring, Beuys) plus one (Sturtevant) simply does not add up. The violence apparent in the crossfire of these works is what happens when the razzle-dazzle of thinking rubs off and its structural power comes to light. In Sturtevant's world, thinking represents a serious threat to appearance, or, as she warns: 'For those of you who are into cosmetics, remember that thinking ruins your face.'
One of the exhibition's chief merits was that it disappointed those hoping to see evidence that Sturtevant is either a historical anomaly who survived her many 'models' (Andy Warhol, Marcel Duchamp, Jasper Johns et al.) long enough to receive her due; an appropriationist who beat Sherrie Levine to it by 20 years; or a feminist pictorial terrorist. 'The Razzle Dazzle of Thinking' further put to rest the fear that, since her monumental 2004 retrospective at Museum für Moderne Kunst in Frankfurt, Sturtevant's iterative practice may have reached an end-point, leading her to rely increasingly on video and performance to revive the impact of her earlier objects and films. Rather, this survey brought out what has been at stake for the artist from the very first – namely the extreme levels of cognitive dissonance unleashed when well-known images and objects are replicated and the resistance to an ever-encroaching 'cybernetic' realm where, as she puts it, 'all available material is appropriated and thrown into high speed disparate systems of information that intersect.' To probe the cybernetic reign of image-surfaces requires not transcendent affirmation (through purity, depth or the eradication of authorship) but a complex and ever-changing interplay of reprised, doctored and spliced fragments of data.
The structure of the exhibition itself echoed this division between perceived reality and an interior, subterranean power. On one side of the gallery was Wild to Wild (2010; comprising works from 1972–2010), a sparse array of works that features, besides the Stella-Haring-Beuys triad, a number of recent video pieces, among them Vertical Monad (2008), three static grey-blue television screens with a soundtrack of a male voice reading Baruch Spinoza's Ethics (1677) in Latin, and Finite Infinite (2010), a 43-metre-long video projection of a dog running endlessly across eight wall-size frames. On the other side of the exhibition space was House of Horrors (2010), a fully-functioning ghost train that carries visitors, two by two, through a dark and winding labyrinth. During the brief ride visitors were assailed by such typical fun fair props as a starkly lit Frankenstein's monster, as well as less typical apparitions, including a Damien Hirst severed head, a scene from a John Waters movie (a life-size automated Divine on all fours, sampling dog poo) and mannequins referencing the tortures at Abu Ghraib.
The dialectics between the Madame Tussauds-like cheap thrills of House of Horrors and the sober, cerebral efficiency of Wild to Wild is not an Adornian condemnation of mass culture in favour of rigour and control. Instead the two sides of 'The Razzle Dazzle of Thinking' point to divergent yet co-dependent economies of perception, both of which engage with the aesthetic and conceptual pleasures afforded by varying speeds of sound and light. House of Horrors, however, plunged in darkness, grabbed the visitor's attention through shock and awe, Wild to Wild disciplines thought with a sequence of light-emitting works, like the strings of light bulbs hanging from the ceiling (González-Torres Untitled [America], 2004) or the manually-activated peephole through which the visitor could see slides of some of the many works by Duchamp which Sturtevant has remastered over the years, from Fountain to Wanted (Duchamp Ciné, 1989). Perhaps the best analogy for the 'The Razzle Dazzle of Thinking' was a Möbius strip: just when you thought you had escaped the Platonic spectres of House of Horrors, you entered the unsettling field of Wild to Wild where objects, despite their reassuring resemblance to things known, are never exactly what they seem.