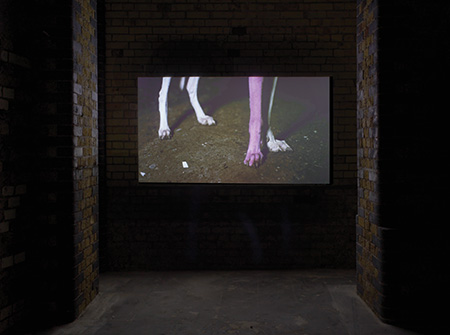 A flock of brilliant green parakeets who made Wormwood Scrubs prison in North London their unlikely home are the opening metaphor for immigration, belonging and identity in 'You don't need a weather man to know which way the wind blows', at Hollybush Gardens, the third show in the gallery's spacious new Clerkenwell premises. The exhibition, named after a line in Bob Dylan's Subterranean Homesick Blues (1965), and inspired by his call-to-arms to America's youth to fight for their own counter-cultures and revolutions, was an assembly of art works which drew on animal life to disturb ideas of contemporary culture and politics. In Helen Cammock's The Singing Will Never be Done (2011), a two-screen video installation playing in the gallery's cavernous first room, the community of parakeets – which may or may not have originally escaped from the set of The African Queen in 1951, the voiceover explains – are interspersed with snippets from Conservative MP Enoch Powell's infamous 1968 'Rivers of Blood' speech, recalling a political climate of embittered xenophobia, which returns now as depressingly familiar political rhetoric. Cammock's film weaves a compelling narrative of race and belonging through the prism of family life, with day-to-day experience appearing quite desolate when presented next to the gloriously free world of the squatter birds.
But Cammock's quiet, contemplative film was agitated by the sounds of Pierre Huyghe's A Way to Untilled (2012–13), which played in a nearby alcove. The teeming wildness of Huyghe's garden installation from Documenta 13 infected the hollow soundscape of the gallery. Lynchian in its magnified attention to the swarming undergrowth of an overgrown garden, the film makes clear our absolute insignificance within this ecosystem: a stone statue becomes the host for a giant beehive; the detritus of some earlier human presence lies discarded, vacant of meaning or use. 'Reflexive time' – Huyghe's term for a temporality that departs from normative notions of productivity and labour – is here all the more compelling in the context of an environment that works away relentlessly and productively at its own pace (the inspiration for our own notion of the 'busy bee') whilst apparently oblivious to human life.
Elsewhere, Pauline Boudry and Renate Lorenz's film, Charming for the Revolution (2009), further extended the use of animal life as a metaphorical and philosophical challenge to human concepts of labour, temporality and gender. Werner Hirsch, the androgynous star of many of the artists' works, reads a revolutionary manifesto from a series of index cards. Dressed in clichéd examples of masculine working class style, Hirsch calls for the end of repressive and hostile hetero-normative social codes, and demands 'wages for housework!' Next, a dandy enters the scene, walking a turtle on a leash. An enactment of Walter Benjamin's objection, perhaps best articulated through his Arcades Project (1927–40), to the ever-quickening pace of industrial time, the dandy slowed to a crawl by his turtle seems to symbolize, for Boudry & Lorenz, a possible disturbance of gender roles which are, they suggest, inevitably tied to experiences of temporality and labour.
In the back room of the gallery, away from the teeming buzz of the videos, the atmosphere was quieter, and Aaron Angell's ceramic works sat as small, glazed emblems of the meeting points between industrial life, and craft and small-scale production. Pumps, water wheels and chimneys in clay and thick gloss sport bulbous globs of colour; snakes and toadstools hide within these constructions. Beside them hung a small, pastel-coloured painting of a beached whale by Bruno Pacheco, while nearby, Andrea Büttner covered a table with the bronze casts of zebra droppings that she took from Frankfurt Zoo.
Taken as a whole, the exhibition resonates with Gilles Deleuze and Félix Guattari's concept of 'becoming-animal', which describes a nomadic and transitive state of being that favours non-identity, metamorphosis and flux and that was, for the philosophers, a condition of freedom. The art works here explore how animals or insects might fray the boundaries of our conceptualizations of the world in various strange, humorous or radical ways. Perhaps, too, the animals' attentiveness to the world – their senses more minutely attuned to the rhythms of the earth, and their relationship to it one of reciprocal codependence, rather than exploitation – does indeed make our attempts to understand it, like the weatherman's always uncertain predictions, seem comically superfluous.