Featured in
15 Poems
A selection of new, previously unpublished work by leading poets: John Ashbery, Charles Bernstein, Anselm Berrigan, Paul Chan, Marcella Durand, Alan Gilbert, Ann Lauterbach, Eileen Myles, Jake Pam Dick, Frances Richard, Lytle Shaw, Mónica de la Torre, Anne Waldman, Matvei Yankelevich and John Yau.

For this special section, we invited Jeremy Sigler to choose new work by poets from different generations and sensibilities, whose writing is influenced, in one way or another, by the visual arts. All live and work in the US; some write poetry full-time; many are critics, activists and educators; yet others are artists.
I told them in a q&a once that I thought of myself as an 'Art World Poet'. And they asked me what that is. And I said, 'I don't know.' Another time, I expressed to Cory that my goal in life was to be named 'Poet Laureate of the Art World'. And we laughed. The title does not exist, but if it did, it would surely have been awarded to John Ashbery. But that's almost too obvious. (Let's turn the New York School of the 1960s into a tv series like Mad Men. Okay?) Today, it would have to go to John Yau, who has some sort of give and take with all things art, like many other poets do, but more so. Some provide informal commentary in grad school thesis crits. Some edit reviews at art magazines. Some are hawks circling in search of a critical meal. Others are more like gallery mascots, on-call for any artist in need of a sales pitch or press release. Some poets are sled dogs running with emotion through the lonely stretch of days in the painter's desolation. A muse. Every great artist must build his career with high-ranking art historians. But artists often graduate to good poet company. The world is in love with art and indifferent to artists. I like to think poetry is just the opposite – poets are taken in and tucked in drunk even kissed goodnight and woken with coffee. Our poems wait patiently unread, until readers realize all else is failing to grip the mind.
Jeremy Sigler has published numerous collections of poetry including Crackpot Poet (Black Square Editions, 2010). He is the co-editor of a monograph on the poet-sculptor Carl Andre, co-published by Dia Art Foundation and Yale University Press this year.
John Ashbery
Flowers, Restoration
Yes, the great residential palaces,
the porter's station on Pitz Palu –
it all makes sense. Intentional? Me lie here
with bonny complications from sometimes,
the kind you wear.
Her wide shoulders were born.
The cleanup effort extended far beyond today's tousled landscape.
What good did it do if everybody was away, on business, mostly
trying out olive oil shampoo? Aye, true geezers paced
the measured mile, in touch with my father's
distinguished postal service, a flight risk
for the several hours it remained on sale,
their co-producer.
Anybody to take care of yourself
breathes in the challenge. First I'm gonna brush my teef.
What happens next is anybody's mess.
And, I might add, a real treat knowing you.
John Ashbery is the author of more than 20 volumes of poetry. Since his first collection was published in 1953,he has been the recipient of numerous literary awards, including the Pulitzer Prize for Poetry. In the 1960s and '70s he worked as an art critic for publications including Art International, ARTNews , and Newsweek. He divides his time between New York City and Hudson, USA.
Frances Richard
Bob Glück Sonnet
My cup asks the question that pure
things do: is all of life
a distraction? a dialectical
cleft. the charm of my own
mentation. Deadly, perhaps. a state
of endless unfolding narration – that is, heaven. Overall,
I think of my books as spherical
Attainment of nothingness is a group
activity [+ taking notes
on a shuddering train on a phone] [a folded pair
of clean pink underwear in my coat pocket] [+ shouldn't these my's politically
collapse?] you risk
being foolish, mean-spirited, wrong. Self-destitution. But there is more
to domesticity than screens
Frances Richard is the author of Anarch. (Futurepoem, 2012), The Phonemes (Les Figues Press, 2012) and See Through (Four Way Books, 2003). Her writing on contemporary art has appeared in Artforum, Bookforum, The Nation and BOMB. She currently teaches at the California College of the Arts, San Francisco, USA.
Eileen Myles
Activism
for Corrinne Fitzpatrick
I like being told.
To sit & be given
permission
my screen not
too bright
my notebook al-
most taken
overcome
by words
I wonder
would the
accident of your
request
is it okay
to end February
& all this
heart this
way. Heart
is paper.
Temperately the hand
moves
and yours does
too. I scoot
away. You
fill your
cup. Just to
watch
you do it. The collective thought.
I relax.
Eileen Myles is a poet living in New York, USA, and the author of over 20 books, most recently Snowflake/different streets (Wave Books, 2012). In 2010, she was award the Poetry Society of America's Shelley Prize and, in 2012, was a recipient of the Guggenheim Fellowship.
Mónica de la Torre
from They Would Not Let Themselves Go
They would often change their hair color to a more desirable one by treating it with chemical compounds including hydrogen peroxide and ammonia, which by naturally lightening the hair would provide a blank canvas for the dye. The hair shaft pores would be opened to allow for the dye to bond with the hair and speed up the chemical reaction.
If they deemed their lips not full enough, they would have physicians enlarge them
by injecting substances ranging from fat harvested from the patients' own bodies to bovine collagen to purified donor tissue taken from cadavers to non-animal laboratory solutions. If allergic to foreign bodies, or unwilling to undergo surgical procedures, they might opt for cosmetic irritants that would temporarily swell the lips, making them appear fuller.
They disliked having a significant and unequal distribution of subcutaneous fat throughout their bodies, so they would have surgeons make small incisions in their hips, buttocks, and bellies in order to remove large quantities of adipose tissue (approximately ten and a half pints) with cannulas or hollow tubes and aspirators or suction devices.
To temporarily remove frown lines and prevent wrinkles from forming they would have clinicians inject them with extremely low doses of the most acutely toxic substance known then, botulinum toxin, which would paralyze their facial muscles for six weeks up to eight months.
In some instances their communicative skills and ability to express and read emotions might be compromised, given that the relay of signals from the face to the amygdala and brainstem centers for autonomic arousal were dampened and, consequently, there was lesser interaction between their facial muscle movements and brains. This, unavoidably, would be deemed inconsequential.
Some would get lifting mastopexies. Others would get augmentation mammoplasties from physicians who would implant sterile saline solutions or viscous silicone gel into their breasts. Others would get reduction mammoplasties.
Invariably, they would turn alien.
They would seek to erect themselves as metaphors for energy, restless mobility, and appetite: as metaphors for a 24/ 7 state of wanting.
Their faces – immutable, unmarked – masks.
Their faces – icons, emblems, flags.
Their bodies – prosthetic, fungible monuments to the toils of those pioneers in medical and scientific communities behind the stagecraft of their masterful day-to-day performances.
And inevitably they would pass, since they would not let themselves go.
Born and raised in Mexico City, Mónica de la Torre currently lives and works in New York, usa, where she is senior editor of BOMB magazine. Her poetry collections include Public Domain (Roof Books, 2008) and Talk Shows (Switchback, 2007).
Matvei Yankelevich
from Some Worlds for Dr. Vogt
In the conversion, a world comes to light
but not the world, actually. Or so you
might think. Or, actually, in order that
you might think it. In order that that
world be perceived it must convert.
Or else who knows what the fuck is it?
Some kind of universe we're up against?
Worse: You take it on your own terms
even when you say you're taking it on
its own terms. In the lovely world over
there are some unfamiliar terms. Maybe
they're in your stomach, a world you can't
identify with even as it turns inside you.
Matvei Yankelevich is a poet, editor, designer and translator. He is co-founder of Ugly Duckling Presse and co-editor of 6x6 magazine. His most recent collection of poetry is Alpha Donut (United Artists Books, 2012)
Charles Bernstein
Oopera
[facsimile]
Ingratetiation
Goshtation
Uncanliness
Oopera
Umteeth
Claustrophilia
Memorabileia
Inbustion
Outflamation
Counterduction
Canthankerous
Reperquarry
Corhythmia
Postposterous
Charles Bernstein is a poet, critic and librettist. Since the 1970s, he has published over 20 books of poetry, and his work has been included and anthologized in more than 500 magazines and periodicals. He is currently Donald T. Regan Professor of English and Comparative Literature at the University of Pennsylvania, USA.
Alan Gilbert
The Model Railroader's Subterranean Life
Commuter trains are full each night on their return trips
to the lake, each descending crossing gate casting
slant shadows in their path.
The obsidian doesn't have a face, only shiny enamel.
The obsidian serves trays of fast food.
My neon is history. I could stare out of this window for hours
until the squid squirts its ink.
That's when my codename became the neck cannon,
though I didn't choose it.
It must be my idiosyncratic way with the chaps and lasso
we bought with your new credit card.
What possesses a person to put a hat on an animal?
Some bonnets are softer on the outside; if you look closely,
you can see little white flowers
and a pair of drawstrings that tie around your waist.
Everything on television is true to an extent,
but my favorite lie is celebrity rehab.
My other favorite lies are the ones you tell me.
We'll never know if the mango is ripe, especially after
you backed over it with the car, along with
the orange biker shorts and whatever else is left in the front yard
while landscaping the yacht club as a dog run.
Alan Gilbert is the author of Late in the Antenna Fields (Futurepoem, 2011) and a collection of essays, articles and reviews entitled Another Future: Poetry and Art in a Postmodern Twilight (Wesleyan University Press, 2006).
Marcella Durand
from Multicolored Works9
If I could answer figure, or lone person, on
beach or street, the one whom this is about: hero.
Tale is told, offer to the public its tale, on
the town green, gathered, music and balloons, saying
food and recompense, free gifts and atop a roof.
From where the view surrounds as rich as emptiness,
from where air swings in from a million other
places, from lungs and mouths speaking double tongues, from
cars and trucks making lights moving through dim city
areas, from density of people living
together to more desolate environs of
spaces between people, from all this visible
and us at the party watching it from above,
the presentation and award ceremony,
bits of words float up, fragmented by air or wind.
Marcella Durand's most recent books are Deep Eco Pre, a collaboration with Tina Darragh (Little Red Leaves, 2009); Area (Belladonna, 2008); and Traffic & Weather (Futurepoem, 2008), a site-specific poem written during a residency at the Lower Manhattan Cultural Council, New York, USA.
Anne Waldman
Sprawl
after Danielle Dutton
I serve him from the left hand side, his indefatigable aura
Of Dante
I serve him some cockney and serve him some pidgin English, Malevolio
I serve him some erotics I want him to try the tempo & to sing with me: Sade! Burroughs, Artaud!
I serve him in Bahasa Indonesian, the gamelan simmers down, a mallet strikes the gong
Gong
I serve him my hybrid narratives to breathe by
I serve him succulents on a plastic tray, image of a turning fowl that mesmerizes you with her rotation
I fight the hens-in-a-blanket & the pigs-in-a-blanket incarnations because I want them to live and die free
I fight the rubber tread incarnation, it is not good for our world
I sing three anthems to the cosmos of brane & gravitons & Higgs field vacuum expectation value
I leave my truck keys on in the driveway, revving to forget
He forgets, he abandons my language
I shoot my entropic arrow of time into his meteoric heart
which might take a jolt to reassemble
Remember me?
I serve him from the right hand side and serve him my red-state hot sauce, my red-state conglomeration of commie red tendencies, my red-state myopia
I rest his head on my blue knee melancholia, a lone wolf in silence
I take off my jaguar swimsuit (it's still warm here & global weather says 80 degrees in Manhattan) in front
of an array of contradictory intentions
I am invisible in front of my vanity, I spool the thread and it's below zero in Colorado
Smooth skin, smooth as your lines, smooth as your life
that will meet mine in the cult house, a center beyond
good and evil
I lie down as a vegetarian for 500 years.
Anne Waldman is an award-winning poet and activist, and the author of over 40 books of poetry. Her most recent publications include The Iovis Trilogy (Coffee House Press, 2011) and Manatee/Humanity (Penguin Poets, 2009). Waldman is a recipient of the Guggenheim Fellowship and the Poetry Society of America's Shelley Memorial Award. She divides her time between New York, USA, and Boulder, USA.
John Yau
Opinion Sonnet (1)
The Chinese have highly sensitive nervous systems.
As everyone knows, acute temporary madness
following prolonged stress
is episodically endemic among them.
(This is why social harmony and peace
and not 'rocking the boat' is paramount
in their societies, wherever they have sprung up).
Fortunately, when they go mad
they generally only harm or kill themselves,
their deranged ire is most often inwardly directed.
Their nervous systems are truly different than ours,
which explains the multitudinous, hierarchical,
non-individualistic (even socially oneiric)
types of societies that exist throughout the Far East
to this day.
John Yau has published over 50 books of poetry, fiction and art criticism. His most recent poetry collection is Further Adventures in Monochrome (Copper Canyon Press, 2012). He is based in New York, USA.
Jake Pam Dick
from 7 1-page excerpts from Lens (a translit)
The next day the world was slow to appear, when it did, it was nasty. The crazy youngish man in the nylon winter coat, his greasy light brown hair poking up, he swayed faintly and uncertainly on the corner, shouted Oh yeah at the sight of the long-haired girl in tight sweats, bolted across the street after her, running with limbs flailing, suddenly boyish. She headed south, he halted at the corner, impulse used up. Was she an other? Was he an other? In the supermarket, a xeroxed sign advertising times of viewing for the cashier murdered by the man she dated for two weeks, then she broke up with him, then he knifed her to death. Also a co-worker. Bed is nice but during the day it remains folded up like a cot, James remains folded up like a wallet, the day remains folded up like a piece of paper with a list on it which you keep in your pocket, don't read. Not out of boredom; out of not being able to use your hands. A poor brown young man ran after a rich white young man, shouted, Take it off! The other: No, you left your cab! What? I don't understand. He wriggled away from him, a physical coward. James Lens passed the fight, another coward. People attacking each other. Flatness ironed her. The part about skepticism and dreaming. Idealism's specter. Go hide in the room so Ronald and Inger become idle counterfactuals. I/she talked too much in class – and too loudly. As in Dostoevsky. In the next scene, Sebastian is supposed to come to watch over James, only his name will have to be Stanislaus. He has a brother named Stanley. I thought those were the T-shirts. But that doesn't excite me either. Or it does. Masturbation the obvious endpoint of anguish. Young men in their panties. Isn't this bad? This is very bad. So she slept onward. No she didn't. Also too distressed for the ashes, the dislocated arm. When I defenestrate, I will dislocate my left finger. On the cover she dislocated her mountain. That afternoon the novella wanted to go to somebody else.
Jake Pam Dick (aka Hildebrand Pam Dick, Mina Pam Dick, Gregoire Pam Dick et al.) is a writer, artist and philosopher living in New York, USA. She is the author of  Delinquent (Futurepoem, 2009) and her latest book, Metaphysical Licks, is forthcoming from BookThug this autumn.
Ann Lauterbach
Catatonic Elision
These habits within the chamber
of trauma. You
see don't you see
don't you that wild grin
on the face of the madman, you
see the iced rupture
don't you while listening
to an unshaded glossy
guitar, voice and piano.
You could drown in this gray.
You could swallow these chords.
The hairy trees clustered
stiffly, the bridge in the distance,
the unequivocal train resonating,
the gray bird landing on gray water.
Ann Lauterbach has published several poetry collections, her most recent including Under the Sign (Penguin, 2013) and Or to Begin Again (Penguin, 2008), which was nominated for the National Book Award. She lives in Germantown, USA
Paul Chan
Variation on 1.0049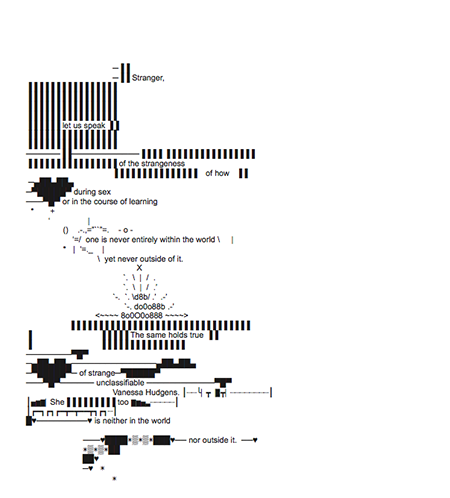 Paul Chan is an artist and writer who lives and works in New York, USA. His most recent solo exhibition, 'Paul Chan – Selected Works', is currently on view at Schaulager, Basel, Switzerland, until 19 October 2014. 'Paul Chan – Selected Writings, 2000–2014' was published this year by Badlands Unlimited.
Lytle Shaw
The Sandwich Islands
Wrapped in a large quantity of fine new cloth
And covered with a spotted cloak of white feathers
We found both the hands of Captain Cook entire
With the skin of the forearms hanging
Well known from a remarkable scar
That divided the ligaments of the joints
Apparently with an intention of preserving
Except the hands, which were wanting
Evident marks of having been in the fire
But with the scalp separated
Without the feet, cut in several places
And crammed with salt, with the bones that form
The face wanting both the hands of Captain Cook entire
With evident marks of the lower jaw and feet
Well known from hair upon
The whole length of the metacarpal bone
Apparently with an intention of wanting the bones
That form the face, cut in several places
And crammed with salt, with the bones that form
The legs wanting both the arms of Captain Cook entire
With evident marks of the leg bones joined together
Well known from hair upon
The whole length of a scar separated
From an intention of salting the forearms
That form the legs, cut in several places
And crammed with legs that apparently form
The metacarpal bone and both the scalps entire
Lytle Shaw lives and works in New York, USA. He is Associate Professor of English at New York University and his most recent book, Fieldworks: From Place to Site in Postwar Poetics, was published by University of Alabama Press in 2013.
Anselm Berrigan
Rectangle 79
Anselm Berrigan is a poet based in New York, USA. His most recent books include Sure Shot (Overpass Books, 2013) and Notes from Irrelevance (Wave Books, 2011).