The Collective Feminist Agency of 'The Milk of Dreams'
In a cavernous Central Pavilion, 'The Milk of Dreams' reminds us that feminist triumphs and struggles stretch beyond time and geography 
Curated by Cecilia Alemani, director of New York's High Line Art, 'The Milk of Dreams' has garnered significant attention – not least for being the first edition of the Venice Biennale to take place for three years, due to the pandemic. While the exhibition is not intended as a direct response to COVID-19, it is nonetheless a product of the travel restrictions, social-distancing measures and other logistical obstacles that have been imposed globally over the past two years. Curatorial decisions were made over video calls as opposed to the usual circuit of studio visits, with Alemani not being able to view a large proportion of the artworks in person until installation took place. This backstory provides a useful framework for understanding the cavernous Central Pavilion, which feels like a labyrinth leading in a multitude of directions that have to be navigated to make sense of the exhibition's key themes – our relationships to technology, gender and nature – some of which are executed more successfully than others.
In contrast to previous editions, both the Central Pavilion and the Arsenale include clearly demarcated historical sections, curatorially devised as a backbone to the exhibition, which act as time capsules expanding on the various elements and themes of the contemporary works. Featuring the largest number of women and gender non-conforming artists in the history of the Venice Biennale, 'The Milk of Dreams' pivots around a centrally located section, titled 'The Witch's Cradle', which Alemani describes in her curatorial statement as the 'fulcrum' of the exhibition in terms of theme and scope. Here, she adopts a transnational historical approach by showing women artists (such as Loïs Mailou Jones, Meret Oppenheim and Augusta Savage) from different movements (negritude and the Harlem Renaissance sit alongside surrealism as part of the avant-garde, for instance) and geographies to tell a different story of personhood that tilts power away from men. Separated from the rest of the exhibition – in 'The Witch's Cradle', for instance, this is signalled by a change in carpet colour – and filled with towering vitrines, which contrast sharply to the rest of the show where you can look closely at the work, these artists are at risk of being cast under too museological a lens. Rather than offering a connection between the historical and contemporary, the format creates a sense of dislocation, with the time capsules at a remove from the rest of the exhibition.
It feels like every inch of space in the Central Pavilion has been used: for instance, one highlight of the show, Akosua Adoma Owusu's Kwaku Ananse (2013) – which retells the well-known West African fable of Anansi the Spider – is screened in a main thoroughfare. Perhaps the intention was to invoke a cinematic effect or to offer some viewing seclusion but, ultimately, the work is in danger of being overlooked. At other points in the show, however, room layouts offer thoughtful aesthetic pairings: for instance, Rosemarie Trockel's knitted pictures evoking the gendered nature of labour and craft sit alongside Andra Ursata's dystopian glass sculptures – some in human form, some more phallic – which seemingly communicate what lies in store for us. Elsewhere, Sara Enrico's sculptural series 'The Jumpsuit Theme' (2017–ongoing), comprising concrete legs sprawled on the floor but not quite at rest, feels visually similar to Gabrielle L'Hirondelle Hill's Counterblaste (2021), another recumbent human figure – albeit with rabbit's ears, different coloured nipples and brightly hued trainers – made from tobacco-stuffed pantyhose, which speaks to the history of tobacco as a means of exchange and colonial exploitation in Indigenous communities across the Americas. Such pleasing and unexpected affinities occur throughout the exhibition.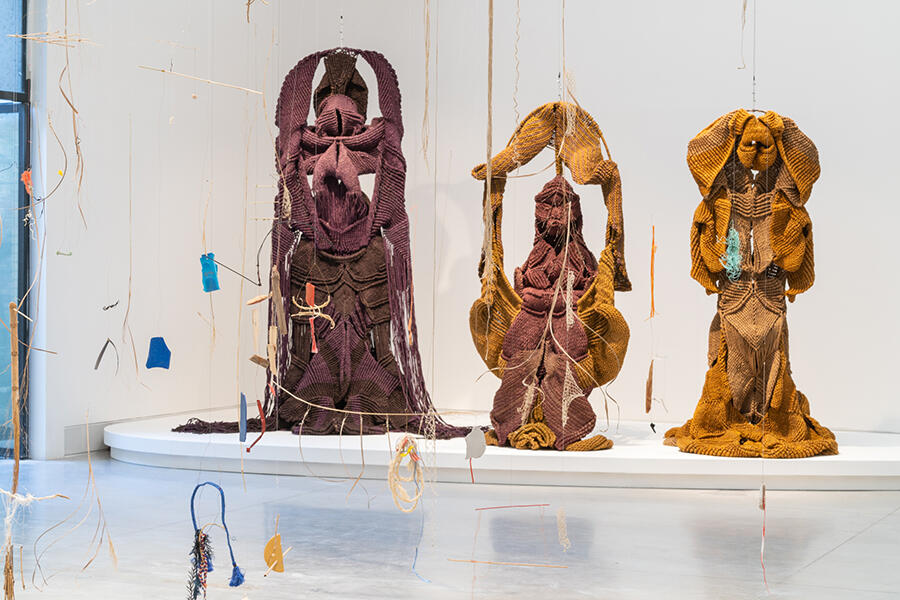 One of my favourite configurations in the exhibition is the room containing Cecilia Vicuña's paintings, which celebrate Indigenous forms of knowledge and heritage, as well as her newly commissioned installation featuring detritus from the Venetian lagoon, NAUFraga (2022), part of an ongoing series of precarios sculptures, which she started in 1966. It seems fitting that Vicuña is one of the recipients of this year's Golden Lion award: her work is playful yet deeply serious about our responsibilities to the planet – and to each other. Alongside Vicuña's works are Merikokeb Berhanu's electric depictions of cosmologies and shared connections between humans and nature in a celebration of Ethiopian modernism (Untitled LVI, 2021), and Mrinalini Mukherjee's towering rope sculptures made using ancient Arabic hand-knotting (Vanashree, 1994). From here, a door leads out to Simone Fattal's tender, fragile sculptures, including Adam & Eve (2021), made for the setting of the pavilion garden, which was designed in 1952 by the architect Carlo Scarpa. 
This section feels like the heart of the exhibition and best encapsulates the essence of surrealist artist Leonora Carrington's 1950s children's book The Milk of Dreams – from which Alemani took her inspiration for the show – in which humans transform into something new and fantastical. The power of this installation lies not only in reminding us that we are products of what has come before us, of that lineage of passed-down stories and traditions, but in offering us other ways of being in the world. At its best, 'The Milk of Dreams' is a celebration of collective feminist agency that attenuates the ways in which our struggles and triumphs are profoundly interwoven, stretching beyond time and geography, and inculcates in us a sense of duty to ourselves, to each other and to the world around us.
For additional coverage of the 59th Venice Biennale, see here.
Main image: Foreground: Cecilia Vicuña, NAUfraga, 2022; background, left to right: Cecilia Vicuña, Martillo y Repollo, 1973; Paro Nacional, 1977–78; Llaverito (Blue), 2019; Bendígame Mamita, 1977; La Comegente (The People Eater), 2019; and Leoparda de Ojitos, 1977. Courtesy: the artist and La Biennale di Venezia; photograph: Ela Bialkowska