The 59th Venice Biennale Review: National Pavilions Part 2
In the second of our two-part round-up, Chloe Stead reviews the best pavilions across the Giardini
In 2013, while studying at the Academy of Fine Arts Hamburg, I spent two months working as an invigilator for the German Pavilion at the 55th Venice Biennale. That year's curator, Susanne Gaensheimer, had elected to show four artists – Romuald Karmakar, Santu Mofokeng, Dayanita Singh and Ai Weiwei – who weren't German nationals. Of the myriad works on show, the one that people approached me about most was Karmakar's 8.Mai (8 May, 2005/2013) – a 49-minute film documenting a neo-Nazi rally that had taken place on the 60th anniversary of the end of World War II. In the most memorable encounter that I had about the piece, a furious visitor asked me if it was not better to 'repress all of this'. Fresh from the more upbeat British Pavilion, he also wondered why Germans couldn't celebrate their culture like the British – never mind the fact that Jeremy Deller's 'English Magic' installation was deeply ambivalent about its subject matter.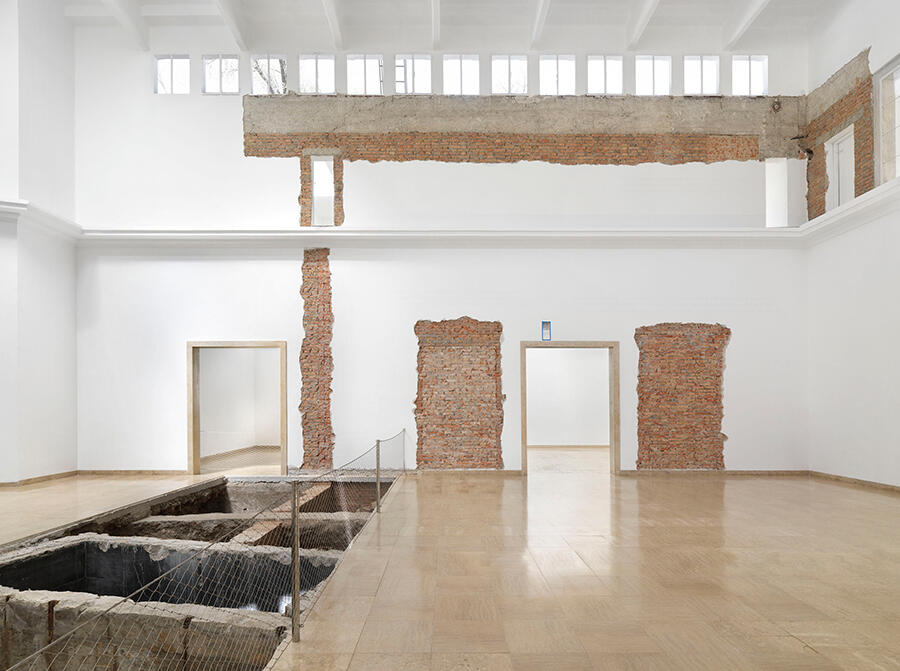 Back at the Giardini almost ten years later, this time to write about rather than guard the art, I couldn't help but wonder what the angry visitor from 2013 would have thought about Maria Eichhorn's contribution to the German Pavilion. With a surgical gaze not dissimilar to Karmakar's, the Berlin-based artist has not only neglected to show work that celebrates German culture, she's decided against showing any work at all. Instead, 'Relocating a Structure' sees her dig into the foundations of the pavilion and strip the walls of layers of plaster, thus revealing the joins between the original Bavarian Pavilion of 1909 and the extensions made by the Nazis in 1938. It's a gesture that invariably brings to mind Hans Haacke's infamous Germania (1993), for which he smashed the German Pavilion's marble floor with a sledgehammer. In the extensive catalogue accompanying the show, Eichhorn gives a nod to her precursor by featuring an interview with Haacke amongst other essays and research on the history of the pavilion. During this short exchange, Haacke, who won the Golden Lion for his contribution, tells a revealing anecdote about being snubbed at an opening-day banquet by the German Ambassador to Italy. While the shock value of Eichhorn's destructive gesture is invariably dulled by Haacke's earlier intervention, the artist's larger project – which centres around twice-weekly tours to sites of anti-fascist resistance, beginning on 28 April to mark the 77th anniversary of the Allied liberation of Venice from the Nazis in 1945 – is still likely to needle right-wing politicians who believe the German culture of Erinnerungskultur (holocaust remembrance) is holding the country back.
You don't have to look far in this year's biennial to find other acts of defiance by artists chosen to represent their countries on the national stage. Perhaps the most striking example is the Russian Pavilion, which was left empty after the curator, Raimundas Malašauskas, and artists Alexandra Sukhareva and Kirill Savchenkov pulled out in protest of the invasion of Ukraine, with Malašauskas calling the situation 'politically and emotionally unbearable' in his resignation letter. Kyiv-based artist Nikita Kadan, who has been using his international profile to garner support for Ukraine throughout the war, took an equally defiant tone in an Instagram post announcing that he was in Venice for the biennial – his work is on show in the collateral event 'This Is Ukraine: We Are Defending our Freedom' – before going to Antwerp for a public discussion with members of the European Parliament about the war. 'I have mixed feelings about all of this,' he wrote, '[…] but I can use my privilege of being here to gain more support for Ukraine. Anyway' – he ended the caption – 'I go back to Kyiv on 2 May'.
Sonia Boyce, the first Black woman to represent Great Britain in Venice, also used her platform to divert attention onto others. The exhibition's central video, Feeling Her Way (2022), unites five Black female musicians to improvise a discordant, ethereal chorus that greets visitors as they enter the pavilion. 'My desire in bringing you together is to explore […] what conditions you need to feel free to express yourself,' Boyce says in the exhibition literature, 'when not constricted by what others feel you should be or could be'. The artist, who has expressed her reservations about 'carrying the flag' for Great Britain in a number of recent interviews, could well be talking about her own participation. And, while this central idea struggles to keep its momentum across the pavilion's six rooms – the tessellated wallpaper and gold geometric sculptures intended to link the different spaces dedicated to each musician feel like an afterthought – Boyce's celebratory act of defiance means her installation is likely to be remembered as a success.  
I saw the same complex mix of pride and resistance at the Sámi Pavilion (formally the Nordic Pavilion), where, during the exhibition's opening day, the artists wore traditional dress as they showed visitors around their contributions, which centred on indigenous land and water rights in the Sápmi region. I was struck in particular by Anders Sunna's Illegal Spirits of Sápmi (2022), a freestanding painting-cum-shelving unit, which houses colour-coded binders relating to the multiple court cases that his reindeer-herding family have brought against the Swedish government. In a similar vein, at the Polish Pavilion, Polish-Romani artist and activist Małgorzata Mirga-Tas has filled the building with a gorgeous floor-to-ceiling tapestry which references the allegorical renaissance paintings from Palazzo Schifanoia in Ferrara while celebrating the lives of ordinary Roma people, particularly women (Re-enchanting the World, 2022).
The artist that, to my mind, was most successful at walking this tricky tightrope between celebration and resistance was Zineb Sedira, the first person of Algerian descent to represent France, whose immersive installation 'Dreams Have No Titles' is a clear front-runner for the Golden Lion for Best National Pavilion. On the opening day, two performers were twirling each other around on a full-sized set inspired, the wall text advises, by a scene from the 1983 film The Ball, by Ettore Scola. In a biennial largely free of live performance, this playful reconstruction was an unexpected surprise and just one of many references in this dense presentation to films depicting Algeria's struggle for liberation during the 1960s and '70s. In a transnational alliance that is reflective of the spirit of films like the Italian-Franco-Algerian The Ball, both Boyce and the Moroccan-French artist Latifa Echakhch, this year representing Switzerland, also appear in the exhibition's titular film (2022) that screens on a television in a reconstruction of Sedira's south London home. By refusing to act as sole representatives of their gender, race or nationality, these artists ultimately free themselves from carrying the flag alone.
For additional coverage of the 59th Venice Biennale, see here.
Main image: Małgorzata Mirga-Tas, 'Re-enchanting the World', 2022, exhibition view, Polish Pavilion at the 59th Venice Biennale. Courtesy: the artist and Zachęta — National Gallery of Art, Warsaw; photograph: Daniel Rumiancew