Featured in
Appreciation Society
From Mx Justin Vivian Bond to Andy Warhol: fan artists in New York
It's 4:46am, but my body thinks that it's morning, which is why I'm standing in a kitchen in the East Village, eating bran flakes in the dark. It's minus six outside and yesterday I walked six miles, what, with one thing and another, dropping back into the stations of a semi-discarded life. I went to the Andy Warhol show at the Whitney, which was a revelation, even though I sincerely believed I'd seen everything he'd done. What I really liked was the sexy stuff from the 1950s: the not-quite hand drawings he made by way of his blotted-line technique, a homemade, lo-fi version of a printing press and the precursor to the screen prints of the 1960s.
Such swoony drawings, inked onto tracing paper and carefully blotted. Boys like fauns; a dick tied up in thick ribbon and embellished with flowers. A bulging crotch in jeans; a pair of high arched feet, matched adorably with two candlesticks mounted on tiger paws. It's basically fan art, teenaged and unabashed: James Dean, with his lovely Cocteau head flung back, next to a tree hung with hearts and a flipped-over car.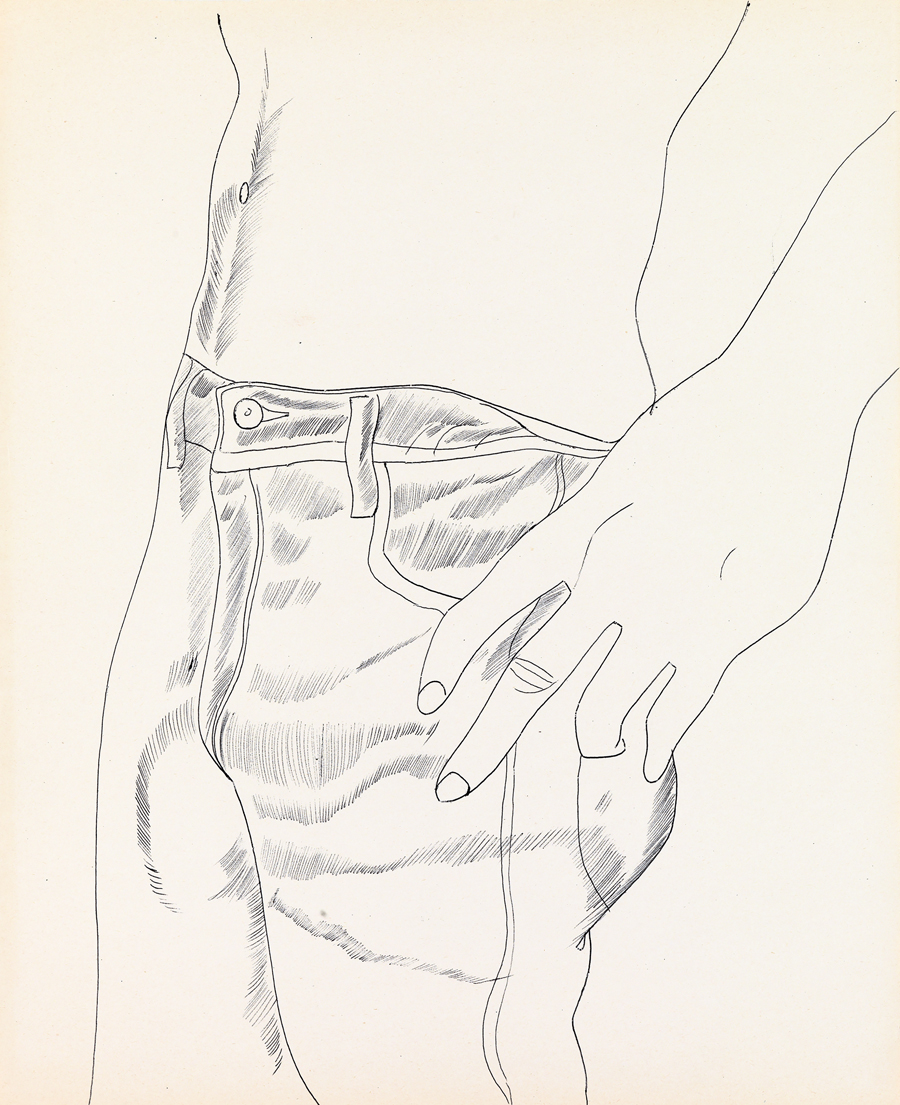 This was Warhol before he'd invented Warhol, back when he was a scrawny, pallid, hungry boy. 'Friendless and hopeless', Truman Capote called him, when he stood beneath the writer's window each day, gazing longingly up. One of the drawings is of Capote's hand, copied from the famous ingénue photograph on the cover of his novel Other Voices, Other Rooms (1948). Cocked but languorous, it beckons an invitation: do you want this? Yes, Andy did. I loved the case the show made for Warhol as queer from the very beginning, using art as a way of conjuring the objects of his desire. Inventing what he needed in the paucity of reality, a miner's son willing glamour and beauty his way.
That same night, I went to Joe's Pub to see the trans cabaret artist Mx Justin Vivian Bond, of whom I am most unashamedly a fan. To my pleasure, I'd already seen her on the aeroplane to New York, singing 'Goodnight Ladies' in a cameo in Can You Ever Forgive Me? (2018). Part of what I love about Bond's shows is her genius for digression. No one can make an anecdote wander so far before yanking it home. It's the pleasure of going out on a ledge, taking a leap and landing four-square. That and when she flings her head back and raises her arms, 'ai-i-i', a high priestess incantating rage and manifesting power.
This show was in honour of the folk singer Judy Collins, who was in the audience in a spectacular blonde wig. 'Describe it,' my friend wrote to me urgently the next morning and I typed back: 'Like Marie Antoinette going to the scaffold.' Titled 'Under the Influence', the show comprised covers of songs by artists Bond had discovered through Collins's covers. A pass-the-parcel of attraction: Leonard Cohen, Bob Dylan, Sandie Shaw. Especially with Collins in the room, listening evoked the vertiginous feeling of looking through a teenage scrapbook, seeing exactly how you made yourself up, a painstaking patchwork of devotion and desire.
There's not much I like more than one artist appreciating another, turning from diva to fan. Bond went there. She really did. Radiant in a Rachel Comey dress, two layers of gauze and sequins, she described going as a teenager to one of Collins's concerts armed with a giant portrait that she'd drawn. Hang this on your tour bus. When the singer's next record was released, Bond drew another portrait of her, this time buck naked, and hung it on her bedroom wall, until her mother's expression made her erase the nipples and pencil-in a swimsuit instead.
'It's called fan art,' she said. She closed the show at the piano, the drawing projected above her head. Collins's wide faun's eyes and enormous mane of hair, kin to Warhol's dream boys, a simulacrum of what you want or might become. You could still see where the nipples had been pencilled in and rubbed back out. It might be my favourite impulse in art. Fantasy, fetish, making up what you don't yet have, using the loved object to will yourself into life. 
This article first appeared in frieze issue 203 with the headline 'Appreciation Society'
Main image: Bob Colacello, Jerry Hall, Andy Warhol, Debbie Harry, Truman Capote, Paloma Picasso at a Studio 54 party for Interview magazine. Courtesy: Getty Images; photograph: Robin Platzer