Beatriz Santiago Muñoz
El Museo del Barrio, New York, USA
In slow and often enigmatic fashion, Beatriz Santiago Muñoz's films explore the tensions between the legends that envelop the colonial histories of the artist's native Puerto Rico and its surrounding islands, as well as the contemporary experience of these sites. The disjuncture between a mythologized past – which Muñoz sometimes interjects directly into her films via off-screen voice-overs – and the uneventful passage of time that her camerawork documents, makes for uneasy viewing as past events haunt places that, today, appear innocuous.
Among the eight videos on view, a large-format projection of La Cueva Negra (The Black Cave, 2014) is given priority – with the other works either sequentially looped or shown on smaller screens or monitors. La Cueva Negra features two shirtless boys, aged around 11, wandering through a jungle in Puerto Rico. They climb trees, splash in a watering hole and swing from vines; in an early scene, one of the boys sits bareback on a horse. The film is no celebration of prelapsarian simplicity, however: Muñoz also tracks them zipping through the forest, riding tandem on a blue motorbike. The camera follows the boys through the thicket of vegetation, which appears ever-less primordial as they stumble across discarded junk, encountering abandoned cars, trying on a construction-worker's hat, wrestling with an old mattress and clambering up a graffiti-covered overpass. They do not speak to one another but, rather, engage in a silent journey of discovery and play. 
A Spanish voice-over punctuates their activities, relaying a story about an exodus from a cave, in which those who left were turned into bats and motorcycles, among other things. This anachronistic mixture parallels the boys' journey through a space that is, at once, prehistoric and cluttered with contemporary rubbish. Although unacknowledged in the film, the exhibition wall text notes that the rainforest was an ancient burial site for the indigenous population of Puerto Rico, the Taíno, who had been all but annihilated by the Spanish conquistadors by the early 16th century. Their graves were discovered during the construction of the motorway overpass; the film exposes this sacred ancient site to be one of contemporary pollution and urban decay.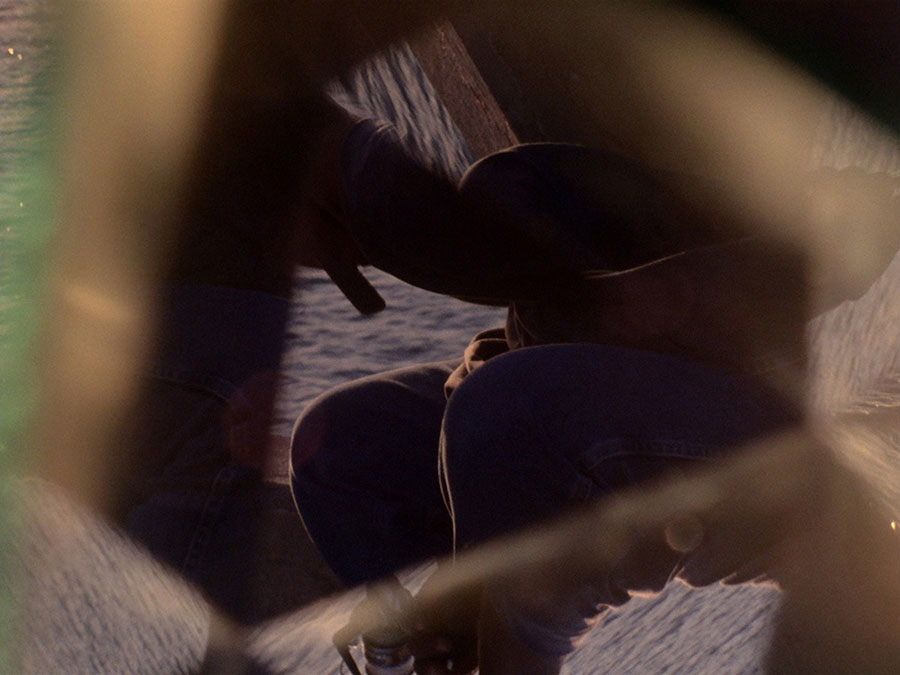 A number of works in the show juxtapose the more recent history of US colonial involvement in the Caribbean with the present-day reality of Puerto Rico's economic hardships. In particular, several films focus on Roosevelt Roads, a decommissioned US Naval base in southeast Puerto Rico that was formerly a frequent target of local protests against US military presence; its dock is now used by local fisherman. Other Uses (2014), Muñoz's film of the waterway and abandoned military equipment next to Roosevelt Roads, employs a series of triangular mirrors (exhibited as sculptures alongside the projection) to create kaleidoscopic vistas of sky, land and sea meeting at disorienting and vertiginous angles. As the fishermen at the dock wait patiently for a bite, the long history of Spanish and, later, US interference in Puerto Rican affairs seems a mere blip in a far greater natural arc of subsistence and persistence.
Beatriz Santiago Muñoz, A Universe of Fragile Mirrors runs 12 January - 30 April at the El Museo del Barrio, New York