What to See in Toronto this October
From Maria Hupfield's felt portraits at Patel Brown gallery to an exhibition of Black photography at the Art Museum at the University of Toronto, here are the best shows to see in Toronto right now
'As We Rise: Photography from the Black Atlantic'
Art Museum at the University of Toronto
7 September – 19 November
Featuring more than 70 artists, this jam-packed exhibition – accompanied by a catalogue published by Aperture – presents an encyclopaedic selection of Dr. Kenneth Montague's Wedge Collection, devoted entirely to Black photography. Works by historical and contemporary photographers from across the African diaspora – including James Barnor, Barkley L. Hendricks, Michèle Pearson Clarke and Ming Smith – play well with the museum's exhibition spaces: rooms that look like they would house a historical collection adjoin others with the white-cube aesthetics of a contemporary gallery. Here, old meets new, in images that range from mid-20th-century New York to London's Swinging Sixties and beyond. Solo, self-, family and group portraits of Black everyday life and joy flow between themes of community, identity and power. In Kennedi Carter's Untitled (Self-Portrait) (2020), for instance, the photographer documents having her blond hair buzzed off during the pandemic when salons were shuttered under lockdown: a wholly personal and intimate act of care.
Jónsi
Art Gallery of Ontario
23 July – Ongoing
Jónsi, Hrafntinna (Obsidian), 2021, sixteen-channel sound installation, chandelier, speakers, subwoofers, carpet, fossilized amber scent, dimensions variable. Courtesy: the artist and Tanya Bonakdar Gallery, New York / Los Angeles; video: Flys Eye Films
Icelandic musician Jónsi, a band member of Sigur Rós, creates a visceral experience with the world premiere of Hrafntinna (Obsidian) (2021) – his multisensory, 16-channel installation informed by the divine in nature. Imagining what it's like to be inside the belly of a volcano, the audience sits in the gallery encircled by some 195 alien-like speakers in near (and at some points total) darkness. An ocular chandelier above pulses, dimming and brightening, as audio crackles and sub-woofers rumble through the space, vibrating the bench on which gallery-goers sit. Spiritual and transcendent, the installation distils the wonder and terror of volcanoes, whose quietude eventually erupts into immeasurable destruction. Contemporary art's emphasis on the visual is disrupted by this descent into a colourless underworld, reminding us that nature always has its way in the end: we are merely guests of these lands.
Maria Hupfield
Patel Brown Gallery
2 September – 8 October
What sense do rules make in the hands of an artist in a gallery space? Maria Hupfield does what she wants in this exhibition. Her cool, grey, Joseph Beuys-like replicas of domestic objects and spaces are portraits of the pandemic self: a ukulele with a limp neck sits on a plywood shelf (Bright Sound, all 2022); an approximation of her father's defunct rotary telephone hangs on the wall (Party Line to Yesterday); a kissing booth of sorts entitled Biindigen (Prototype) ('come in' in Ojibwe) has a soft door that does not stay shut. In the series 'Chair Exercises', large-format prints of a bendy, felt chair are funny yet dark: is it trying to stand or has it simply given up, twisting and crossing itself into new forms of refusal? None of the objects work in this felt world, but they offer warmth and comfort, despite their industrial, scratchy fibres. Hard and soft, Hupfield's friendly forms resist, attempt to rise but, ultimately, droop.
Caroline Monnet
Arsenal  
16 September – 17 December 
Blouin Division
16 September – 15 October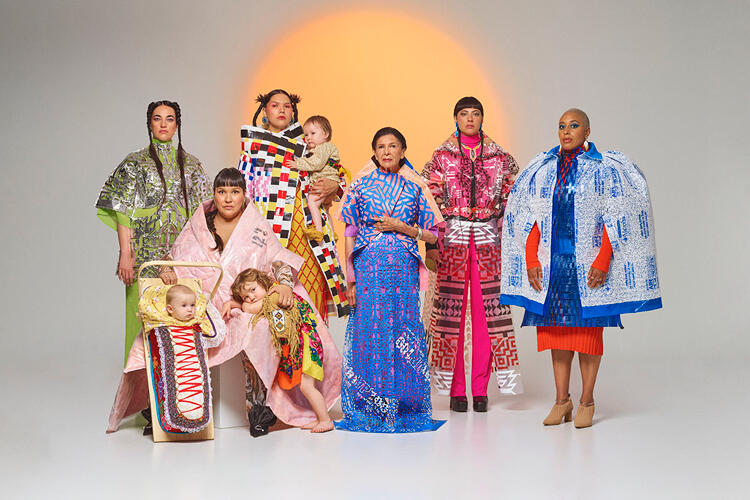 In this expansive exhibition across two galleries that share the same building, Caroline Monnet traces a line from her early work to the present. The artist has come full circle: sculptures dating from 2015 that divulge an interest in building materials, for instance, sit in conversation with the new work involving industrial textiles and clothing. These works critically address issues affecting Indigenous peoples in Canada – including police violence and missing and murdered women – while more recent two-dimensional pieces using building materials speak to the housing crisis in the country's Northern Indigenous communities. The anchoring work is the exhibition's namesake, Echoes from a Near Future (2022). This powerful group portrait shows Monnet and her friends, including the Abenaki filmmaker Alanis Obomsawin and artist Taqralik Partridge, all wearing soft but tough armour: stunning, one-off designs influenced by traditional Anishinaabe basketry that the artist fashioned from construction materials, cut to her own signature patterns.
Azadeh Elmizadeh
Franz Kaka
17 September – 15 October
At almost two by three metres, the arresting oil-on-linen work Before the Rainfall (2002) dominates the back wall of this compact gallery. Floating like a nebula in the cosmos, the painting's colours transform and move, shapeshifting as stand-ins for the characters Arenavak and Sanghavak, sisters in Persian creation myths and folktales for whom the exhibition is named. Each painting's jewel-toned layers have been built up slowly, simultaneously gauzy and rich, like screens emitting multiple facets of light. While some of the works approach figuration – AzhiDahak and the Cow or From the Soil (both 2022) – their translucency precludes them from full legibility, their forms fading in and out of view, dissolving into the canvas. Elmizadeh's paintings are lessons on flux and unknowability: planes of colour seem to move continuously, ever further from our grasp.
'Arctic/Amazon: Networks of Global Indigeneity'
The Power Plant Contemporary Art Gallery
1 October – 31 December 
This wide-ranging group exhibition on global Indigenous cultures foregrounds ancestral knowledge-keeping, sharing and collaboration in relationships between the hemispheric north and south. The artists in this show – who include Sheroanawë Hakihiiwë, Tanya Lukin Linklater, Olinda Reshijabe Silvano and Uýra – present a chorus of works on resistance and resurgence in the face of colonial encounters and the climate crisis. In one room, Couzyn van Heuvelen's abstracted ice floes and soapstone dog sled sit beneath huge, dazzling fishing lures that hang from the ceiling, leaving viewers feeling submerged in the icy waters of the Arctic Ocean. Traditional methods and ways of working enmesh easily with contemporary artistic production, suggesting that all is interconnected and that historical time can exist in a non-linear continuum. Biologist, drag artist and educator Uýra plays with the idea of biodiversity in relation to transness in some 30 outdoor self-portraits in which elaborately styled organic matter functions as dress (e.g. Série A: Ultima Floresta 2, 2019). As both tree and animal, their persona is hybrid, yet at one with nature.
Main image: Azadeh Elmizadeh, 'Sister Seeds', 2022, installation view.