Brendan Fowler
At RENTAL, New York, a series of wall sculptures and framed images carefully crash into one another in clean geometric configurations
Brendan Fowler is perhaps best known as a musician and performance artist; his improvised music and spoken word performances have taken place in a number of different gallery and art fair contexts. His budding sculptural practice attempts to capture some of the improvised spirit of his performance work. In his recent exhibition at RENTAL, Fowler displayed a series of wall sculptures, framed images carefully crashed into one another in clean geometric configurations.
On a formal level, the sculptures are intended to represent an aspect of Fowler's own musical practice; he describes the work as 'a still of this violent act, the crash when all the players are improvising'. But the content of the framed images suggests the degree to which Fowler is also interested in creating coherent narratives, and invested in the mythology of the creative process.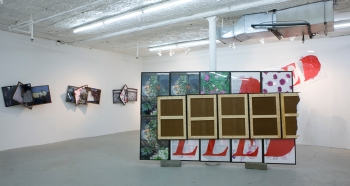 A linear narrative of sorts is contained within nearly every work: from creative inspiration to development to material production. A series of flower images are simultaneously kitsch and deeply personal, and seem to represent some idea of aesthetic beauty and inspiration. These are juxtaposed with the logistical detritus of art production: Fall 2009 (Transparency for Flower Print Order PT1, 2 Screen Flower Print, Transparency for Flower Print Order PT 2 (2009) features screen-grabs of various work-related emails. Meanwhile, Fall 2009 (Max Figuring Wood Cuts in Studio, 2 Screen Flower Print, Bricks Setting Frame Backs in Studio (2009) includes images documenting the in-studio production of the art work.
But most striking is the way Fowler folds the professionalization of the arts into this progression, as an almost inevitable stage of creative practice. The foundation of the exhibition is a series of posters advertising a cancelled tour, ostensibly referring to Fowler's music practice but bearing clear resonance to his art practice; the circulation, distribution and administration of the arts is always already figured into Fowler's images. Similarly, Fowler is markedly preoccupied with the legibility of his work: two framed prints (placed in the gallery bathroom) feature a text in which Fowler not only explains many of the image references in his sculptures, but also expounds upon the importance of keeping his work from becoming illegible.
One result of that self-referentiality is that the exhibition became (perhaps unintentionally) canny, and also developed something of a teleological quality. Everything from the production to the reading to the sale of the work was already figured into the exhibition. And for all Fowler's interest in capturing the messy nature of process, or the delicate balance between chaos and formal order, the resulting works were markedly clean. They indicated the fact of a tremendous clash, but were themselves sanitized, objects from which the shattered glass had been swept clean.