Featured in
Off the Clock
In this series, frieze d/e asks artists to discuss the logistical background to their works. Bettina Pousttchi explains why she travels around the world photographing clocks
For the World Time Clock project (2008–ongoing), I travel to different time zones and take photographs of public clocks, always at five minutes to two in the afternoon. The time is not meant to be symbolic. But it is important for it always to be the same time so that the finished series suggests a kind of global simultaneity. Instead of taking time zones into account, they are dissolved, so to speak.
The system of time zones dates back to 1884 when the International Meridian Conference in Washington D.C. voted to position zero degrees longitude in Greenwich, London. Outside of the Greenwich observatory, the meridian is marked on the ground together with the words 'Welcome to the centre of time and space'.
This project also began in London while I was there on a residency in 2008. At first, I conceived of the whole thing as a long-term 'life project' to be conducted on a casual basis – I planned to just take a photograph of a public clock whenever I found myself in a different time zone. But soon I realized I would need to pursue the idea actively, otherwise it would be doomed to failure – I'm not just going to happen to find myself in Alaska or Siberia. As a result, a casual sideline became a large-scale travel project demanding considerable amounts of time and money. After a while, I even bought a round-the-world ticket that allows you to stop almost as often as you like, the only conditions being that you can only travel in one direction and that the Atlantic and the Pacific can only be crossed once each. So I travelled once round the world, in exactly 27 days and 18 hours. Which is also exactly how long it takes the moon to orbit the Earth – a period on which many calendar systems are based. I visited a total of eight places, staying roughly 48 hours in each. The trip was designed to cover all of the places I was unlikely to end up in otherwise: Anchorage, Alaska; Honolulu, Hawaii; Auckland, New Zealand and Sydney, Australia.
The journey was a pretty extreme experience, due in particular to the very short stopovers that had just one purpose: to photograph public clocks. I research the clocks beforehand, but on arrival, things often look totally different. First I have to find the clock that I've chosen. My information is not always correct, and sometimes the clocks have since broken down or vanished. In Los Angeles, for example, one of the hands had broken off, and almost all of the clocks in Bangkok had stopped. Sometimes the face was obscured by scaffolding or dense foliage. In some cities, there is a striking abundance of public clocks – Vancouver and Sydney are absolute clock cities. Elsewhere, there are almost none. In Kathmandu in Nepal, for example, I managed to find just one that was still working. In Delhi, the clocks are gradually being removed after a long period of neglect. Public clocks are disappearing. They are a relic of the analogue age and also, in a way, of colonialism. Many clocks around the world are miniature copies of London's Big Ben – the stronger the former ties to Great Britain, the more obvious the link.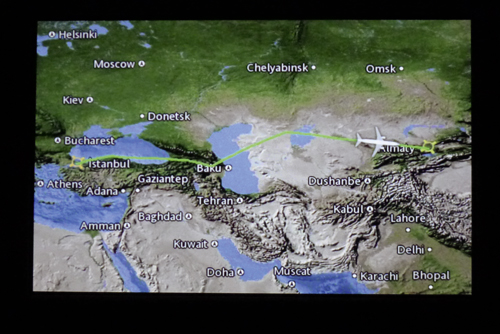 As well as the 24 full-hour time zones, there are also countries that opt out of this system. India, Afghanistan and Iran, for example, have half-hour deviations from standard time. The cities I have visited so far include London, Shanghai, New York, Istanbul, Mexico City, Moscow, Anchorage, Honolulu, Auckland, Sydney, Seoul, Kathmandu, Delhi, Almaty and Tashkent. The last four I combined on my last trip at the turn of 2012/3. In the former Soviet republics of Kazakhstan and Uzbekistan, it was very difficult to take photographs in public places at all. In Almaty in Kazakhstan for example, it was quickly intimated to me that I should stop. Luckily, I had already taken my pictures.
Traffic can often be a problem or, as in Shanghai, a storm. In each city, I only have a brief window: in the space of two days, there are two chances to photograph the clock at five to two in the afternoon. I have roughly three minutes per shot; depending on the camera angle I may be able to start at 1.54pm or continue until 1.56pm. As the clocks are strongly decontextualized in the final work, the pictures do not immediately reveal the effort of a round the world trip. The many journeys of recent years have often pushed me to my limits and they have fundamentally altered my perception of time and space. I hope the presentation of the finished world time clock will convey some of this.
Translated by Nicholas Grindell