Critic's Guide: Cologne
Ahead of Art Cologne this week, a guide to the best current shows in the city
Tiril Hasselknippe
DREI
27 April – 3 June
Opening 26 April 6–9pm
Norwegian artist Tiril Hasselknippe's second exhibition at Drei, 'Queens of the Tear Duct', comprises a site-specific installation as well as four smaller sculptures. Employing sound and a kinetic component, the eponymous main work on view resembles a system of interchanging roads. For the exhibition's opening on Wednesday, this work will be activated, and water will stream from the roads onto the other components of the installation. The four smaller-scale sculptures, made of concrete and resin, see imagery of street crossings merged with speculative, occult or ancient religious symbols.
Working primarily in sculpture, installation and performance, Hasselknippe's work looks to notions of survivalism amid notions of impending environmental or societal collapse: she activates monolithic or ancient totemic traditions, yet ties them to recent protectionist tendencies within society at large, whether isolationism, 'prepping', and fantasies of a 'drop-out' culture amid today's precariousness.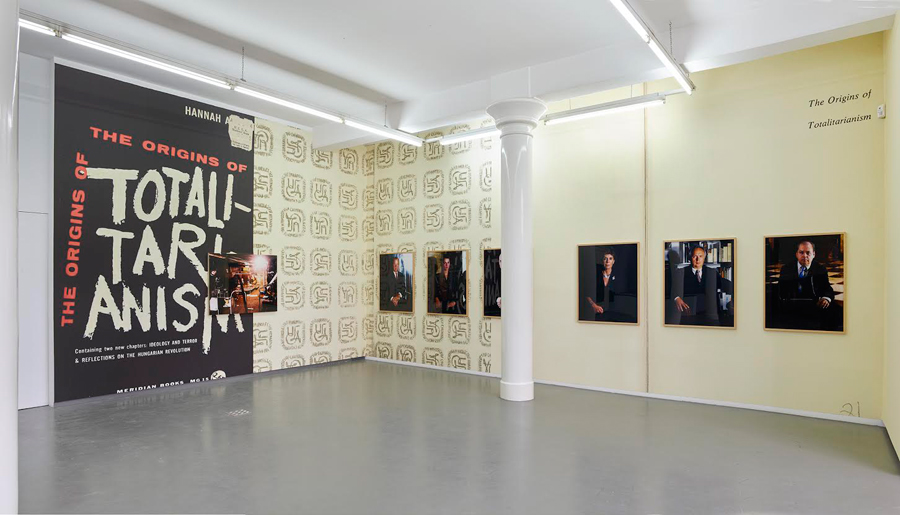 Clegg & Guttmann
Nagel Draxler
25 April – 18 May
'How does the new political order influence the way we look at portraits?' This is among the questions posed by Clegg & Guttmann's exhibition at Nagel Draxler, 'Eye Contact: The Origins of Totalitarianism.' The exhibition deals with nascent fascist and nationalist tendencies head on: historical events which, according to the artists, have changed not only the liberal democratic order but also 'the way people look at each other.' The show examines the interrelationship of visual codes of representation (whether clothing, gesture, expression or pose) and politics; it combines the title of Hannah Arendt's book The Origins of Totalitarianism (1951), and its investigation of totalitarian ideology: pages of this book have been turned into a gallery wallpaper, interspersed with a number of photographic portraits on the gallery walls – pointing to the notion of photographic portraiture and the conditions of interpersonal relations that are reproduced via seated photography conventions.
Clegg & Guttmann's exhibition is divided into four segments: running from Arendt's book and Wilhelm Reich's The Mass Psychology of Fascism (1933), to the Hungarian revolution, to Reagan's presidency and the emergence of neoliberalism in the US to the election of Donald Trump. Over all of these are placed Clegg & Guttmann's photographic portraits, some colour, some black and white. By combining these interests in resurgence of national-fascistic tendencies with the conventions of photographic portraiture and representation, the works step outside of finger pointing and show the continuous imbrication of politics and aesthetics.
Cameron Rowland
Galerie Buchholz
23 April – 24 June
At Galerie Buchholz in Cologne, US-born artist Cameron Rowland has titled his exhibition 'Birmingham' after the city in Alabama famous for the nonviolent direct action protests organized there in the early 1960s and a place which remains a hotbed of racial tension. Rowland is showing a series of works in which the history of the subjugation of black people in the US is examined in relationship to systemic and infrastructural developments, such as electricity, coal and railroads. The show – which contains an impassioned, 43-footnote press release written by the artist articulating the intertwined histories of black oppression – looks to the relationship between the railroad industry, convict lease system, and the criminalization of ex-slaves.
Rowland's Jim Crow (2017), for example is both the name of a specific rail-bending tool – examples of which are displayed – and the shorthand for the US segregation laws in the 1960s. The simple-seeming intervention, RWE (2017), saw the artist change Galerie Buchholz's electrical provider; Norfolk Southern (Tennessee) (2017), is an installation comprising relay rails: steel rail segments that have been removed from original train lines and resold. Deftly metaphorical, Rowland's works point to continuous patterns that are still present today: when an overabundance of the prison population in the US is black, and when released convicts find it nearly impossible to find work and when even correctional facilities are turned into profit making measures and thereby reinforce historical injustices.
Claus Richter
Clages
7 April – 27 May
Cologne-based artist Claus Richter's exhibition at Clages, 'Living in another world', is a high point in the artist's combination of sugar-sweet humour with escapist elements of the carnivalesque and the macabre. In one room, a sculpture of a pyjama-clad figure lies on the floor, watching a video on his laptop. Lost in a dream, he is watched upon by a sculpture of two white rabbits, who poke out nightmarishly behind a door in the room. In another room, we see a series of panel-based wall works in which mice and mice eggs are shown burrowing underground. A group of Singing Flowers (2017) coos animatronically. True to the exhibition's title, which speaks of dreamlands and wonderlands, Richter's works combine an interest in alternative worlds, with the oneiric aspects of childhood, and construct environments where the Willy Wonka-like worlds of toys, games, are collided with the macabre habitats of adults.
Avery Singer / Danny McDonald
Kölnischer Kunstverein
27 April – 11 June
Opening 26 April 7–11pm
The works presented in Avery Singer's exquisite exhibition 'Sailor', co-produced with the Secession in Vienna – where Singer recently held an exhibition earlier this year – represent a marked evolution in the New York-based painter's work. For this presentation, Singer develops her usage of computer and SketchUp-rendered imagery, transferred onto canvas, to construct a compelling visual argument relating to notions of automaticity within art. In one room, the recognizable cubical-forms – wherein notions of graphical convention, perspective and depth of field are studied – are extended into sparser, more evocative canvases: the brushstrokes, emotively placed onto the cool planar geometry of Singer's forms, are a breath of fresh air. Screens make their way into the canvases too. In one image, we see a long-haired figure, rendered in a Cubistic style, directly facing us. Beside her, we can see a screen, a fractal black mirror of cognitive dissociation. Another canvas sees Singer branching out: a tree-like hierarchy of branches and colours, like computer code bleated with colour, or tangles of shadow which are delicately imbricated. Both are animated, automated, yet fiercely and technologically mute.
The cinema space of the Kunstverein sees a separate presentation of US artist Danny McDonald. His 2015 film The Beads (That Bought Manhattan) is a humorous, dark take on recent histories of gentrification seen via a witch-like character named Mindy. Upstairs, numerous vociferously humorous, ghoulish figurines on plinths comprise the second part of McDonald's exhibition. Here, a skull wearing knee-length boots but lacking legs, with a sort of monocle; or a large stock of corn being injected with a shot by a small doctor figurine who looks like he has just synthesized LSD. In another, an ostrich dangles an American Express card over a hat, and yet another speaking figurine, within a bronze birdcage, wears two testicle earrings. While separate, both presentations call attention to the commoditization of styles within art historical discourse, and play with assemblages of filters that increasingly dictate everyday life experience, to both entirely earnest and tragicomic ends.
Trisha Donnelly
Museum Ludwig
25 April – 30 July
Trisha Donnelly is showing new works at Cologne's Museum Ludwig as the winner of the 2017 Wolfgang Hahn Prize. In the first room, a single video is projected onto the wall: a teeming, lush, animated yet mostly abstract and inscrutable image that beats like a heart. Donnelly combines the seeming immateriality of light with investigations into the materiality of video. In a second room, a large monolithic marble slab rests on the wall – holes are visible where it has been dragged out of a quarry – like some unreadable cosmic message: a Rosetta Stone to indecipherability. Donnelly has carved out of this slab an abstract relief that is similarly ciphered. Also in this room are two video projections, in the vein of the first, in which glitch-like, yet somehow powerfully evocative imagery, are cast onto the wall, looking alien and alive. Make of Donnelly's images what you will: you can see a drone image or a broken screen or simply a plain glowing thing that seems to shrug at you.
Zoe Leonard
Galerie Gisela Capitain
26 April – 20 May
The presentation of Zoe Leonard at Gisela Capitain, 'Misia, Postwar', comprises a series of autobiographical photographs, paired with a new series of sculptures. The black and white photographs are taken of female members of the artist's family following World War II, after the artist's family escaped a Soviet-occupied Poland before eventually arriving in the US.
Immediately after the election of US president Donald Trump, a politically-motivated 1992 text work by Leonard, entitled I want a president, was widely circulated online. The present series at Capitain in Cologne, though markedly autobiographical, is similarly prescient: where the idea of the US as a place of refugee is under direct assault. A series of new sculptures – stacks of dated amateur photography manuals containing titles such as 'How To Take Good Pictures' – link the political and personal motivations of the first series with the self-representation and self-portraiture of today.
To view more current exhibitions visit On View Main image: Avery Singer, Untitled, 2016, acrylic on canvas, 203 x 229 x 6 cm. Courtesy: the artist; Kraupa-Tuskany Zeidler, Berlin; Gavin Brown's enterprise, New York / Rome; photograph: Sophie Thun, Secession, 2016