Critic's Guide: Condo London
Highlights from the 2018 edition of Condo London, a collaborative exhibition by 46 galleries across 17 citywide locations
mother's tankstation hosting Edouard Malingue Gallery, Hong Kong | Shanghai
Sweeping aside grander narratives to examine the texture of 'everyday' life, there is a tense, quiet intent to this show, co-curated by Edouard Malingue Gallery and mother's tankstation. I'm first drawn to the photographs of workers mending street lamps mounted on a slab of aluminium signage daubed in blue by Ko Sin Tung. The Hong Kong artist's politically charged installations (often drawing on imagery and materials from Hong Kong's construction zones) narrate the sense of suffocated space and crisis in her city. Ko's work occupies a space between actual existence and what might have been promised, and I like how her passion for the politics of the urban form as well as a kind of speculative fiction flows into the work of Paris-based artist Eric Baudart. Baudart's assemblages, in turn, frame the quotidian with an air of falsity, in which objects are displaced and defamiliarized, whether it's a set of motorized fans immersed in canola oil, or in this instance, a weathered parasol mounted on the wall like a special relic. Meanwhile Dublin-based painter Mairead O'hEocha is known for her landscapes which capture the edges where the urban and pastoral meet, as well as a long preoccupation with radiant flower painting. O'hEocha's interest in still life seeks to see old works afresh, whether reactivating them in order to reassess patriarchal art history canons, or her painting of tulips here which takes after a now lost work by Philip Reinagle. And there is a melancholia, too, in Australian painter Noel McKenna's work, which converses with a sense of the 'supernormal', featuring charged domestic spaces (one painting details the home of an Iranian artist who was a victim of the US's recent travel ban) as well as sculptures and an animation by Sam Anderson that journey across the gallery space in a female reimagining of Miguel de Cervantes's famous knight-errant Don Quixote.
Project Native Informant hosting MadeIn Gallery, Shanghai, and KOW, Berlin
For his 'Maskirovka' series (2017), the Berlin-based photographer and filmmaker Tobias Zielony immersed himself in Kiev's queer techno scene, in the shadow of the 2014 revolution. The title of the series references a Russian term for covert military operations (especially regarding masked strategies in Ukraine), but it could also capture the interface between new technology, identity politics and disinformation, which sits at the core of the practices of all the artists hosted here by Project Native Informant. New York painter Ned Vena modulates between the digital and the canvas in his hazy recreations of his body tattoos (first captured on an iPhone), the idea being that these 'pseudo-selfies' constitute a palimpsest, revealing the haunted layers between paint, tattoo graphics and the texture of skin. And Shen Xin's three-channel film installation Forerunners (2016) is itself a forerunner of the films in her four-channel Provocation of the Nightingale (2017), which I caught last year at the BALTIC Artists' Award exhibition. These veered from a dialogue between a manager at a DNA testing service and her meditation mentor, through to panting dancers confronting each other, and then to a set of recordings of people who have undergone DNA testing. I was struck then by how Shen's work has shifted from more personal reflections on identity towards exploring the slippages between image and sound ­– in Forerunners, these same scripts are now reproduced as motion-captured animations dancing across a blank stage.
Hollybush Gardens hosting Jan Mot, Brussels
From his portraits of aphasia sufferers through to reckonings with Belgian colonial history, Sven Augustijnen's films aim to trouble documentary and archival forms and the ways in which stories are remembered and told. In Summer Thoughts (2012–ongoing), which is presented here, Augustijnen turns his attention to the personal letter. The work was triggered by letters he wrote to the curator Marta Kuzma from 2012 to 2016, reflecting on the politics of Hannah Ryggen's tapestries. Specifically, Augustijnen writes on how Ryggen responded to the Nazi occupation of Norway, and then he traces the historical connections leading up to the present European crisis and the march of fascism in the region once again. These letters are mounted on the wall, alongside a cartographic body of newspapers and photographs embedded in a vitrine. The installation becomes an instrument for disciplining our sight once again in a new age of political urgency. Upstairs, Hollybush Gardens are showing a selection of black and white prints by Andrea Büttner of painted stones created by artists such as David Hammons, Kurt Schwitters and Fahrelnissa Zeid.
Sadie Coles HQ hosting Koppe Astner, Glasgow, and Madragoa, Lisbon
In San Francisco-based artist Josh Faught's work, the histories of queer identity and activism are woven into textile collages and crocheted sculpture, along with the texts of commercial greeting cards, gay pride buttons and glitter. Faught often leaves his threads hanging, ready to be undone. These handwoven tapestries are joined by the work of Berlin and Tallinn-based artist Kris Lemsalu, in which animal parts and other found matter fuse with ceramic sculptures. Lemsalu often turns the gallery space into a blur of unending forms: the skin of wild pigs might hang alongside gowns crumpling into mounds of sand. In The Shop at Sadie Coles HQ, Madragoa presents an intensive enterprise in their group show 'Approx.': how can the flat, printed surface of the photograph take on new depths? There is a sensual night music in Renato Leotta's tracking between photography and place-making – in the photogram TEMPO (Luna del ghiaccio) (TIME, Ice Moon, 2017), the artist has dipped photographic paper into sea water under a full moon. Other kinds of luminosity and tactility as well as a sense of discovery fill Buhlebezwe Siwani's installation amaKhobokha (2016). Here, her lens falls on a brand of green soap which has multiple uses in South Africa (for cleaning clothes and the body, as well as the digestive system), capturing the vessels in which the soap's leftover green sediment has collected.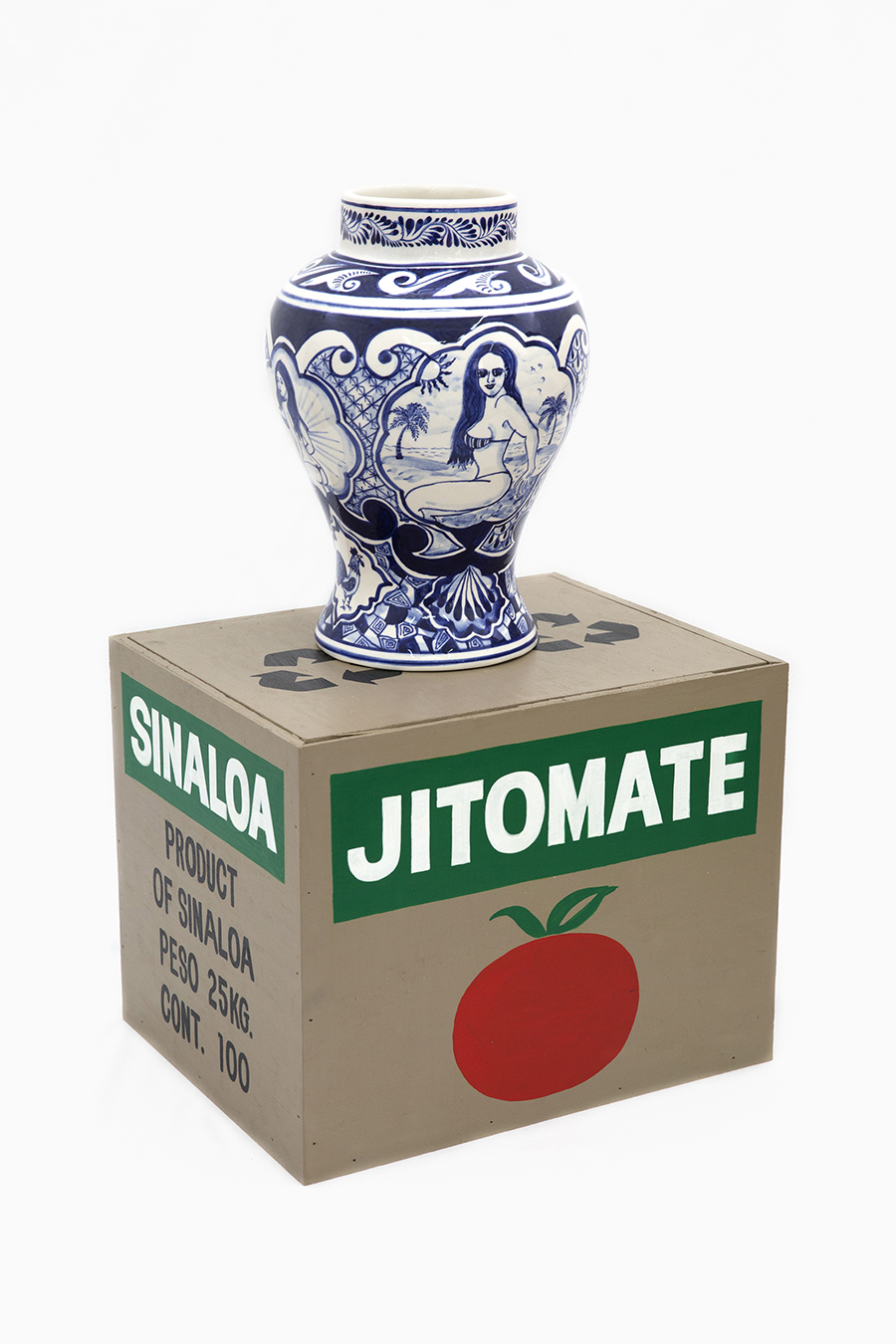 Maureen Paley hosting dépendance, Brussels, and joségarcía ,mx, Mexico City
Over a decade ago, Eduardo Sarabia journeyed from California to Guadalajara to visit a ceramics factory. He ended up staying and subsequently steeping his art in narco-culture. If 'Mexico's narcos have their front pages and their murder ballads', then Sarabia 'has given them a craft tradition', writes Travis Diehl in a recent frieze feature on the artist. The folk traditions and histories of northern Mexico – particularly their handmade textiles and ceramics – give form to the artist's vibrant commentary on the local and the global and on the war on drugs. He's well-known for his reappropriation of talavera pottery which he populates with the motifs of narco-culture, from scantily dressed women to AK-47s. I'm also looking forward to what Michaela Eichwald will bring to the space. Taking the unremarkable, sometimes nasty detritus of life and then imbuing it with another presence seems like Eichwald's solution in the worn, muddied smears of her oil and acrylic on canvas, which might also be touched by other matter like cement, as well as the plastic bags containing eggs, coins or watches which the artist then sets in resin.
Rodeo hosting Andrew Kreps Gallery, New York
Rodeo and Andrew Kreps present a curated two-person show featuring British artist Ian Law and American artist Robert Overby – the latter passed away in 1993. During his lifetime, Overby rarely showed in exhibitions, and it's only in relatively recent years that his work, from his oil paintings to his other career in graphic design, has been considered afresh. In particular, his latex wall casts of domestic facades, carefully painted to suggest qualities of age, share early affinities with the memory houses of Rachel Whiteread and Do Ho Suh. Overby's practice often demonstrated an almost ritualized process – taking a door and then casting it in resin, producing a neon outline before finally turning it into a map on canvas. In these 'canvas maps', which are shown here, Overby sought a more reflective, tactile counterpoint to his facade casts. In his 'restoration paintings', he purchased cheap street market knock-offs of old master works which he then subjected to cleaning techniques in order to 'restore' them – included in the show is his Princess Restoration c.1850 anon. (1973) through which Overby explored this interest in the retentive and cerebral capacities of the canvas. Ian Law similarly expresses an interest in material memory – and his work featured here engages with the writings of Simone Weil.
The Sunday Painter/Arcadia Missa hosting Galeria Dawid Radziszewski, Warsaw, and Galeria Stereo, Warsaw
The canvases of Tomasz Kowalski are brimming with psychedelic and surrealistic tones – a man falling into a sea of mouths, or children's games playing out with a hint of threat. At the Sunday Painter, Kowalski teams up with his mother Alicja in a new series of tapestries. Gizela Mickiewicz (born in 1984) and Roman Stańczak (born in 1969) represent two generations of sculptors from Warsaw. Found quotidian objects are cracked open or given new skins until they reveal strange transfers of energy in the work of Stańczak, whether a cupboard spewing out wooden chips or a steel coated bathtub. Mickiewicz focuses on the ways in which objects become reified, mounting them on walls with an air of gravitas. And there's always a playful and humorous bent to Leo Fitzmaurice's work which delights in instances of visual trickery. For instance, his carrier bags cast in bronze might transform into a landscape of rabbits, or car parts mounted on walls may become alien faces. At the Sunday Painter, he shows cigarette packs cropped into football shirts from the 'Post Match' series, begun in 1996 and finished last year.
Condo London runs 13 January – 10 February. See their website for more details here.
For more current exhibitions in London head over to On View.
Tobias Zielony, Apartment, 2016/2017, archival pigment print, 56 x 84 cm. Courtesy: the artist and KOW, Berlin