Critic's Guide: Münster
A guide to the best projects included in Skulptur Projekte Münster 2017
Ei Arakawa, Harsh Citation, Harsh Pastoral, Harsh Münster
Meadow in front of Haus Kump, Mecklenbecker Str. 252, 48163 Münster
Duchamp once gave his sister Suzanne a wedding present that was, for the most part, destroyed. The gift was a book, a geometry textbook, which our beloved enfant terrible had left outside on a washing line for several days prior to the exchange. Why? To see how the much-lauded logic of man held up against the unwieldy logic of nature. New York-based artist Ei Arakawa's project for Skulptur Projekte Münster, Harsh Citation, Harsh Pastoral, Harsh Münster, nestled in the grassy pastures that roll away from the southernmost point of the manmade lake Aasee, follows a similar logic of reassessment via relocation. Seven existing paintings (not Ei's own, but those of friends and long-admired practitioners) have been removed from their various safe havens (gallery walls; collectors' walls), reimagined as abstract LED compositions, and left out to dry. How will this privately owned imagery fare against the elements of free public space – or, rather, the public themselves? Duchamp's project fell, sodden, to pieces, but its very status 'as object', 'as object with meaning', 'as meaning', was altered irreparably with the descent of each dripping page.
Jeremy Deller, Speak to the Earth and It Will Tell You
Mühlenfeld allotment garden colony, Lublinring, 48147 Münster
If you have ever suffered the indignity of having to navigate the German rail 'network', you will no doubt have spotted the clusters of tiny gardens that hug the tracks as they skirt around the fringes of any major city. These horticultural patchworks are the products of an initiative established during German's industrialisation, when families were forced to scurry after the income as it migrated from the scenic to the city, sacrificing their self-sustaining modes of food production (and their health) in the process. To counter this diminishing quality of life, city administrations began to lease plots of state-owned fallow land on the cheap, where produce could be grown and children could escape the smog. Jeremy Deller initiated Speak to the Earth and It Will Tell You a decade ago, when he first visited the Mühlenfeld allotments in Münster. He called in at 50 plots, handing each gardener a vast green journal and a single seed from the dove-tree, which blooms every ten years, echoing the timeline of Skulptur Projekte Münster. What remains – or what has come – of those books is on show in those same gardens today, housing Deller's own allotment. Photographs of boozy fêtes, of Borussia Dortmund clashes, of recipes for homemade wine: this is less a horticultural archive, than an archive of the community that has flourished within.
Nicole Eisenman, Sketch for a Fountain
Meadow alongside Promenade, Am Kreuztor/Promenade, 48143 Münster
Rome's iconic Trevi Fountain, famed for its lapping emerald waters, its exquisite Baroque design, and its show-stopping cameo in Fellini's La Dolce Vita ('Marcello!'), was recently renovated across a period of 17 months, at an estimated cost of €2.2 million. Somewhat contrastingly, much of Nicole Eisenman's Sketch for a Fountain will be rubble within months, and no one will be footing the bill for repairs. Eisenman's work will feature five large-scale figures, two of whom are cast in bronze – a fairly conventional take, thus far. The remaining three, however (lounging, lying, cross-legged), are built from nothing but plaster and glaze, an insecure material that, over the course of the coming months, will slowly deteriorate under the fountain's spray. If you have had the pleasure of gazing upon Eisenman's paintings first hand, you will recognise these characters. Globular, androgynous, animalistic, endearing: they are set in place but, like those poor souls who are destined to feel their limbs drip away, they ardently refuse to stay in one place – to be defined as one thing.
- Read poet Eileen Myles's take on Nicole Eisenman for Frieze Week here.
Pierre Huyghe, After ALife Ahead
Former ice-rink, Steinfurterstr. 113 -115, 48149 Münster
There is very little to be said about Pierre Huyghe's contribution to Skulptur Projekte Münster that the artist hasn't said already. I quote:
Ice rink concrete floor.
Logic game.
Ammoniac.
Sand, clay, phreatic water.
Bacteria, algae, bee, chimera peacock.
Aquarium, black switchable glass, conus textile, GloFish.
Incubator, human cancer cells.
Genetic algorithm.
Augmented reality.
Automated ceiling structure.
Rain.
Alright, maybe there is. Shortly after his long-term collaborator Philippe Parreno converted London's Tate Modern Turbine Hall into an all-quivering, all-quaking aquatic organism, Huyghe has turned his attention to a former ice-skating rink in the northwest of the city. Having altered the atmosphere and architecture of the space through a process of burrowing (into the rink) and obliterating (parts of the roof), the Münster debutant will leave his environment to the mercy of the unpredictable, with the configuration of the space dictated by the pattern variations of snails and the growth of human cancer cells. (There is also an app, because it's the 21st century.)
- Read Jennifer Higgie on Pierre Huyghe's 2014 film Human Mask here.
Lara Favaretto, Momentary Monument — The Stone
North-eastern meadow between Ludgeriplatz Square and Promenade, 48151 Münster
For Skulptur Projekte Münster, Lara Favaretto will be reviving her 'Momentary Monuments' series, which, since it was inaugurated in 2005, has seen vast monoliths, guarding walls and barriers of debris and scrap spring up in Liverpool, Kabul, Kassel, and Venice, only to be torn to the ground. For the latest iteration, Momentary Monument — The Stone, Favaretto will set down a vast, hollow cenotaph near Ludgeriplatz Square, where it will stand in defiant opposition to a colonial memorial commemorating those of the Westphalian Train Battalion No. 7 who died between 1901 and 1906 in China and the former 'German Southwest Africa'. As with the project of the same name that was included in last year's Liverpool Biennale, the monument will be marked with a deep slit into which visitors can throw their spare change. At the close of Skulptur Projekte, Momentary Monument — The Stone will be ceremonially shattered, the rubble redistributed around the city and the money donated to Hilfe für Menschen in Abschiebehaft Büren e.V., a local foundation that advocates for the abolition of deportation detention. A monument, then, yes, but one that passes up preservation for preservation's sake in favour of a generative, future-oriented destruction of legacy.
- Read Barbara Casavecchia's 2015 feature on Lara Favaretto here.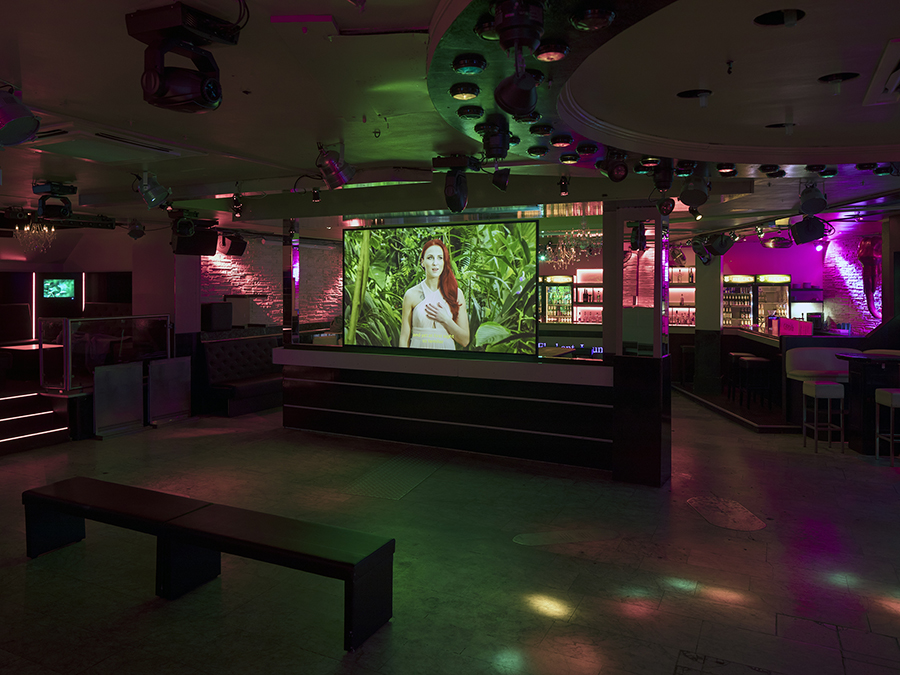 Bárbara Wagner and Benjamin de Burca, Bye Bye Germany! A Melody of Life
Elephant Lounge, Roggenmarkt 15, 48153 Münster
Schlager, or 'hit songs', is a cheesy, upbeat strain of German pop music that, aside from its smarmy, glint-in-the eye practitioners, vapid and overly sentimental lyrics, gentle meandering towards nationalistic sentiment and, let's be honest, god-awful sound, is pretty inoffensive. In post-World War II Germany, it was this very strain of inoffensiveness that led Schlager to become so popular amongst the more conservative sects of society – those who had the least to react against. While the bellwethers of Krautrock (Can, Kraftwerk, Popol Vuh, et al) were looking forward, interrogating what contemporary sound and culture could/should be, Schlager persisted with its flavourless banality, as it always had, attempting to maintain a status quo that it refused to see as anything but fully functional. Unsurprising, then, that a faction of intellectuals, upon hearing such songs as 'Memories of Heidelberg' (1972), condemned the genre as right-leaning Volksverdummerung – brainwashing.
It is Schlager that provides the starting point for Bárbara Wagner and Benjamin de Burca's latest film, Bye Bye Germany! A Melody of Life, which follows the lives of two club performers and will be presented in the Münster nightclub The Elephant Lounge for the duration of Skulptur Projekte. If, at first, the genre appears a little outmoded in terms of aesthetic, style and ideology (it is), just consider how densely saturated it is with questions of class politics, regional hierarchies, and financial disparity – long-considered but unanswered questions that abide and divide to this day.
- Read Evan Moffit's feature on Bárbara Wagner and Benjamin de Burca here.
Mika Rottenberg, Cosmic Generator
Gartenstraße 29, 48147, Münster
Fronts and façades, shafts and shadows, plumage and pak choi: Mika Rottenberg's shimmering new film, Cosmic Generator, allows us a glimpse at the fantasies and fictions that reside in the more obscure corners of our hyper-capitalist, neoliberal reality, one that can often feel devoid of a little magic. Cosmic Generator is roving. It takes us by the hand and leads us through a vast plastic commodities market in China, a strip of Chinese restaurants in the US/Mexico border-town of Mexicali, a 99-cent store in the neighbouring town of Calexico, and takes the time to introduce us to a roving street vendor with ties to alternate worlds. Its basis is no easier to pin down: A long, concealed tunnel that supposedly snakes beneath the border or the US and Mexico, connecting a restaurant in Mexicali with a newly built house in Calexico. As visually arresting as Cosmic Generator is (and in Münster it will be screened in a dilapidated Asian food shop chocked full of trinkets and tat), it is a work that circles around the unseen – that which lies beneath, between, behind, and is often more enticing and vibrant than the façades that we choose to accept. (That we are forced to accept?)
Elsewhere: Nairy Baghramian has posed questions of the notion of 'site specificity', positioning a series of bronze sculptures in a location once occupied by the works of Richard Serra and Andreas Siekmann; Ayşe Erkmen has submerged a number of shipping containers in the municipal harbour, allowing visitors to walk on water; Cerith Wyn Evans has lowered the temperature of the bells in St Stephen's Church, slightly altering their sound in the process; Michael Smith is offering bespoke tattoos designed by participating artists and esteemed friends (of course, those over the age of 65 get a special discount). For the full list of 2017, click here.
Be sure not to miss the many works that have remained in the city following previous iterations of Skulptur Projekte: Public Toilet Facilities at the Domplatz (2007), a Hans Peter Feldmann-decorated WC; Bruce Nauman's meditative Square Depression (1997/2007), welcoming students to the Natural Science Centre; Rosemarie Trockel's Less Savage than Others (2006/07), a row of square bushes running along the bank of the Aasee; an untitled work by Donald Judd, in which two large-scale concrete rings set the decline of a hill against the resting water level; Hermann de Vries's Sanctuarium (1997), a walled sanctuary and safe haven for wildlife; and Rachel Whiteread's Untitled (Books) (1997), lining the walls of the LWL-Museum für Kunst und Kultur. For the full list of works in the public collection, click here.
For its fifth edition, Skulptur Projekte Münster has extended its purview and entered into a partnership with the neighbouring city of Marl and the Skulpturenmuseum Glaskasten Marl that will see a number of artists working between the two cities. For more information, click here.
Main Image: Mika Rottenberg, Cosmic Generator, film still, 2017. Courtesy: Andrea Rosen Gallery