Critic's Guide: São Paulo
Coinciding with the 32nd Bienal de São Paulo, a guide to the best current shows in the city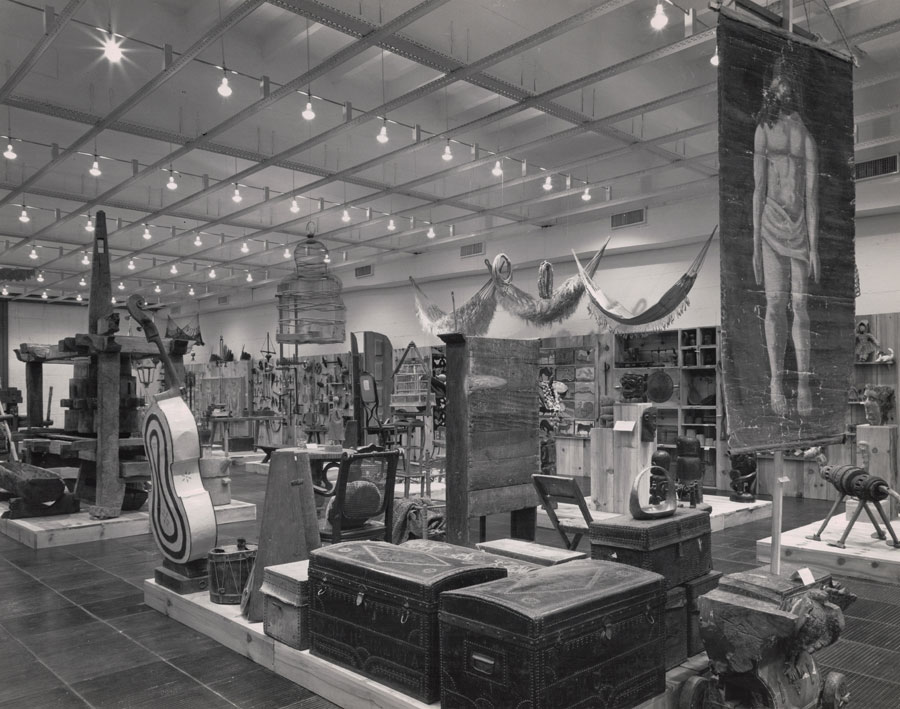 'A mão do povo brasileiro' (The Hand of the Brazilian People), curated by Adriano Pedrosa, Julieta González and Tomás Toledo
MASP
2 September – 29 January
'The Hand of the Brazilian People' restages the inaugural 1969 exhibition at MASP's then new headquarters – founded in 1947, the museum, was formerly located in an office building in downtown São Paulo. Organized by director Pietro Maria Bardi, his wife Lina Bo (who designed the new venue and worked alongside Bardi during his 49-year tenure at the museum), filmmaker Glauber Rocha and theatre director Martin Gonçalves, it presents over a thousand vernacular objects that reflected Brazil's rich material culture, including figureheads, utensils, toys, votive figures and much more. Since taking the helm at MASP just over a year ago, chief curator Adriano Pedrosa has implemented a dynamic programme organized around thematic cycles (Afro-Brazilian art, Indigenous art, sexuality, etc) that recuperates the museum's unique history while borrowing Pietro and Lina's legacy to rethink the role of the institution in contemporary Brazil. As part of a cycle dedicated to popular art, 'The Hand of the Brazilian People' opened in the midst of great political turmoil – Brazil's democratically elected president, Dilma Rousseff had just been removed in a shady impeachment trial, and the museum was surrounded by police and demonstrators – making the exhibition's original gesture of presenting everyday objects made by disenfranchised populations as art even more poignant.
'Corredor verde do Minhocão' (Minhocão Green Corridor)
Movimento 90o
11 September – ongoing
Opened in 1971, the elevated concrete highway known as the 'Minhocão' (or 'big worm'), is seen as one of the many large civil construction works that have ruined São Paulo's urban fabric to privilege private motoring over public transportation in the second half of the 20th century. This massive structure cuts through 3.4 kilometers of downtown São Paulo, and at many points the highway is a mere 5 metres away from the windows of neighbouring buildings. From 1989, the 'Minhocão' has been closed for traffic on Sundays and opened to the public as a leisure space, and since last year closure starts on Saturday afternoon, bringing a significant number of users every weekend. The 'Corredor verde do Minhocão' is a unique initiative devised by landscape designer Guil Blanche, who commissioned ten artists to design permanent vertical gardens on the windowless facades of buildings facing the highway, giving impulse to a growing movement of reclaiming public spaces by a young generation of paulistanos.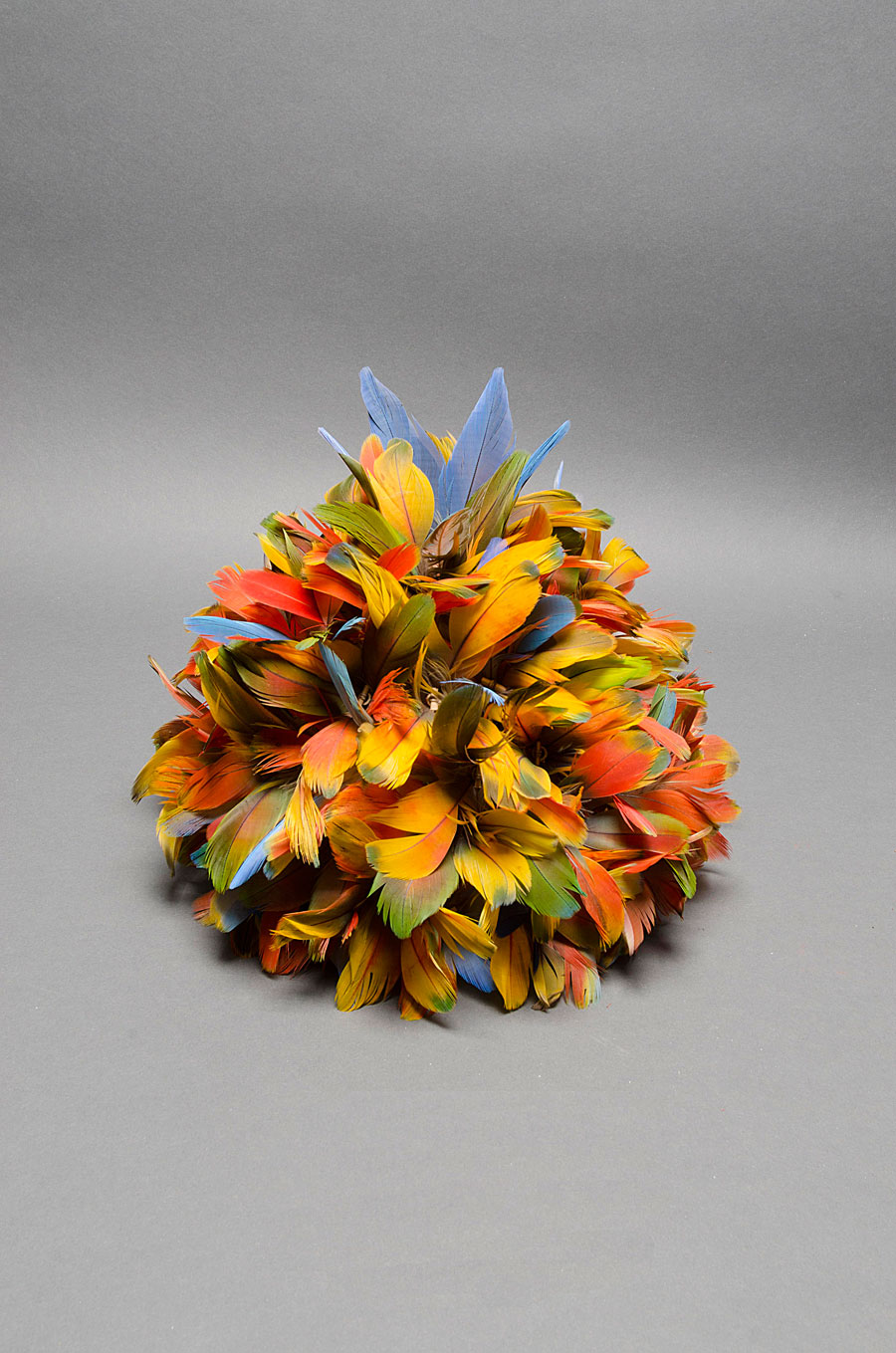 'Adornos do Brasil Indígena: Resistências contemporâneas' (Ornaments from Indigenous Brazil: Contemporary Resistances),curated by the Museum of Archeology and Ethnology of the University of São Paulo and Moacir dos Anjos
Sesc Pinheiros
7 September 2016 – 8 January 2017
This exhibition marks the beginning of a collaboration between Sesc Pinheiros and the Museum of Archeology and Ethnology of the University of São Paulo. On display are more than 200 objects and documents from the museum collection – virtually unknown outside the academic communities – which are combined with works by contemporary Brazilian artists from different generations. Indigenous communities in Brazil have historically been decimated in the name of 'progress', a plight that was true even in more recent years when a left-leaning government was in power. Similarly, their culture remains almost invisible to wider audiences in spite of the art world's renewed interest in the invaluable role of indigenous knowledge in the age of the Anthropocene. Rather than being protagonists in this exhibition, the contemporary pieces featured complement this precious collection with the critical engagement of artists who have engaged with indigenous resistance since the 1960s.    
Lucas Arruda and Paloma Bosquê
Mendes Wood DM
13 August – 21 September
Founded in 2010, Mendes Wood DM has quickly become one of the most established galleries in town. Lucas Arruda is one of the gallery's 'veterans', having been part of their roster since the beginning.  In 'Deserto-Modelo as above so below' he presents a new series of his trademark landscape and seascape oil paintings: small-scale works painstakingly constructed with several layers of brushstrokes to evoke subtle atmospheric changes and states of mind.  Here Arruda expands his investigations around pictorial depictions of light to the gallery space, creating a carefully controlled and slowly shifting lighting system that alters our perception of the paintings. Contrasting with this ethereal environment, Paloma Bosquê shows a new body of works that are strongly grounded on the manipulation of organic and solid materials. Animal casing, felt, handmade paper and wool are combined with brass or wooden frames in delicate compositions where formlessness and geometry are equally present.
'Homo Ludens', curated by Ricardo Sardenberg
Galeria Luisa Strina
31 August – 05 November
Galeria Luisa Strina celebrated its 40th anniversary in 2014, and for the past decade has organizing guest-curated exhibitions to coincide with the São Paulo Bienal. Loosely inspired by the eponymous book by Dutch historian Johan Huizinga, this intelligently curated group show spans the gallery's two buildings. The exhibition starts at the former main venue – a few hundred metres from its current headquarters – a dimly lit environment where visitors encounter works that approach the idea of play in a latent or original state, like Rivane Neuenshwander's cave painting-like projections of children's drawings and the extraordinary Glovetrotter (1991) by Cildo Meireles, an installation where balls of several sizes used in all kinds of games are covered with a metal mesh. In the main gallery – where wall panels have been left unprimed – the curator explores different aspects of play, creating refreshing connections between historical and contemporary pieces.
Carmela Gross, 'Um, Nenhum, Muitos' (One, None, Many)
Galeria Vermelho
11 August – 17 September
Carmela Gross, 'Arte à mão armada' (Art at Gunpoint)
Chácara Lane
3 September 2016 – 8 January 2017
Galeria Vermelho opened in the early 2000s to represent a new generation of young Brazilian artists – such as Marcelo Cidade, Cinthia Marcelle, Carla Zaccagnini, as well as many others – who have became internationally known in the past decade. Over the years, more established figures have joined the roster, among them Claudia Andujar, Rosangela Rennó and Carmela Gross, a significant conceptual artist from São Paulo whose work resists easy categorization. Her latest solo exhibition at Galeria Vermelho is both precise and economic, reflecting her longstanding interest in subjects such as architecture, drawing, language and new media. Employing elements borrowed from the urban landscape – parking gates, fluorescent light, LED panels – Gross presents installations, videos and drawings that are formally precise while retaining her characteristic quirky humour. The concurrent retrospective 'Arte à mão armada' at the nearby Chácara Lane – a 19th century country house converted into a nonprofit gallery space – features a comprehensive overview of her 50-year trajectory.
'In Between', curated by Luisa Duarte
Bergamin & Gomide
31 August – 1 October
'In Between' is organized around one of Lygia Clark's works from the paradigmatic series 'Quebra da moldura' (Breaking the Frame, 1954), which marks an important point in her transition from the two-dimensional plane into three-dimensional space. Rather than attempting to situate Clark's work within art historical narratives, curator Luisa Duarte has opted to bring together a small group of works by contemporary and historical artists that encapsulate similar concerns with the subversion of the fundamental elements of traditional painting: frame, line and space. This toned-down, delicate exhibition is installed in quite a classic manner, highlighting the more subtle aspects of the pieces. This is particularly true in relation to the works by young Brazilians, which in spite of dealing with very disparate issues are still strongly underpinned by a constructivist legacy.
Main image: 'Corredor verde do Minhocão' (Minhocão Green Corridor). Photograph: Luiz Egídio