Critic's Guide: Taipei
From contemporary ink to counter-cultural histories, what to see across the Taiwanese capital
Yuan Hui-Li, 'Moist and Burnt: As Ink Breathes'
Tina Keng Gallery
8 July – 10 September 2017
If the air contained within classical Chinese landscape paintings – banks of mist that wreathe in distant mountain-scapes – is defined by 'moistness', then what happens in an age of environmental crisis? I would prescribe Yuan Hui-Li's 'Moist and Burnt: As Ink Breathes' at Tina Keng Gallery, where the Taiwanese painter continues to test the properties of ink and the limits of shanshui-hua (literally, the art of mountains and water). Triggered by a trip to smoggy Beijing in 2015, Yuan reverses the classical trope of 'moistness' in her 'Fiery Ink' series (2017). Here, she traces the contours of famous landscape pieces, using the ashes of burnt handmade paper as her paint. The ecology of these landscapes is now filled with an intense air pollution, while the charcoal also symbolizes carbon particulates. Flecks of ash spread out from coils of burnt paper encased in vitrines and lightly pepper the gallery floor itself. The relentless aridity of this vision is offset in Yuan's 'Discrete Islands' series (2017) where the artist returns to the humid coastline of her hometown of Jinshan and submits to the luscious qualities of her brushwork. Blocks of landscape are mapped out in gem-like, translucent colours, before being torn out of the xuan paper, revealing the material's fibrous qualities, and recomposed into ethereal collages.
Shi Jin-Hua, 'Two Trees and a Mountain'
TKG+ Projects
8 July – 10 September 2017
The sense of a spiritual mission rushes at you in Shi Jin-Hua's 'Two Trees and a Mountain' at TKG+ Projects, which spans two decades of the conceptual and performance artist's career. In 1987, while in college, Shi watched Andrei Tarkovsky's The Sacrifice (1986), and found himself drawn to a story contained within the film's first shot, about the revival of a withered tree: through a careful, laborious process of watering, its faithful attendant learns that 'if every single day, at exactly the same stroke of the clock, one were to perform the same single act, like a ritual, systematic, every day at the same time, the world would be changed'. Living with type-1 diabetes, Shi has grown used to regularly inspecting and documenting the health of his body, and it is this spirit of routine and ritual that animates his artworks. In The Yoga Tree (1994-96), Shi records his daily yoga sessions through a series of photographs and videos, testing how much further he can stretch his leg out against a tree and marking the length with a ribbon. Over time, the ribbon rises higher and higher, while the bark of the tree is worn down. In his 'Pen Walking' series (2017), Shi offers another lovely meditation on life-cycles, capturing a pilgrimage to Tibet's Mount Kailash in a hail of pencil-strokes, and incorporating the pencils' shavings and spent bodies into the works.
'Arena'
Taipei Fine Arts Museum
8 July – 17 September 2017
Towards the end of trailing through the Taipei Fine Arts Museum's 'Arena' – a sprawling show that bounces between performances and installations by Taiwanese and Korean artists, in collaboration with the Gwangju Museum of Art – I'm met with the violent outburst of Against Again Troupe's Concert of Performance Review (2017), directed by Snow Huang, which transforms office worker assessments into a musical performance. A group of suits are seated around a matt-black table which doubles as the score, chalked up with graphic notation and intrusive phrases – 'prozac, frequency of sex, caffeine addiction' – that weave together office culture, mental health and bodily movement. It soon descends into cacophony as performers strike nails into the desk, scrape its sides with an erhu bow, carefully measure coffee into mugs and hammer search listings into a computer keyboard, while the boss leers over his employees: a piece of theatre that commands a powerful presence in a sometimes baffling exhibition. From Wang Chien-Yang's mini-chapel Faith of the New Generation (2017), painted in Facebook-blue and complete with a cathedral-glass homage to selfie culture, to the invitation to don a chicken onesie and pose in the bright yellow play-pen of Riverbed Theatre's We're All in this Together (2017), it's a show that sometimes mistakes cheeky Instagram fodder for critical engagement with audience and spectacle.
'Arena' finds purpose when it dives into the museum as a site of therapy, magically realized in Park Sang-Hwa's Mudeung Fantasia 2 (2017), which projects a forest glade onto opaque veils, inviting you to wander through a scene lit up by changing seasons and the soothing sound of songbirds. The blurring of real and imagined space continues in Lee Lee-Nam's vertical Pak-yeon-po Waterfall video installation, which takes a Joseon-dynasty painting of the same name – itself a larger-than-life rendering of a waterfall currently located in North Korea – and then further expands and animates it. Spaces for relaxation are in for a disturbing turn in Chen Wan-Jen's Midnight Blue (2017): a horizontal looped video that takes the form of a swimming pool lane, voyeuristically tracking the muscular movements of swimmers from above. Lim Yong-Hyun's brightly bopping video Culture Code. C (2017) lines up a hypnotic sequence of all-singing, all-dancing Coca-Cola cans, and its slurping, staccato soundtrack burdens you with an unshakeable queasiness.
'Broken Spectre'
Taipei Fine Arts Museum
1 July – 17 September 2017
A remarkable series of video installations unpick the counter-cultural history of 1990s Taiwan in 'Broken Spectre': focused on a haunting moment in which utopian politics and rebellion bloomed after the casting aside of martial law and the Wild Lily Student Movement. Su Hui-Yu's The Walker (2017) reinterprets works by the 'little theatre' Taiwan Walker Theatre group – active during the 1990s – deconstructing their plays in a sequence of sensuous, drugged-up visuals, panning over a heaving mass of bodies, spiked with fluorescent bars of light. Hsu Che-Yu's Re-rupture (2017) invokes the Chuan Ming Taxi Fleet Riot that erupted beneath Chongxing Bridge in 1995, as well as never-realized plans for the Taipei Breaking Sky Festival, which took place around the bridge that same year and involved a massive balloon puppet carrying television sets and washing machines into the sky. Two decades later, Hsu resurrects these 'old futures', filming a guitarist taking flight over the bridge, and interrupting the exhibition space itself with a suspended washing machine and assorted detritus.
Hsu Chia-Wei, 'Industrial Research Institute of Taiwan Governor-General's Office'
Liang Gallery
10 June – 23 July 2017
Hsu Chia-Wei's slow, coolly-narrated video installations excavate forgotten moments from 20th-century East Asia, and his exhibition at Liang Gallery continues an interest in industrial-military history, while scrubbing out the boundaries between reality, memory and mythology. Testimony of the Drones, Frosted Bats and Deceased (2017) follows a drone-camera as it carves through the ruined buildings – peppered with bullet holes – of the Hsinchu Branch of the Sixth Japanese Naval Fuel Plant; it is spliced with oral histories and archival footage of fighter planes drifting in the sky. An algorithm remixes the images and audio randomly, and the constant slippage between ruin-wandering and snatches of dialogue deepens the feeling of a flickering hypnagogia. Hsu again returns to the spaces of industrial architecture and scrambled narratives in Takasago (2017), which stages a piece of Noh theatre in a Japanese chemical factory branch in Taiwan.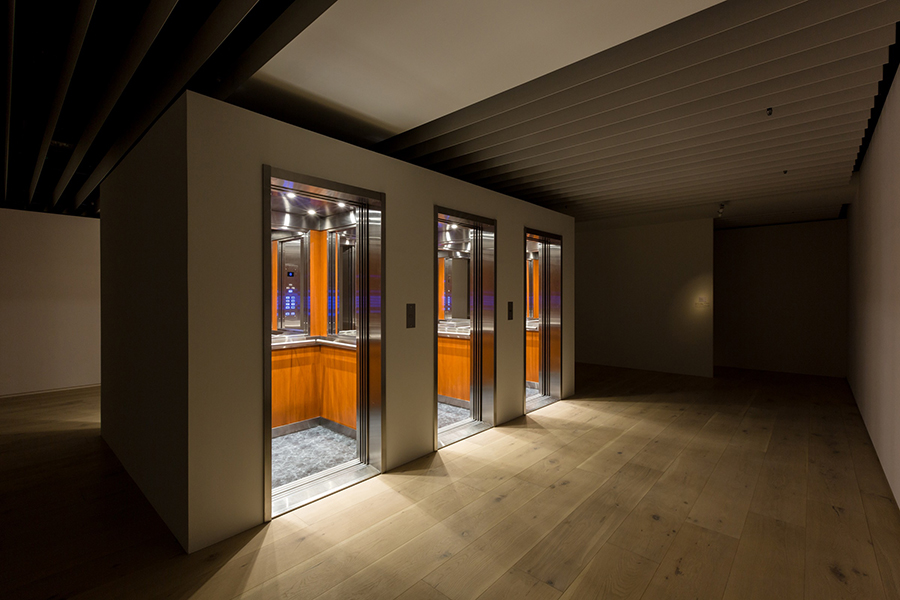 'A Nonexistent Place'
JUT Art Museum
8 April – 6 August 2017
A sense of fragility is foregrounded in the videos and installations of 'A Nonexistent Place', a phrase taken from Judith Schalansky's Atlas of Remote Islands: Fifty Islands I Have Not Visited and Never Will (2010), in which the east German writer sought inspiration from the imagined lives and spaces trapped within a world atlas. But here the term is often used to dip into the in-between or 'non'-spaces of hypercapitalism, from the endlessly mirrored and stretched passage created within Leandro Erlich's Elevator Maze (2011), or the still-images of Yuan Goang-Ming's 'City Disqualified' series (2002) – in which all traces of congested traffic and human movement in Taipei's Ximen District are aggressively stripped out by computer software – through to the erotic slow-pans of Su Hui-Yu's Stilnox Home Video: The Midnight Hours (2010), which evokes the experience of taking sleeping pills and gazing at late-night television screens. In his 'Betel Nut Kiosk' series (2015), Japanese artist Takahiko Suzuki positions these small shop fronts within the relentless pace of globalization, photographing them and then printing out miniature 3D models, before repositioning them as posters with a computer-generated blue-sky background and their real-world coordinates superimposed.
'An Ode to Thirty'
Eslite Gallery
24 June – 23 July 2017
'An Ode to Thirty' celebrates the mid-career voices of 12 artists – in their thirties – working in Taiwan. The exhibition captures a visual language that is gaining in confidence, while still moved by a searching impulse. Lin Shu-Kai's 'Balcony City' series (2017) uses memories of Tainan to imagine map-like urban structures infused with religious symbolism, while Lee Chi Hsiang's hushed oil painting Fish (2017) exposes the veiled clarity of frosted window panes. In Yeh Jen-Kun's Disintegration of Faith I (2017), silken-wet licks of Eastern gouache (a medium and tradition rooted in the meticulous detail and radiant hues of the Chinese gongbi tradition) are layered with ink and glittering foil: deep blue landscapes, dotted ruins, and ecstatic stillness.
Main Image: Hsu Che-Yu, Re-Rupture, 2017, film still. Courtesy: the artist