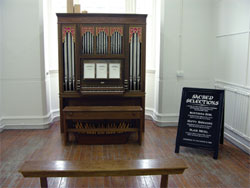 'Who is Norwich's strongest man?' It's the kind of question you can imagine posted like marriage banns in a provincial pub (and settled bloodily in the car park at closing time) or else posed by Alan Partridge, the city's favourite fictional son, on his graveyard-shift radio show Norfolk Nights. At any rate it's a local issue, of local interest, and about as far away from a global concern as it's possible to get. Nevertheless, it was with this question that the 16th annual 'East International' (featuring some 25 participants selected via open submission by artist Jeremy Deller and curator Dirk Snauwaert) began. In the run-up to the exhibition proper the Australian artist David Brazier organized an arm-wrestling competition in the city centre, in which Norfolk's toughest cookies duked it out for an oversized cheque, with the resulting documentation – photos, a scoreboard, a table dusty with talcum powder – going on to be displayed in the Norwich Gallery.
Brazier's contest is emblematic of a set of concerns that run through many of the works in 'East' – namely social engagement, the folkishly local, and violence as an act of (often political, and often impotent) resistance. If all this sounds rather close to the influential practice of exhibition selector Deller, well it is. At times this year's 'East' might almost – for good or bad – have been subtitled 'A Portrait of the Artist as a Young Man'.
This tendency was most marked in Matt Stokes' 'Sacred Selections' (2006–ongoing), a series of pipe organ recitals staged in various Norwich churches and church halls in which ecc-lesiastical music was replaced by transcriptions of Black Metal, Northern Soul and Happy Hardcore tracks. For all this work's strengths – jarring juxtapositions or curious concords – it's impossible not to view it as the admiring little brother of Deller's excellent Acid Brass (1997–ongoing), a project in which a mining colliery brass band plays transcriptions of Acid House anthems and in the process explores the history of political activism common to two disparate musical tribes. Mining similarly Deller-lite territory was Ruth Ewan, who, with Jarrett Mitchell, won this year's East award. The Rebel's Complaint (2006), a song commissioned by Ewan and performed by 1970s Scottish Punk band The Rezillos, commemorates Robert Kitt, leader of the 1549 Norfolk Uprising against land enclosure and progenitor of a short-lived 'people's parliament' held beneath a local oak tree. The catalogue to 'East' claims that Ewan 'hopes the song will enter popular culture in order to disseminate [Kitt's] legacy', but I can't help thinking that her choice of collaborators is more of a gesture towards semi-obscure art school cool (and, for that matter, a rather lazy adoption of Punk as a signifier of political resistance) than an act of genuine populism. Maybe her ends would've been better and more interestingly served by working with ex-Rezillos guitarist Joe Callis, co-writer of The Human League's number one single Don't You Want Me (1981).
Elsewhere in the show more unpredictable voices made themselves heard. Chris Evans' Sculpture for the Ahmed Family (2006), a weird black objet d'art in the form of a rapacious banyan tree, reversed the terms of much 'relational' art by being created for, and attempting to embody, a single élite clan. In a rather different step away from species-narcissism Mitchell's The Dawn of the Birth of the Battle of the Right to Life vs. the Law of Death (2006) employed video, painting and a stuffed stag's head in an installation that spun a not quite cod-shamanistic tale out of interviews with American motorists who have had deadly collisions with deer. Funny, political and weirdly spiritually charged, it was perhaps the best work in the show. Also worthy of note was Roman Vasseur's knowingly overblown project (comprising costumes, texts, drawings and a vast, apocalyptic painting) The Ritualized Death of the International Mural Artist (2005), which championed the ceremonial murder of those responsible for a community arts project in east London. For the artist public art is an act of violence that must be met with violence. Reading the text of the collective Freee's off-site billboard project The Economic Function of Public Art is to Increase the Value of Private Property (2006), one is almost tempted to join in Vasseur's carnage, if only to escape the dead hand of sententious Marxist theory and really feel the rage.
Open submission exhibitions are strange creatures, formed, like Frankenstein's monster, from a jumble of available bits. 'East' did a good job of stitching them together (at times one could barely see the seams), but this itself may be a problem. Here at the Norwich Gallery the works that pulsed with life were precisely those that didn't quite fit.