Featured in
Ex Machina
Michael Beutler's large-scale sculptural installations and his analogue alternative to automated production
'Imagine an economy in which the 0.1 per cent own the machines, the rest of the 1 per cent manage their operation, and the 99 per cent either do the remaining scraps of unautomatable work, or are unemployed,' writes journalist John Lanchester in a recent, apocalyptically-toned article in the _London Review of Books_.1 This is what lies on the horizon given current developments in productivity and automation, he suggests. As demands for efficiency rise while technology becomes increasingly sophisticated, ever more tasks will be devolved to machines. Human labour is increasingly dispensable as the machines upon which we depend become more and more autonomous.
In light of this disenfranchised vision of the future, Michael Beutler's sculptural installations provide a distinctly analogue alter­native. Although machines play a decisive role in his works, they are self-built and people-powered: devised not to eliminate the work of humans but rather to enable it. Each appa­ratus performs a simple function, transfor­ming raw materials such as sheets of paper, rolls of wire, or leftover lengths of wood into modular forms that are then used to build larger structures. Individualized production is turned into a many-handed, and many-headed, activity. Such delegation may be nothing new now that some artists employ dozens of staff to work in their studios or outsource production of artworks to specialized fabri­cation firms. With Beutler, however, no aspect of the production process is outsourced beyond his team of assistants and it all takes place in situ during the work's installation. Since graduating in 2003 from Frankfurt's Städelschule, the artist, born in Oldenburg in 1976, has based his working method on self-created eccentric-looking, improvised contraptions, somewhere between pre-industrial apparatus, elaborate tool, and autonomous kinetic sculpture. These machines do not aim for exactitude, but rather attempt to enable an efficient solution to a modular kind of production – whether corrugating sheets of paper into sturdy panels (Potpourri, 2004), compressing the material into bulging, mul­ti-coloured bricks (Arbeiten, Produzieren, Verhalten, Verhandeln, 2014) or scrunching it into large donut-shaped rings (Loops und Kringeln, 2012). Take Potpourri, for instance, an apparatus of spindly, horizontal plastic tubes which turn cog-like in an elaborate framework of wooden lathes. This rather flimsy looking construction, originally made for an exhibition at the Oldenburger Kunstverein, is designed to bend two parallel lengths of wire into uniform waves, while sheets of paper are affixed to them with glue, in order to make a stable, corrugated panel that can be used for constructing walls. In the field of art-making rather than industrial production, employing such machines is not done to save on human labour but to enable a larger team to collaborate.
'Simulation can be a poor substitute for tactile experience', writes sociologist Richard Sennett in his 2008 book The Craftsman, a treatise on the value of craftsmanship as a social skill and ethical system that could be a manifesto for Beutler's own practice.2 Discussing the overreliance on blueprints and subsequently CAD in the design phase of architecture Sennett says, '°verdetermined design rules out the crinkled fabric of buildings that allow little start-up businesses, and communities, to grow and vibrate [….] positive embrace of the incomplete is necessarily absent in the blueprint; forms are resolved in advance of their use.'3 The 'incompleteness' of unplanned usage, not to mention the (quite literally) 'crinkled fabric' that results, are integral to Beutler's working process. Though he is not an architect, and therefore not subject to the limitations determined by practical function, engineering or longevity, his works are nonetheless often elaborate, large-scale, room-encompassing structures. Rather than blueprints or computer-assisted drawings, Beutler begins with hand drawn sketches, rough technical drawings and small cardboard models to map out his interventions in a given space. Exact dimensions, angles or instructions are rarely included: these drawings allow for a greater degree of free interpretation, which is exactly the point. 'The tactile, the relational, and the incomplete are physical experiences that occur in the act of drawing,' writes Sennett, qualities which define not only Beutler's drawings and models, but also the final large-scale structures themselves.4
Michael Beutler's productions, installations and exhibitions act to counter anxieties about the digital era or Lanchester's soon-to-be fully automated state of reality. They are process-based experimental responses to architectural and institutional conditions and constraints, using the limitations of their host site to determine the project's nature. In this sense they are literally 'site specific', dealing with the 'actual location' and its 'spatial-cultural discourse' rather than the broader contextual or discursive aspects that the notion of site specificity has subsequently come to embrace.5 Beutler adopts a prag­matic approach that derives from the juncture of location and material, with the machine devised as the go-between, the tool with which to conjoin these two elements. For Portikus Castle (2007), for instance, Beutler built tall walls of transparent paper that clad the entire double-height of the space; for Ballenernte (2014) he used a hay-baler to role enormous bales of multi­coloured plastic on the lawn outside Munich's Pinakothek der Moderne.
The full force and chaos of Beutler's working strategy, with the site as productive framework, himself as inventor, the machine as systematic intermediary, and a team of assistants providing not only labour but also vital improvised input, is demonstrated to extraordinary effect in his ambitious installation Moby Dick (2015) in the cavernous central hall of Berlin's railway station-turned-museum, Hamburger Bahnhof. I visited in the early stages of the month-long installation, a process which transformed the huge open space into a vibrant workshop, humming with the concentrated labour of Beutler and his team. Strains of Stevie Wonder drifted from a pair of small speakers, while a number of market stalls casually arranged along the hall's east wing, draped with workers' clothes, provided a makeshift rest area with a bar stocked with water, coffee and snacks. The tall french doors at the back of the hall stood half open, allowing for fresh air to come in (or smokers to go out) as needed. The whole atmosphere felt wildly out of keeping with the usually strictly regulated museum, more accustomed to the quiet custodianship and solemn invi­gilation of static, finished artworks. Now, raw materials were stacked up throughout the space: bamboo poles wrapped tightly with string, palettes piled with brightly coloured tissue paper, heaps of soft-edged bricks made out of pale paper, compacted into rectangles and held in shape by the plastic nets used for packaging fruit. One could see endless bags of the ubiquitous plastic zip ties that find a myriad of uses in Beutler's work, from the incidental to the structurally indispensible.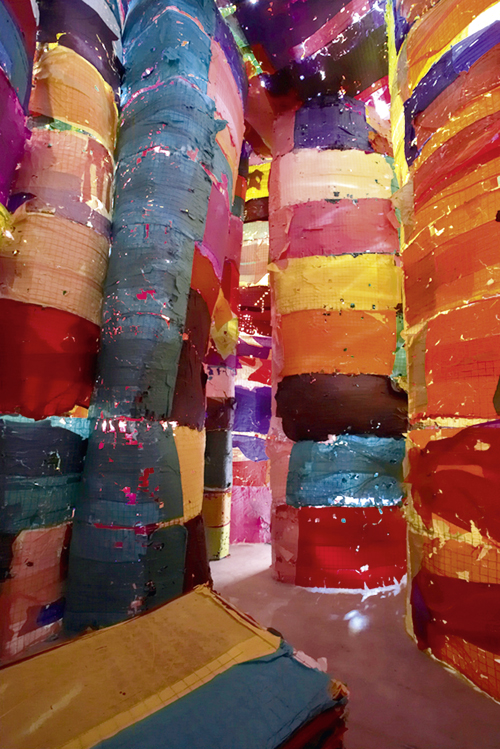 Even more plentiful were sheets of Pecafil, a building material comprising gridded wire sealed in polyurethane used to reinforce concrete. A favourite material for the artist, it forms the basic component of his main intervention in the space. By the time I visited, the Pecafil sheets – all 3000 square metres of them – had been coated with a translucent white 'shadow paint', normally used to cover the interiors of greenhouses, by means of Dressing Station (2015), a machine which rolled them through a wide trough full of paint. The resulting ghostly and brittle panels were then bent into shape by the Pecafil Faltpresse (2015) and, over the course of the coming weeks, gradually assembled into columns, beams and arch­-ways and hoisted into place with the aid of two self-built cranes constructed from the same material (Kräne, 2015). The whole scene had something fantastic and optimistic about it, as if a bunch of kids with zero budget had decided to build a cathedral using imagination and willpower alone. Their industriousness brought to mind the famous Amish barn-raising scene in the 1985 film Witness – a triumphant celebration of labour, tradition and cooperation over power tools – while the structure itself harked back to the ambitious iron-and-glass crystal palaces of early modern times.
The logistics of building this flimsy but vast installation seemed mind boggling, but Beutler calmly told me that he wasn't really working to a plan. Despite the scale and ambition of the task, the atmosphere was busy but unhurried, small teams working together, tying Pecafil pillars together with zip ties while Beutler traversed between one area of activity to another, working, advising and scanning the room every now and then: his eyes narrowing, he zooms in on a weak spot in a supporting column and goes over to rectify it, but otherwise his interference is minimal.
About a week later, on my second visit to the work site, the cooperation required for such a project was in evidence. The team was now 14-strong and the construction had starting to creep forward. Now taking up a good two thirds of the hall, the structures were beginning to be erected, supported by strings and pulleys attached to the roof's arching iron girders. One of several teams of three or four assistants was tying tall bam­boo poles together with Velcro to create an A-frame scaffold to support part of the Pecafil structure. In lieu of an exact plan, they raised the three A-frame structures, each around three metres high, through a process of trial and error.
As well as cooperation, Beutler's pro­cess incorporates improvisation into its metho­dology. Architect and artist Yona Friedman, another great improvisational spirit, said that 'we improvise inside an erratic world and then, after that, we try to rationalize.'6 Beutler's projects do not pretend to the status of architecture proper, instead they act as a surrogate or parasitic structure which inhabits its host. While beginning with a rough plan and employing mechanized tools, the subsequent form the intervention takes is the result of a process of dynamic improvisation. This took on its most immersive form in the 2014 exhibition Haus Beutler, shown at the Bielefelder Kunstverein and subsequently La Loge in Brussels. This time, the project was not entirely site specific, but rather revisited previous projects, bringing together various machines, structures, models, videos and drawings to present a kind of retrospective-as-archive. Dense and overwhelming, these exhibitions bore an almost manic quality in their reuse, building and filling of space. Amongst the material on view was a visual archive plotting the seemingly-endless self-defined categories of Beutler's work: 'loose fillings,' 'space fillings', 'geometrical fillings', 'arkitectur room fillings', 'arenas', 'packages', 'wall and ceiling pieces' and 'furnitures.'
Haus Beutler is revisited again in the final section of the artist's Hamburger Bahnhof show. The exhibition, still being finished as the speeches were being given on the opening night, was divided into three sections by the Pecafil sections of the show's eponymous work. Its form is derived from the ribcage-like ironwork struts of the hall's arched ceiling (is this hall, then, the belly of the whale?), yet the work interrupts its surroundings by skewing on its axis to cut diagonally across the space, like an unruly component that refuses the architecture's given order. A central pavilion-like structure, Pequod (2015), has a peaceful interior equipped with seats. A small pool of water in which the internal structure floats, allows the exterior white dome to gently shift. It creates a momentary oasis of calm before the chaos of Haus Beutler, installed in the back section of the hall. In the side wings stand other machines not yet 'activated', with raw material waiting expectantly. For the duration of the exhibition, the artist and his team will return periodically to put these machines to use during opening hours. This is a new development for Beutler, as the building process itself has previously occurred before the opening of the exhibition, not performed in front of an audience. Although the inclusion of the machines themselves in his installations has always addressed the question of labour and pro­duction, it was never confronted as explicitly as here. The workshop-like quality of the installation that was on view by default during the exhibition's fabrication process, given the exposed nature of the museum's central hall, is continued programmatically. These will not be announced as performative events, however, and will occur more casually, as a continuation with his attempts to activate material and fill the space.
Beutler's work is never absolutely finished, his projects never fully completed. Rather the artistic process is simply interrupted. Moby Dick will eventually be broken down into its component parts, packed up, stored and then maybe transported somewhere else and reconfigured anew. Intrinsically temporary, Beutler's installations speak to the complexity and the potential of an unstable world. Improvisation and craft are employed as a means of resistance not only to the onslaught of workplace automation and economic disenfranchisement, but also to the cult of the individual or the fetishization of the finished object. 'We are losing the skills of cooperation needed to make a complex society work,' writes Sennett. 'These developmental resources risk being wasted by modern society.'7 Seen in analogical terms, Beutler's work is not only a machine, sculpture or and a kind of surrogate architecture, but also a comment on and celebration of complex society and cooperative skill.
1 John Lanchester, 'The Robots Are Coming', London Review of Books, 5 March 2015
2 Richard Sennett, The Craftsman (Yale University Press: London & New Haven, 2008), p. 43
3 Ibid.
4 Ibid. p. 44
5 See Miwon Kwon, One Place After Another: Site Specific Art and Locational Identity (MIT Press: Cambridge, 2004)
6 Yona Friedman in conversation with Hans Ulrich Obrist, Merzworld: Processing the Complicated Order, Adrian Notz & Hans Ulrich Obrist (eds.) (JRP Ringier: Zürich, 2007), p. 103
7 Richard Sennett, Together. The Rituals, Pleasures and Politics of Cooperation (Penguin Books: London, 2012), p. 9