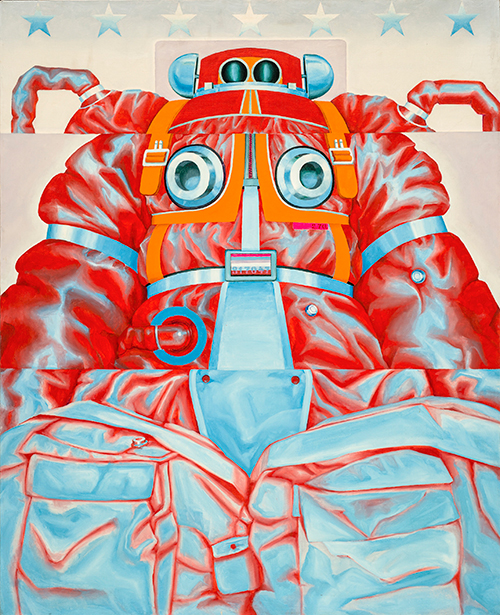 German Pop is a catchy label and one that accurately described the contents of this show, the first comprehensive overview of Pop art in 1960s Germany. According to Schirn director Max Hollein, it aimed to shed light on 'what's German about German Pop art', on 'the specific aesthetic resulting from the historical, political and societal situation of postwar West Germany' – a situ­ation shaped by Biedermeier, the legacy of Nazism, postwar restoration and the student movement, but also by American consumer culture, discussed at the time under the heading of 'Coca-Colonization'.
Naturally enough, the exhibition began with the Rhineland, then the cultural centre of West Germany, focusing on the Capitalist Realism founded in 1963 by Gerhard Richter and Konrad Lueg who, together with Manfred Kuttner and Sigmar Polke, put on Leben mit Pop, Demonstration für den Kapitalistischen Realismus at the Berges furniture store in Dusseldorf – the show widely viewed as the birth of German Pop. All four artists were featured at the Schirn with more or less iconic works: the best-known was Richter's Motorboot, 1. Fassung (Motor Boat, 1st version, 1965); Lueg's Herr und Frau S (Mr and Mrs S, 1965) with the anonymous couple vanishing into the stuffy patterned wallpaper of the background; Kuttner's wall objects in 'poppy' neon colours, based on a piano keyboard and a typewriter (Klavier­tastatur and Schreibmaschine, both 1963); but the freshest-looking of all was Polke's Parfumbild (Perfume Picture, 1969) that simply shows a series of perfume brand labels in their original typography against a meat-coloured background. Here, more offensively than in other works of the period (and in fact quite prophetically), Pop is spelt out as branding.
Around this primal scene of German Pop art, the exhibition grouped other works from the Rhineland, followed by material from the regional centres of Berlin, Frankfurt and Munich. From Dusseldorf, there were Ferdinand Kriwet's jittery image-sound collages, as well as H.P. Alvermann's objects and Winfried Gaul's paintings that oscillate between everyday motifs and hard-edged abstraction. With a programme similar to that of the Capitalist Realists, Alvermann and Gaul's QUIBB Manifesto of 1963 announced a focus on the consumer world while at the same time distancing itself from American Pop art. Other standout exhibits included the work of Konrad Klapheck whose motifs from the world of everyday objects, such as telephones or shoes, recall the stylistic smoothness of surrealist painting yet come across as an undecided hybrid (in the catalogue, Dietmar Rübel fittingly refers to this as the 'surrealist protective cover of nostalgia').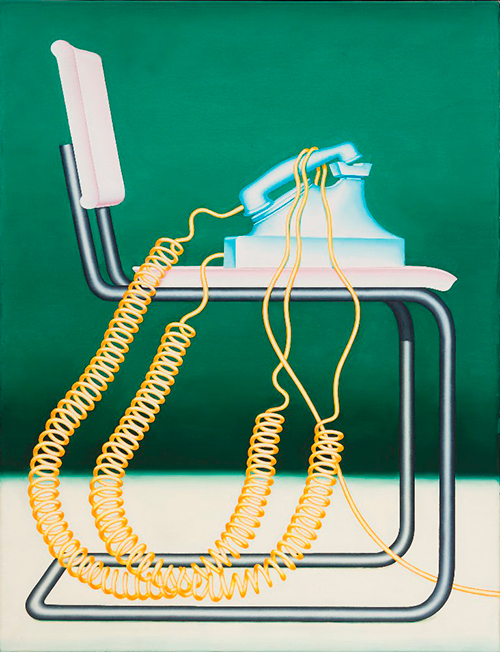 Although not dealt with directly, the difference between Capitalist Realism and other related movements soon became clear. Divergence came in their approach to marketing, in the catchy, cleverly compact way Richter & Co. presented their operation. In other words, in they way they packaged their work. A key quality of 'Pop' (in the original sense) was its pithy and sleek design paired with an ambivalent attitude to the consumer world. Yet this attitude might also be referred to as complicity: not only because of the pictures and subjects used, but also through its contextualization and communication.
Elsewhere in Germany – especially in Berlin – Pop tended to be articulated in far more explicitly political terms. This was especially true of the gallery opened in 1964 by the exiled Rhinelander René Block. It was a branch office of Capitalist Realism in the divided city, working with KP Brehmer, Wolf Vostell and K. H. Hödicke (and showing works like Vostell's portrait of the student leader Rudi Dutschke or his famous Lipstick Bomber, both 1968). Alongside these works, however, the show's Berlin section also presented two of the astonishingly few women artists in German Pop art: Bettina von Arnim's strangely fantastic robots and Christa Dichgans's almost uncannily Koons-like paintings of rubber animals (at various points, the exhibition made painfully clear just how male-dominated Pop art was).
Working from Frankfurt, Peter Roehr and Thomas Bayrle were much more focused on seriality. Whereas Bayrle addresses aspects of uniformity and crowds only too well-known in Germany (as in his Nuremberg Orgy of 1966 that gathers armies of indiscriminate rank and file under a mechanical Hitler-saluting arm), the uniquely German historical situation so often emphasized in this exhibition plays no part whatsoever in Roehr's fantastic loops of American TV advertising clips; as a result, they come across as glamorous, elegant and incredibly fresh. And Munich? The Bavarian capital was represented best of all by the artist groups SPUR, WIR and GEFLECHT, all of whom maintained a certain distance to the Pop idiom, their work still bearing clear traces of the Informel of the 1950s. At this point, if not before, the show began to appear less than coherent. Apart from a very general orientation towards the objects of consumer culture (and, as a specifically German feature, a more or less explicit critique of it) there were few links between the works themselves.
Without a doubt, something like German Pop did exist. But with the strength of its label, this exhibition flattened the formal divisions and conceptual diversity of the featured works, not paying sufficient attention to the open margins and loose ends of (West) German Pop: be it Fluxus and happenings (in which Vostell was also directly involved) or political engagement in general (the fact that H. P. Alvermann abandoned art in favour of political activism for almost a decade, for example, was only mentioned in passing); be it the agit-prop art of someone like Jörg Immendorff that came soon after in historical terms or indeed the relationship between Capitalist Realism and its East German cousin, Socialist Realism (after all, both Richter and Kuttner studied at the art academy in Dresden before fleeing to the West).
Additionally, the shown works were not situated in an international context, their American older brother featuring only as an object of dissociation and other (non-Anglo-American) Pop art currents going completely unmentioned. Had such a contextualization occurred, instead of insisting on German specificities, it would have been possible to explore the common theme of engagement with the emerging global consumer and media culture. Of course a line has to be drawn somewhere, and the show's principle focus was German Pop, but the avoidance of any wider exploration of possible contradictions was disappointing. Ultimately, then, the exhibition truly was a 'Pop exhibition' – an exercise in branding. And for all the undeniable quality of the works on show, it went slightly too far in focusing on the unique selling point of that brand.
Translated by Nicholas Grindell