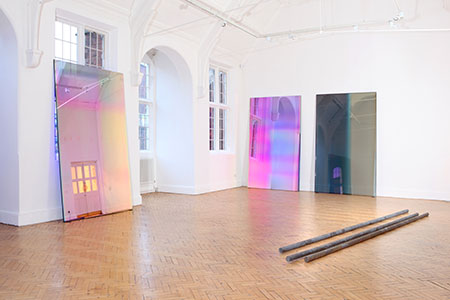 Refusing the curatorial convention of the two-person show, Camden Arts Centre's staging of simultaneous solo exhibitions nonetheless generates points of resonance and echo between paired artists. The recent coupling of the late German Conceptual artist Hanne Darboven with the young Swiss artist Raphael Hefti was no exception, not least since (remarkably given Darboven's almost half-century career) it was the first UK solo exhibition for both artists. An unlikely match at first glance, Darboven's and Hefti's work develops from sustained engagement with process, procedural techniques or methods repeated over time. Both adopt seemingly logical, technical, even routine means of production but then pressure these beyond their habitual limits until they fold or buckle, yielding under the strain.
Hefti's is a nascent material investigation that attends to the potential of mistakes and misfires within manufacturing processes, moments of productive error that result in material behaving unexpectedly. Replaying the Mistake of a Broken Hammer (2011) repeated the London- and Zurich-based artist's experience of accidentally interrupting the process of hardening steel, willfully rendering three large steel rods fragile as glass. Subtraction as Addition (2011) comprises seven propped panels of toughened museum glass, treated (again and again) to a chemical process designed to limit undesirable reflection. Hefti's over-application of this process inverts its original intention, turning the glass mirrored and opaque, a palette of exquisite and ever-changing dawn and dusk hues.
Darboven's work has been described as marking or doing time performed through the act of daily writing. However, unlike other life-work projects (On Kawara, Roman Opalka), her endeavour seems less about the chronological passage of life/time witnessed by and within practice, than it is a critical enquiry in which time itself is considered material to be looped and folded, stretched and frayed. The exhibition presented a chronological sample of Darboven's methods and working vocabulary, from her early mandala-like interventions on graph paper and rehearsing of cursive script to the acoustically pervasive 24 Gesänge Opus 14, 15 a, b (24-Song Opus 14,15 a, b, 1984) in which she converted her numerical drawings into a musical score whose rhythmic variations were then played on an organ. She often borrowed the calendrical form of diaries, yearbooks and work plans as a found template or grid through which she weaves the experience of multiple and conflicting temporalities. For example, Appointment Diary (1988–98) took an American Film Institute desk diary as its underpinning structure, its linear chronology already interrupted and punctured with film dates, the births (and deaths) of innumerable directors and actors. Darboven creates further slack and elasticity through her simultaneous filling and emptying of its time; its pages scored day after day with cursive handwriting, interpreted variously as the looping repetition of 'I' (of 'present-ness') or of 'U' ('und' – the accumulative promise of 'and … and … and …').
The experience of Darboven's work can be overwhelming: even the moderate 305 drawings of 9 x 11 = 99 (1972) felt dizzying and impenetrable, a shimmering field of dense numerical calculations and indecipherable scrawl. The work tested out various permutational methods that would later come to characterize her work, including the formulation of the cryptic 'K' (Konstruktion) value, based on a cross-sum adding together a date's constituent parts (e.g. 23.9.71 = 23 + 9 + 7 + 1 = 40). The use of such organizing principles within Darboven's practice does not generate a logic that can be rationally explained; rather, she produces a surplus of order that borders on the disorderly or irrational. Her example might well have provoked Sol LeWitt's oft-cited sentence on Conceptual art: 'The logic of a piece or series of pieces is a device that is used at times, only to be ruined.' In some senses, the curators over-played the human endeavour of Darboven's labour, presenting her drawing desk and writing implements as potential entry points into her very complex and involved oeuvre. However, whilst the critical potency of Darboven's practice rests in its resistant incomprehensibility or opacity, the deficit of engagement with her work in the UK perhaps suggests that some introduction of this kind might still be deemed necessary.