A question has been on Walter Pfeiffer's mind recently. It has slightly surprised him because it is one he has never had to ask himself before: 'should I pay the boys?' What he's referring to is whether he should start paying his models for getting (totally or partially) undressed during photo shoots. Pfeiffer has photographed plenty of people naked, mostly young men in their twenties, and so far, the question of remuneration has never been an issue. Nakedness has always transpired out of the situation, he says – a result of creating the right kind of chemistry, atmosphere, the right word at the right time. But according to Pfeiffer, these days the boys who model for him are more reluctant to unrobe: 'perhaps I'll call it a day!', he jokes. It wouldn't be the first time he's considered retiring from photography. Sometimes he feels like hanging up his camera to concentrate exclusively on life drawing, he says. The models would then have to sit for him, which takes longer and lacks the fun and spontaneity of a shoot. So should he be handing over a little cash? Pfeiffer still finds the idea odd – but maybe it's time to get used to it.
In late February I visited Pfeiffer, whose artistic career spans over four decades and whose career as a fashion photographer, which only started in the early 2000s, seems to be on the up-and-up. This winter's issue of the hard-bound fashion magazine Self Service ran a series of images shot by Pfeiffer with four of the most striking models of the moment – including Lara Stone and Lily McMenamy – in and around three Le Corbusier buildings in Paris: Villa Savoye, Maison du Brésil, Pavillon Suisse. At 80 pages, the spread is almost a book in itself. In its recent March issue, French Vogue published a series of Pfeiffer's still lives for which he embedded the season's most luxurious new fragrances in opulent bouquets of flowers under the title 'Overdose'. When we meet, he has yet to see the issue in print, but a fan has already posted it on his Facebook page where it has received comments like 'Fabulous Walti!', 'Beautiful Walti!' At his home studio on the second floor of a 1970s housing estate in Zurich's Wiedikon district, he shows me the photographs and books that have come to define him as one of Switzerland's most important photographers. As well as exuding Pfeiffer's typical sublime and sometimes rather crude humour, they also trace a bio­graphy full of about turns and sidesteps.
His first book, published in 1980, Walter Pfeiffer: 1970–1980, was a collection of party pictures, shot in colour but printed in black-and-white due to limited funds. They show Pfeiffer's friends at locations including the dilapidated villa he rented in Zurich in the early 1970s – clearly 'Andy-crazy', as he characterizes himself at the time, under the spell of Warhol's Factory. Originally, the seemingly casually-taken pictures of erections were to be left out of the book, but his patron at the time, the curator Jean-Christophe Ammann who had already included him in his legendary 1974 group show Transformer at the Kunstmuseum in Lucerne told him: 'Walter, you have to make a book that has never been done before. These cocks definitely have to be in it!'
Ammann was right: in the 1980s, before the widespread digitization and deluge of home-made porn online, a book with such pictures would have been rare: photographs that capture an intoxicated, slightly dark, private sexuality (comparable only with Larry Clark's 1971 book Tulsa), not immediately dealing in categories of 'hetero' or 'homo' and a far remove from the oily, muscular nudes in magazines such as Physique Pictorial. But Pfeiffer didn't want to repeat himself. After the book, and a one-year residency in New York ('Christopher Street, Studio 54, Mudd Club, etc.'), he switched to autodidactic theatre: Walterspiel, a loose sequence of scenes based on transcriptions of audio tapes he recorded with drunken friends, full of chatter and laughter. The play was performed in 1981 at Theater im Fass in Schaffhausen and reprised at Kunsthaus Zürich a year later at the recommendation of now-famed theatre director Christoph Marthaler.
After this brief foray into theatre Pfeiffer returned to photography, deciding not to shoot his friends but good-looking strangers. He planned to approach them on the streets of Zurich and Paris 'but it didn't work. I couldn't do it!', he said. Things only got going when he met a former model for the designer and illustrator Erté: 'He would walk ahead of me and ask the beautiful ones if they wanted to have a nice picture taken by an artist; I followed with my rucksack and camera.' The resulting pictures – young men's faces: smooth, uptight, aggressive, dreamy – went into Pfeiffer's second book Das Auge, die Gedanken, unentwegt wandernd (Eyes, thoughts, forever wandering, 1986) which were shown the same year together with pictures by Bruce Weber at Kunsthalle Basel. 'At the opening, Bruce Weber ran after a model of mine – or sent his agent, or what­ever. And I found out that Bruce is exactly the same age as me, born on the same day!' After the exhibition, wanting to 'relax a little', Pfeiffer vanished from the art world for 15 years. During this period he drew and painted – mainly still lifes – 'like crazy', took no photographs, had few exhibitions, and earned a living teaching at Zurich's F+F School of Art and Design and the École cantonale d'art de Lausanne. He returned in the 2000s with a number of new photography books (including Welcome Aboard, 2001, and Cherchez la femme!, 2007), solo shows at the Swiss Institute in New York (2007) and Fotomuseum Winterthur (2008) and was the subject of numerous articles, including one in Artforum titled Camera Libido (2003).
It's not hard to see why Pfeiffer's pictures are now in great demand in the fashion world, with commissions for both magazine features and ad campaigns (most recently for A.P.C. and Iceberg). He has always used the hard flash and shadows that give the photographs of Juergen Teller and Terry Richardson their characteristic sharpness (Pfeiffer tells me he uses flash because he's always had shaky hands). But since his return to photography, he has combined this hardness with an almost unparalleled intensity of palette. Full of candy colours and gentle foolishness, these pictures, especially Pfeiffer's still lifes, also display a careful sensibility to visual arrangements. As others have noted, this reflects Pfeiffer's training as a window dresser at a Zurich department store between 1962 and 1966. Only after this did he start making drawings and, initially as a basis for his drawings, to take photographs. Fashion has remained a constant focus, however: as a budding freelance illustrator in 1970, one of his first commissions came from the legendary German magazine twen (shortly before its demise) – a black and white pencil drawing of shoes.
An afternoon with Pfeiffer is a journey into a pre-digital but nonetheless vastly networked world of anecdotes, many concerning celebrities. One from 1970 involves an invitation from Pop artist Peter Phillips, who had just married a Zürich boutique owner, to accompany them to the opening of an exhibition by Allen Jones in London, 'the show with the tables', where he met the shoe designer Manolo Blahnik, who later showed him a page he had torn out of twen ('It was the page with my shoe illustrations!'). As well as such stories, meeting Pfeiffer is also an opportunity to talk about the changing conditions for nude photography. Pfeiffer's recent artwork, which he pursues alongside his fashion commissions (also in Berlin where for some years he has spent a few weeks every summer), includes a number of photographs in which nakedness functions differently, where getting undressed now becomes pornographic. This is due above all to the look on the models' faces: they convey too great a confidence in the impact of their bodies, seeming to compare their own expression with internalized adult material. It has never been all that easy to get men to undress, he says: 'some strip off straight away, but they are usually the wrong ones. I've got plenty of pictures of that – they leave you cold. You notice immediately. Only the ones that were a struggle are good. But that's even more difficult now.' Since the advent of Instagram, he says, everyone is aware that a photograph can become global within minutes. Pfeiffer also has the impression that almost everyone who models for him today is aiming for a career in the industry (hardly surprising, given his reputation) and is worried that nude shots might prove inconvenient at some later date.
One way to deal with this situation is to omit faces. This is what Pfeiffer does in a new video that his Paris gallery Sultana will be showing alongside old and new photographs in the 'Frame' section at Frieze New York in May: the work (Video, 2013) shows the cropped body of a naked man, standing almost motionless in front of a wall, lit red from behind and blue from the front; the shadows of trembling palm fronds play gently across the body. The film is a fragment, just 90 seconds long, and screened as a loop. With minimal animation it is something like a still life. Although it shows nothing explicit, it would still qualify for the customary 'not safe for work' warning.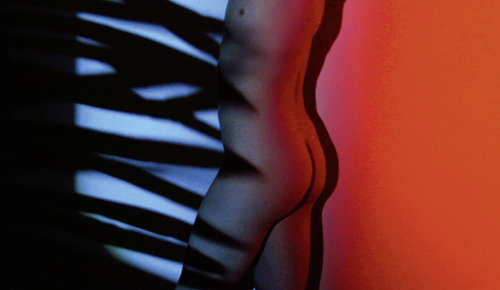 Another, more permanent solution mentioned previously would be to just call it a day. Stop taking photographs or making films and make drawings instead. But wouldn't it be paradoxical if, to achieve the playfully open nakedness typical of his pictures, Pfeiffer switched to a more indirect medium, taking a step back, so to speak, adding a veil? Hasn't the history of gay rights – in the context of which Pfeiffer's work must also be viewed – always included a fight for explicit depictions, for images without shame? Growing up in Switzerland in the 1950s and '60s, Pfeiffer can remember Der Kreis – Le Cercle – The Circle, an internationally distributed magazine for homoerotic literature and art, the very first of its kind, founded in Zürich in 1943, a year after homosexuality was decriminalized in Switzerland. The magazine – with contributors including Jean Cocteau – was shown to him by a teacher when he was 19 years old. 'In Der Kreis there were also photographs by Karlheinz Weinberger, under the pseudonym Jim, and by George Platt Lynes, under the name Roberto Rolf. That shows what the times were like,' he says: 'at least I can publish my pictures under my own name. The type of things we can now see everywhere online were completely unthinkable back then. But I have a suspicion: might things be getting inhibited again? Even though everything is so open?'
Translated by Nicholas Grindell