Highlights 2013 - Chris Wiley
Chris Wiley is an artist and writer. He recently acted as an advisor and catalogue writer for 'The Encyclopedic Palace' at the 55th Venice Biennale. A show featuring his work will open at PS1 MoMA, New York, in March.
Amie Siegel Provenance, Simon Preston Gallery, New York
Amid the churn of New York's largely market-driven landscape, where one can barely swing a dead cat without hitting another anodyne chuck of chicly distressed '50s and '60s redux art, Siegel's cerebral show was a cool, clean kick in the head. The show focused almost exclusively on a single video work, which unspooled the lives of various pieces of furniture designed by Le Corbusier for his utopian city project in Chandigarh, India in something like reverse chronological order, from their tony confines in collectors' homes (and on one mega yacht), through the auction houses that placed them there, the restorers who gussied them up for show, and, finally, the tumbledown city for which they were designed. From the pithy press material (and perhaps this description) the conceit sounds like a fairly dull one, which fits into the mold of countless hoary allegories of Modernist utopianism's demise. However, the video itself proved unexpectedly poignant, using lush cinematography and careful pacing to embody the elegiac narrative, rather than simply illustrate it.
Mike Kelley, MoMA PS1, New York
After being roundly disappointed by the iteration of Kelley's posthumous retrospective at the Centre Pompidou, I found myself questioning the quality of his work as a whole, even against my better judgment. Thankfully, PS1's epic, compendious exhibition set me right. Could there have been a better venue for this show, after all? For all the show's triumphs, however, it remains crushingly sad that Kelley couldn't stick around to see it.
Pierre Huyghe, Centre Pompidou
Unfortunately, I can't say much about Huyghe's mid-career retrospective, because I didn't see it. But it's certainly the only show this year that had me thinking that it might just be worth the trans-Atlantic flight to go see. Unluckily for me, but luckily for my bank account, reason won out in the end. Huyghe continues to daringly expand the boundaries of artistic possibility, and we are all the poorer in the US for not having a venue in which to watch him do it.
*Other Best Shows I Didn't See: *
*'Speculations on Anonymous Materials' Kunsthalle Fridericianum, Kassel; 'The Whole Earth: California and the Disappearance of the Outside' Haus der Kulturen der Welt, Berlin. *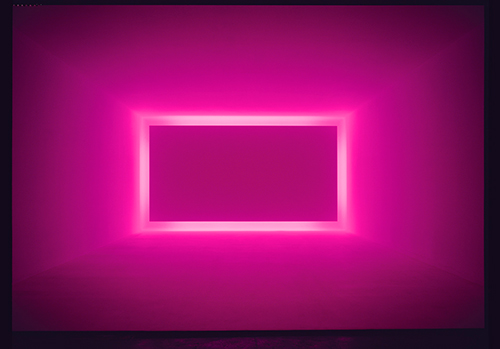 James Turrell, Los Angeles County Museum of Art
Far superior to his showing at the Guggenheim, which felt like an Instagram-ready big top circus, Turrell's survey at LACMA was thoughtful and thorough, and left me something of a believer. While you may not find me loitering around your friendly neighborhood Quaker meeting house any time soon, it was certainly a welcome relief to see an artist earnestly attempting to make spiritually inflected, affective work and managing to pull it off — most of the time — in a manner that made me gasp a little with wonderment, rather than cluck dismissively at its corniness.
New York's Summer of Los Angeles: Paul McCarthy at the Park Avenue Amory, Robert Irwin at The Whitney Museum of American Art, James Turrell at the Guggenheim, Lynn Foulkes at the New Museum, Ken Price at the Metropolitan Museum of Art
Though the shows varied vastly in quality, this summer's storming of New York's venerable institutions by artists either based in Los Angeles or, in Turrell's case, inextricably intertwined with it, signaled that the much-maligned city of the terminal West has finally gained the respect it deserves. Now, perhaps its just the sun stroke talking, but as New York begins to feel more and more like a international playground for the obscenely wealthy, it might be time for artists — especially those who have already managed to gained a foothold in our cut throat industry — to start thinking about getting out of town. The studios are cheaper, there's sun and sand, and the sushi, when not throbbing with Japanese radiation, is to die for. Sadly, you will have to learn to drive.
New York's Autumn of Photography: Lucas Blalock at Ramiken Crucible, Talia Chetrit at Leslie Fritz, Elad Lassry at 303 Gallery, Joshua Citerella at Higher Pictures, Torbjørn Rødland at Algus Greenspoon, David Gilbert at Klaus von Nichtssagend, Annette Kelm at Andrew Kreps, John Houck at On Stellar Rays, New Photography (Annette Kelm, Brendan Fowler, Adam Broomberg and Oliver Chanarin, Eileen Quinlan, Anna Ostoya), MoMA
This fall, as evidenced by the lengthy list above, was a huge one for photography in New York. To make matters even better, almost all of the shows were extremely strong. Among the best: Lucas Blalock's carefully thought, modest show, whose pleasingly awkward exhibition architecture mimicked his purposely ham-fisted Photoshop manipulations and John Houk's digitally layered still lives of resonant objects from his past that recall the work of late Jan Groover, updated for the digital age.
The Eric Andre Show, Season 2 Finale
A faux public access talk show beamed in from another dimension, The Eric Andre Show inevitably begins with the show's namesake kamikazing his way through the set in an explosive of jolt self-destructive physical comedy that leaves you wondering how he avoids landing himself in the hospital. (Answer: he doesn't.) Generally, when Andre's Dervish act whirls to a halt, the ravaged set regenerates around him, leaving him huffing an exhausted, all of his efforts seemingly for naught. For the final episode of the show's second season, however, he is allowed to go on a truly epic tear, which consumes the entirety of the show's eleven minute run time. Spoiler alert: by the end, Andre winds up crumpled on rubble-strewn floor, having recently been pummeled by a bevy of professional wrestlers, surrounded by competing groups of Crips, Krumpers, and Samba dancers, a buttoned up professor delivering a TED talk, a viral YouTube star vomiting strawberry Quik, an old friend of his from high school who appears to have wandered bleary-eyed onto the set from out of his parent's basement, and Kato Kaelin, the 1990s most infamous house guest, doing a stand up routine. If you can show me a more anarchic slice of television, I'll eat my hat.
Laura Owens, '12 Paintings', 356 Mission, Los Angeles
Arguably the most important non-museum show mounted in Los Angeles this year, Laura Owens' blockbuster, which featured 12 monumental new works that deftly mashed up painterly abstraction with Photoshop aesthetics and signaled a radical shift in the artist's work, also inaugurated one of Los Angeles' newest and most promising independent spaces. I have artist friends who pilgrimaged to the show perhaps a half dozen times during its lengthy run, finding it alternately quarrelsome (the paintings seemed somehow too 'correct', too 'now') and inspiring (the optical pop of her faux drop-shadows alone were enough to stand your hair on end), but never boring. I, on the other hand, didn't make it to the show until the closing party, where I found myself disappointed that I couldn't make a return trip.