Highlights 2015 – Alice Rawsthorn
Charles and Ray Eames, Rem Koolhaas and Christien Meindertsma: Alice Rawsthorn shares her highlights from 2015
THE INTERNET OF THINGS IN AFRICA
Some of the most ingenious Internet of Things devices are being designed in Africa, where, in many countries, more people have access to cell phones than running water, to provide urgently needed medical services in remote areas hundreds of miles from well-equipped hospitals. The Peek Retina smart phone adaptor, developed by a group of doctors and designers in Kenya, scans patients' eyes and sends the data on a cellular connection for analysis by specialists in Nairobi. In Cameroon, the software designer Arthur Zang uses similar connective technology in the Cardiopad, a tablet computer, which functions as a mobile heart monitor.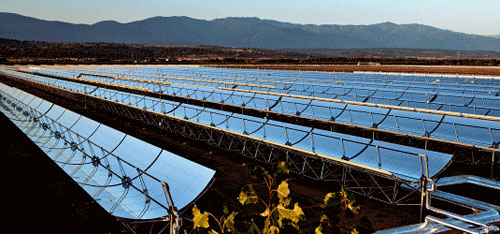 SOLAR POWER IN MOROCCO
The world's largest concentrated solar power plant started production in November on the stretch of the Sahara Desert in Morocco where Peter O'Toole brooded in Lawrence of Arabia (1962) and Daenerys Targaryen wrought carnage in Game of Thrones (2011–ongoing). The 500,000 crescent-shaped mirrors in Noor I, the first phase of the Ouarzazate plant, are now operative, and once the US$9 billion plant is finished in 2020, it should generate enough electricity for over a million homes. The Moroccan government is also investing in wind and water power in the hope of joining Uruguay, Paraguay, Lesotho, Iceland and the other elite band of countries that are poised to benefit economically and environmentally from generating enough renewable energy to stop importing expensive fossil fuel.
'THE WORLD OF CHARLES AND RAY EAMES'
My favourite big design show of the year was 'The World of Charles and Ray Eames', curated by Catherine Ince, at the Barbican Gallery in London. By focusing on the Eames's work in information design, specifically on the educational films and exhibitions they made for IBM in the 1960s and '70s to enlighten the public about seemingly scary advances in science and technology, Ince proved decisively that there was so much more to the golden couple of mid-century modernism than their (admittedly elegant and impeccably engineered) chairs.
THE SECOND HAND BOOK PLAN
And my favourite low-to-no budget design show was 'The Second Hand Book Plan', an impromptu book fair organized by a group of design students from the Central Academy of Fine Arts in Beijing, on an empty construction site in Baitasi, one of the city's few surviving historic hutong districts, during Beijing Design Week. The future of Baitasi was a focus of BDW's programme, and the CAFA students seized their chance to curate and design a project there. The second-hand books were laid out in different configurations on platforms built from bare bricks, with the explanatory text chalked on a nearby wall.
CHRISTIEN MEINDERSTMA'S 'THE ASH CONSERVANCY'
For a decade, the Dutch designer Christien Meindertsma has conducted a compelling series of conceptual design projects that have, among other things, investigated what happens to the contents of a single pig after its slaughter and transformed the carcasses of road kill animals into exquisite bone china objects. In 2015, Meindertsma interrogated the 'waste of waste', the bottom ash left after any trash that can not be recycled has been incinerated. Far from being valueless, she discovered that most bottom ash contains precious metals and minerals that, once salvaged, can be reused.
FONDAZIONE PRADA
The early 1910s distillery that Rem Koolhaas's Office of Metropolitan Architecture has restored and reconstructed into the Fondazione Prada art centre in Milan is a thrilling project that fulfills its function impeccably, while being playful and sophisticated. Packed with locals and tourists alike, it has given Milan a sorely needed cultural hub, and the world's most delightful museum café in Bar Luce, Wes Anderson's affectionate tribute to kitsch 1950s Italian cafés with sugary Italian pop songs on the jukebox and a Steve Zissou pinball machine. Best of all, there is more to come as the second phase of Fondazione Prada opens in 2016.
ASSEMBLE'S GRANBY FOUR STREETS
Assemble's ongoing collaboration with the people who live in the Granby Four Streets area of Toxteth in Liverpool is a model of sensitive and intelligent social design. Rather than imposing their own ideas on the residents, the fluid group of architects and designers in Assemble have listened to them and acted accordingly, when rebuilding empty terraced houses and designing objects to be made by the trainees in the Granby Workshop. Assemble's response to bring nominated for – and winning – the Turner Prize was equally adroit. It was the Turner Prize jury that decided to define Granby Four Streets as 'art', not Assemble, who are perfectly happy to be architects and to focus on design. Quite right too.
TRANSGENDER ROBOTICS
The explosion of interest in transgenderism and genderqueerness was a focus of design in 2015, as in every other area of contemporary culture. Gabriel Maher and Chris Liljenberg Halstrøm experimented with ways of imbuing mass-manufactured products with more eclectic representations of gender, as did Faye Toogood in the Agender pop-up shops in the Selfridge's stores in London and Manchester. And a surprise hit on Japanese television was a show starring the transgender celebrity Matsuko Deluxe and a startlingly realistic clone in the form of the Matsuroid, an Android robot devised by Japan's top robot designer Hiroshi Sugimoto.
And, finally, two things that should not have happened in design in 2015:
Not content with demolishing one of Japan's loveliest 20th century buildings, the Main Wing of HOTEL OKURA in Tokyo, the owners auctioned some of the contents online. Designed as a prelude to the 1964 Tokyo Olympics, the Main Wing was the work of a group of gifted Japanese designers including the architects Hideo Kosaka and Yoshiro Taniguchi, and the ceramicist Kenkichi Tomimoto. Why destroy something so special?
Equally idiotic was the #HackAHairDryer campaign, which was launched – and swiftly dumped – by IBM, to offer 'just a taste of what's possible for women who choose a career in tech at IBM'. Yikes.