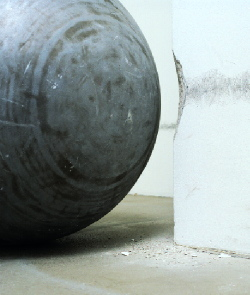 If you've ever been slam dancing you'll understand the cathartic joy that comes from aggressive physical abandonment. Sometimes it's liberating to smash up against things without doing any permanent damage. This impulse was given a sculptural form in Jeppe Hein's recent solo show, which consisted of a single work - 360º Presence (2002), a battery-powered and motion sensor triggered 70 cm steel ball with a destructive will of its own. When nobody is in its presence it lies in wait, motionless, passive, sedated - a kind of dull minimal presence, but nothing more. However, when somebody enters the gallery the sculpture begins to roll around and, although hesitant at first, over time it gathers momentum and pace. As it does so, the gallery begins to resemble a giant pinball machine or a dodgem car arena. The more viewers there are, the more the sculpture's random choreography becomes a blind tangential rampage, an art object's very own gallery slam dance.
After a few weeks the lower part of this formerly pristine new gallery was covered in nasty squash court-style black smudges, the plastic surrounds of the new power points were smashed and lay in shards on the floor, and the plasterboard walls had a number of holes in them that looked more like someone's punch marks than Gordon Matta-Clark-like conceptual incisions. (Can a gallery insure itself against damage done by an exhibited artwork?) Only the glass-door entrance of the space somehow escaped the sculpture's attention-seeking antics. It was amusing to imagine the sculpture fleeing on to the streets of Berlin.
360º Presence is one in a series of kinetic installations and sculptures by Hein that includes Moving Walls 180º (2001), a gap-breeching water jet, Continuity inbetween (2002), and plans for a bench that produces a dense cloud of smoke around anyone who sits on it. Mechanisms and gadgetry exert a beguiling charm. In her book Zeros+Ones (1997) Sadie Plant put this down to the way that mechanization gives inanimate things the haunting semblance of life. Hein emphasizes this quality by taking pains to conceal the motors or pumps that make his objects work. He likes to surprise, intrigue and delight his audience, producing a formula that equates movement with possibility or life energy, even though this new work highlights the contemporary irony that we remain fascinated by our machines even when we can no longer control them. In a manifesto (Für Statik, For Static, 1959) dropped from an aeroplane over Dusseldorf, Jean Tinguely - whose naked machine art also embraced the contradictions inherent in contraptions - included the lines 'Resist the anxious impulse to stop what moves, to freeze moments and to kill what lives. Give up constructing values that always collapse anyway. Be free, live! Stop painting time. Give up building cathedrals and pyramids that will fall apart like sugar candy.' Hein's fresh and cheeky works - elaborately orchestrated practical jokes with a touch of Boy's Own institutional critique - make a similar appeal. Even though he used viewers as unwitting accomplices in consensual vandalism, 360º Presence doesn't have the gravity of Chris Burden's turnstile wall-busting jack Samson (1985) or the sardonic humour of Monica Bonvicini's Plastered (1998), where the mostly well-heeled art public get to fall through a plasterboard floor. Here neither the gallery nor the artwork is seriously put on the road to ruin. Instead Hein takes seriously the idea of play and the spontaneous bursts of joy that it generates. This suggests that, despite the sleek reductive appearance of his works, he's actually more interested in Situationist ideas than Minimal art's dialogue about object-viewer relations. More pétanque than draughts.