Jiab Prachakul Reveals Herself through Her Subjects
At Friends Indeed Gallery, the artist presents eight large-scale paintings depicting herself, loved ones and life as part of the Asian diaspora

 
'Jiab Prachakul: 14 Years' at Friends Indeed Gallery, San Francisco, is the Thai artist's first solo exhibition in the US. The show comprises eight, large-scale, acrylic-on-canvas paintings: two self-portraits and six depictions of Prachakul's friends and family, who, like the artist (who lives and works in Lyon), form part of the Asian diaspora.
In a recent Zoom conversation, the self-taught artist, who worked in the film industry before turning to painting, spoke to me about her relationship to her sitters: 'These characters are all part of my life and the connections I have to them ultimately make me the subject of the works.' Since winning the BP Portrait Award from London's National Portrait Gallery in 2020, Prachakul's paintings have gained much attention for their representations of Asian identity – often less visible in contemporary art. Yet, while this focus is central to the artist's project, her desire to connect with and explore her own painterly subjectivity is equally insistent.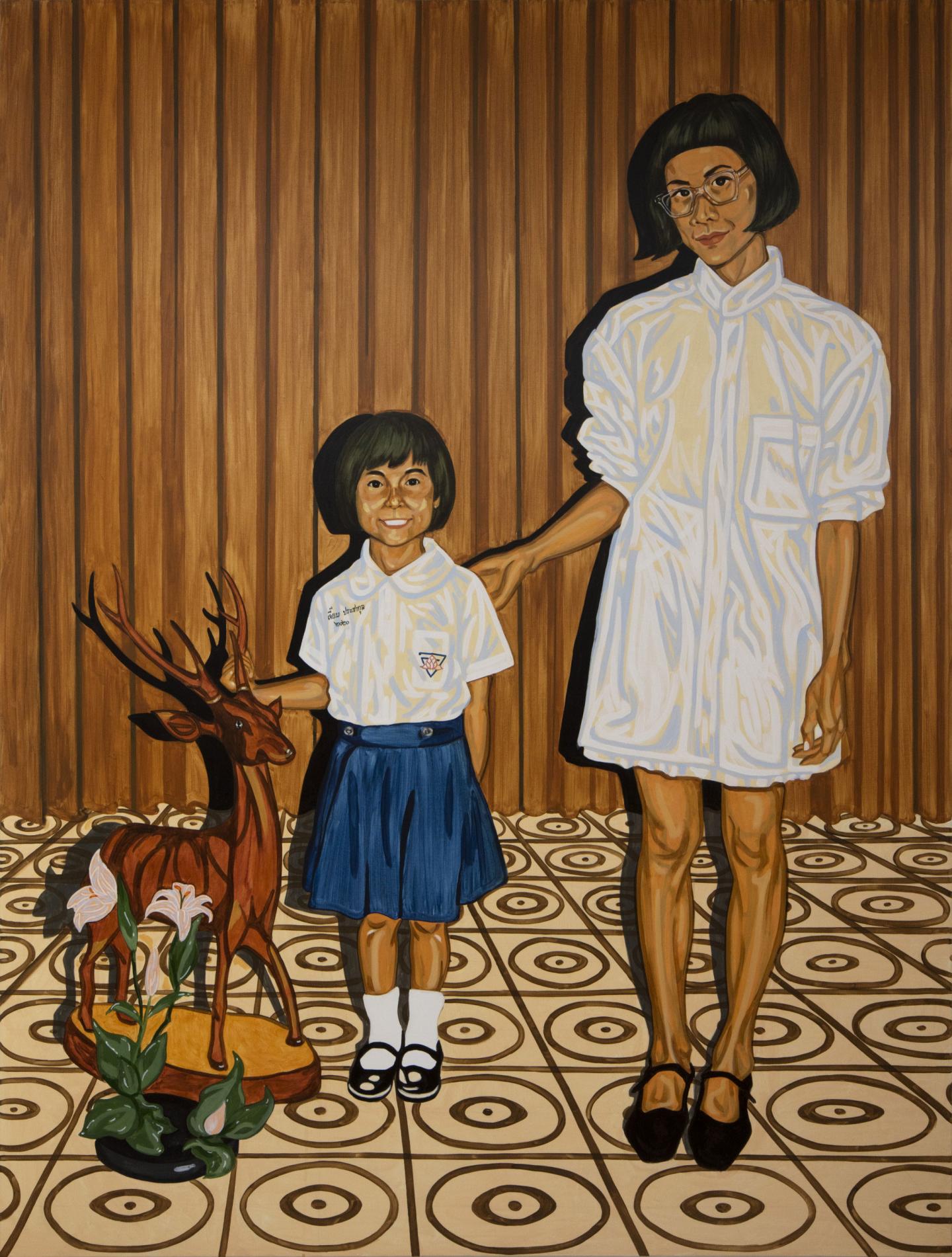 The intense relationship that unifies painter and model in Prachakul's work is perhaps most palpable here in comparing 14 Years (Self-Portrait) (all works 2020), a painting of the artist crouching on the floor, with Stand-by, a beautiful portrait of two fashionable travelling companions waiting for a flight at an unknown airport – one seated on her luggage, the other standing alongside, his head cut out of the picture plane. With their striking face-to-camera gazes, the female figures in both works are imbued with the same strong sense of positionality. However, it is in Connecting – in which the artist paints herself as a child alongside her adult self – that Prachkul deftly and doubly asserts herself as the protagonist of her own story.
'Jia Prachakul: 14 Years' is on view at Friends Indeed Gallery, San Francisco, through 30 April 2021.
Main images: Jiab Prachakul, A Conversation with Apichatpong, 2020, acrylic on canvas, 79 × 99 cm. Courtesy: the artists and Friends Indeed Gallery, San Francisco