Top 5 Shows to See in the US and Canada
From Manuel Mathieu's figurative abstractions to Mark McKnight's erotic photography, these are the must-see shows in North America.
This month's round-up focuses on a modest selection of shows in the US and Canada that look at black and white photography, minimalist sculpture and much more. Here are the exhibition highlights from across North America.
'Peter Alexander: Early Works, 1965–1972'
Franklin Parrasch Gallery, New York
There is something rejuvenating about peering into one of Peter Alexander's polyester resin cubes at the end of a New York winter. Examining Small Cloud Box (1966), for example, is like plunging inside the miniaturized distillation of a southern California skyscape, hovering alongside yellow and purple clouds made from an opaque resin expertly infused within a translucent one. This feeling of suspension pertains to all of the cubes on display in Franklin Parrasch Gallery's 'Peter Alexander: Early Works, 1965–1972', a show that serves as a tribute to the late Los Angeles artist, who passed away in May 2020. — Will Harrison
'Jiab Prachakul: 14 Years'
Friends Indeed Gallery, San Francisco
In a recent Zoom conversation, the self-taught artist [Jiab Prachakul], who worked in the film industry before turning to painting, spoke to me about her relationship to her sitters: 'These characters are all part of my life and the connections I have to them ultimately make me the subject of the works.' Since winning the BP Portrait Award from London's National Portrait Gallery in 2020, Prachakul's paintings have gained much attention for their representations of Asian identity – often less visible in contemporary art. Yet, while this focus is central to the artist's project, her desire to connect with and explore her own painterly subjectivity is equally insistent. — Natasha Boas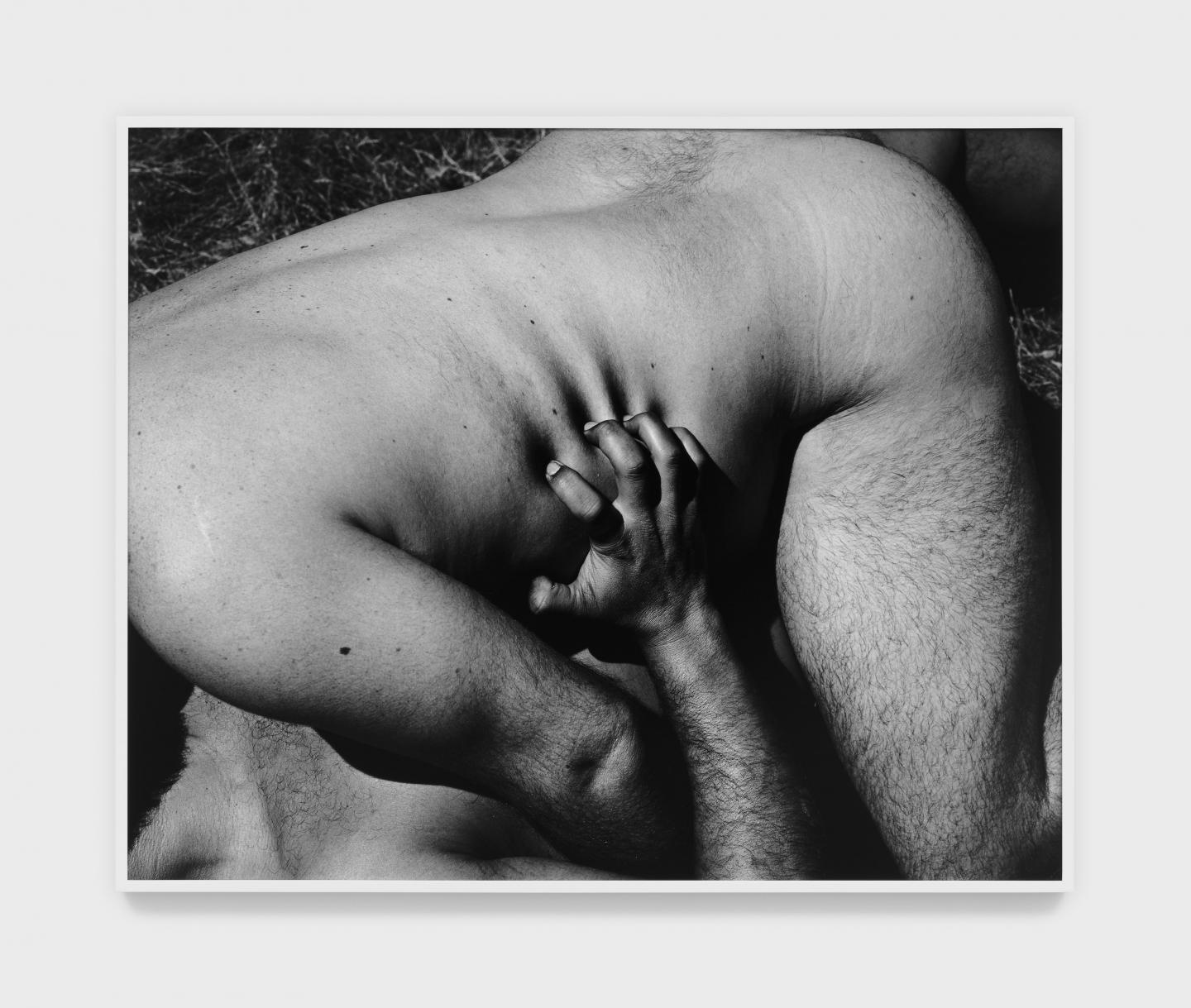 'Mark McKnight: Hunger for the Absolute'
Park View / Paul Soto, Los Angeles
The work tells the story of a sexual encounter between two men in a remote landscape, where the grass is tall and bare. We follow the photographer's gaze through the scene as he spies on the couple, almost flush with the grass, then looks up at the sky, perhaps feigning distraction. Finally, he approaches the bodies closely with the active gaze of a participant – watching the most erotic act transpire. — Gracie Hadland
'Manuel Matthieu: Survivance'
Montreal Museum of Fine Arts
The compelling array of recent works by Haitian-born artist Manuel Mathieu, currently on show at the Montreal Museum of Fine Arts, demonstrates just how much is still possible in painting at a time when the wider culture seems to be in the grip of pervasive, paralytic darkness. Mathieu's first solo museum show in North America, 'Survivance' (Survival), brings together 20 paintings and a newly commissioned, site-specific installation. Mathieu, who won Canada's prestigious Sobey Art Award in 2020, is a maverick and empath whose work feeds deeply on his own lived experiences, including two serious traffic accidents he suffered in London and Montreal, which prompted him to reflect on and develop his artistic vision. — James D. Campbell 
'Stewart Uoo: used '
47 Canal, New York
'You look fabulous today!' This is what I feel like saying to the commonplace objects that Stewart Uoo has transformed into delightful sculptures for his fourth solo exhibition, 'used', at 47 Canal. This show feels like going for a walk in New York after smoking a good joint. Fixtures of everyday life sparkle with unusual charm. — Peter Brock
Main image: Manuel Mathieu, 'Survivance', 2020–21, exhibition view, Montreal Museum of Fine Arts. Courtesy: the artist and the Montreal Museum of Fine Arts; photography: Denis Farley