Mark McKnight Photographs Hardcore Vistas
At Park View / Paul Soto, Los Angeles, the artist presents eight large-format, black and white photographs depicting gay sexuality and scenes from nature
Many queer artists of colour – including Alvin Baltrop, Reynaldo Rivera and Ajamu X – have received renewed attention in recent years for their candid and alluring depictions of gay sexuality and revitalizing the medium of black and white photography. Among them is Los Angeles-based photographer Mark McKnight, whose work is on display at Park View / Paul Soto in 'Hunger for the Absolute', a series of eight black and white, large-format prints (all works 2021).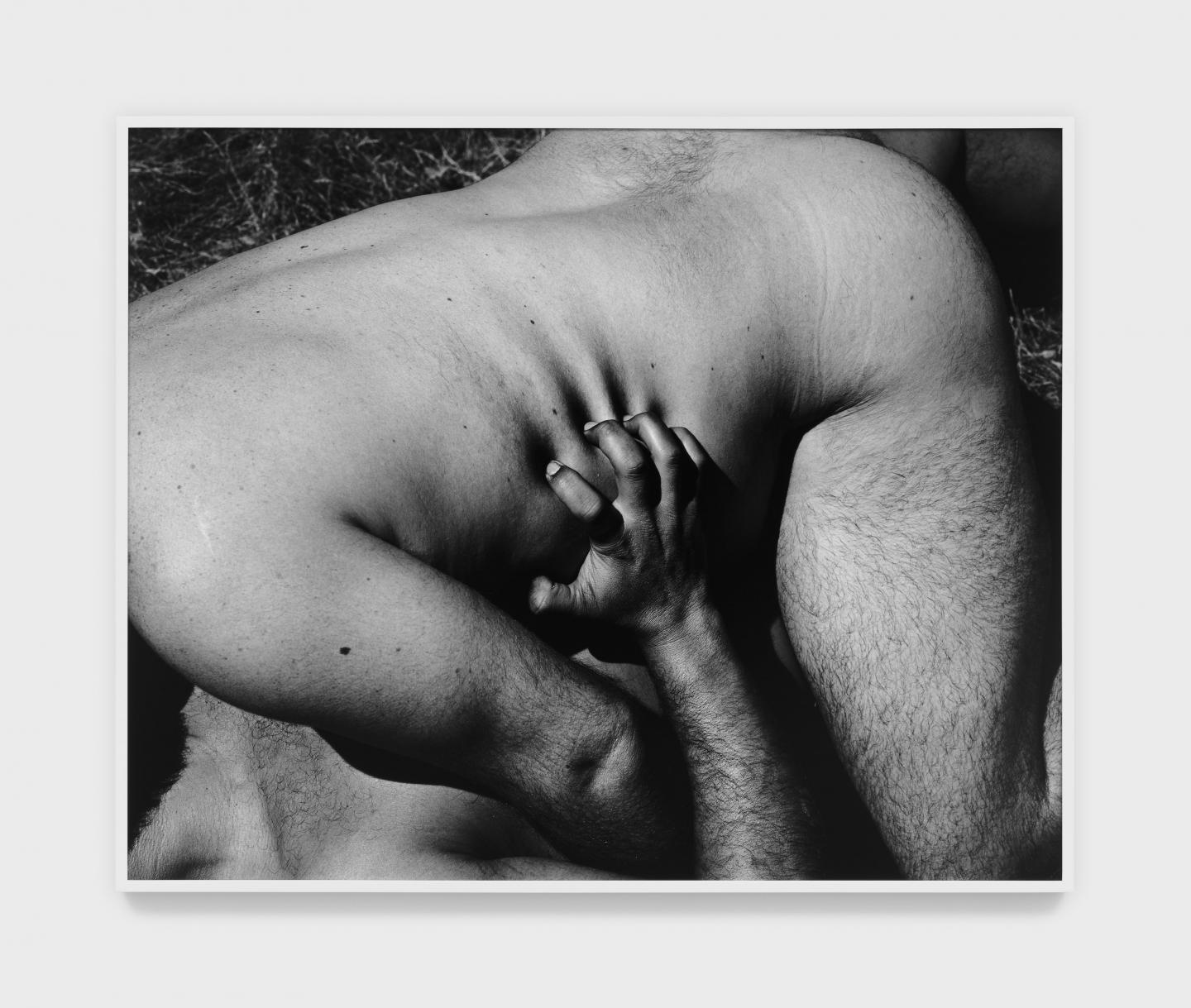 The work tells the story of a sexual encounter between two men in a remote landscape, where the grass is tall and bare. We follow the photographer's gaze through the scene as he spies on the couple, almost flush with the grass, then looks up at the sky, perhaps feigning distraction. Finally, he approaches the bodies closely with the active gaze of a participant – watching the most erotic act transpire.
Interspersed among – at times flanking – these graphic images are scenes of the surrounding nature. This inclusion feels like a cheeky nod to Hayes Code-era Hollywood movies, when it was prohibited for a couple to be filmed in bed together. Instead, a slow pan would lead viewers' eyes from the bed to the window, where something tamer, like birds and trees, would distract from the unfilmable carnal deed. Yet, the fantasy had been evoked and the impression of sex remained – like spots on the retina after looking into the sun. Likewise, in McKnight's images, the natural elements take on a libidinous aura; everything starts to look like sex. Untitled (Tree Void) – a black hole in the centre of a broken tree branch – seems almost too suggestive of the sexual orifice that drives the energy of the other pictures. The print is so dark it's opaque; when you look at it, you can see almost anything.
Mark McKnight's 'Hunger for the Absolute' at Park View / Paul Soto, Los Angeles, is on view through 24 April 2021. 
Main image: Mark McKnight, 'Hunger for the Absolute', 2021, exhibition view, Park View / Paul Soto, Los Angeles. Courtesy: the artist and Park View / Paul Soto, Los Angeles