Featured in
Julian Göthe
Parody, intrigue and innuendo; time travel, referentiality and social comedy
Julian Göthe's recent sculptures are strangely hybrid objects, shape-shifters that can't decide on what form to settle. Works such as 'Voices from the Off' (2008) recall chess figures, perfume flacons, extravagant pieces of Italian 1950s' furniture design and insectoid robots. In hindsight, an earlier work from 2003 of white origami-type paper structures in the window of the antiquarian bookshop at the front of Galerie Daniel Buchholz in Cologne (Painted White in a Spirit of Rebellion, 2003) has served as a blueprint for these works. But it wasn't until the introduction of uniformly pristine black surfaces that the sculptures became silhouettes against their surroundings, like rifts in the space-time continuum.
One of the German artist's most elaborate pieces to date is, in fact, something of a time machine portal, albeit in slapstick mode: an oval ring lined with a violet neon tube sits on top of a base reminiscent of an antique telephone, while seven office lamps stick out from the ring like tentacles (Exit, 2008). What could be the absurd invention of a 1920s' mad professor reoccurs in a panoramic, comic-style drawing – clear lines, no colours – full of protagonists clad in suits and evening gowns who look like extras from a movie made by Federico Fellini or Luchino Visconti. Most of them sit idly around, while two men wearing tuxedos and top hats are trying to carry a similarly dressed third man through the oval (Resurrection, 2008). It is clear Göthe is not simply nostalgic for a bygone era: whatever period he depicts, he seems to be questioning how certain cultural techniques – parody, intrigue, innuendo – are transformed over time, and reflected in the forms they assume.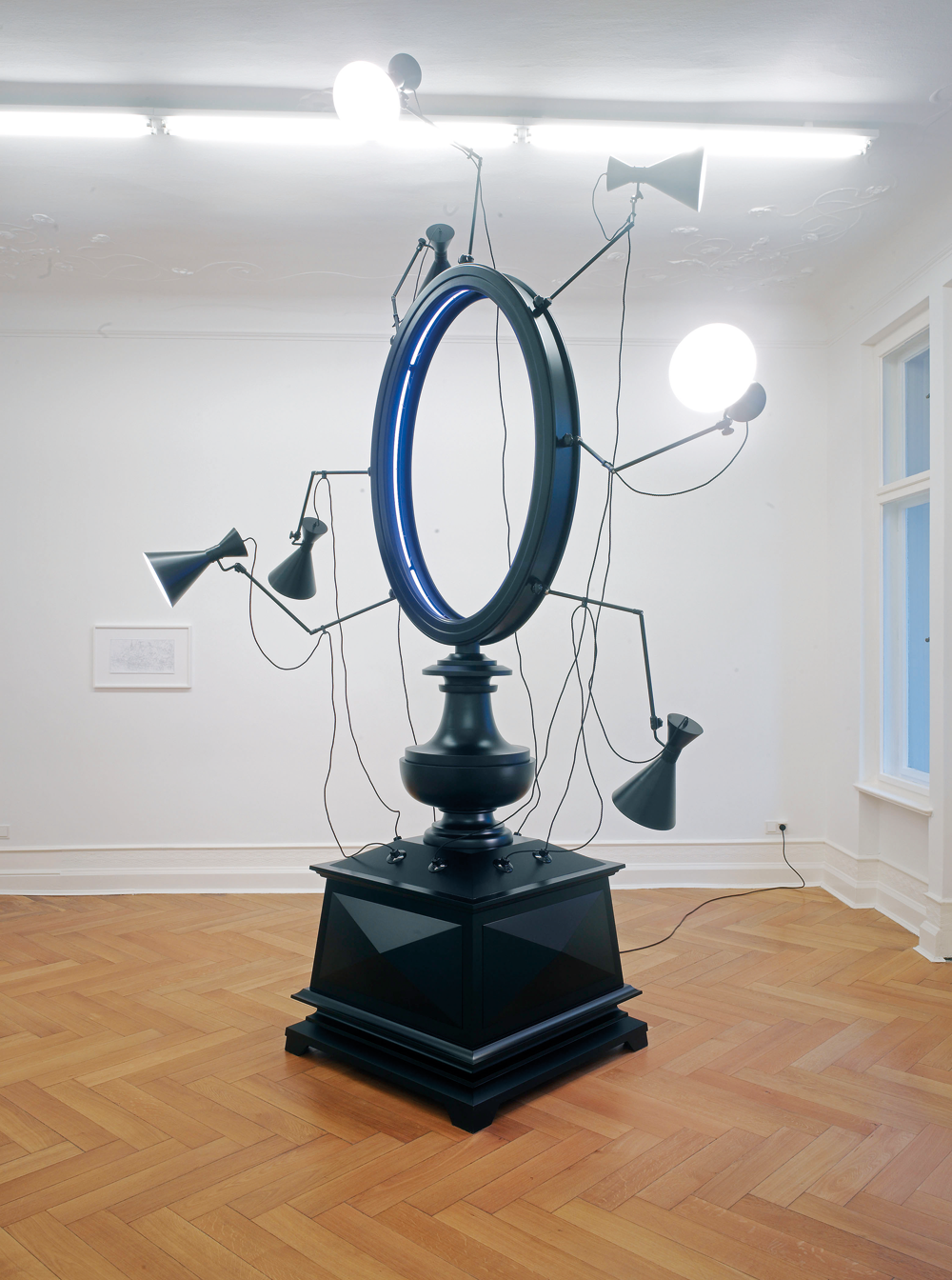 Another drawing in the same allegorical style proves the point with its coded subtext. Rather than sitting demurely in their seats, members of a theatre audience are standing, engaged in animated conversation about the scene unfolding on stage: two teams of three men – again wearing tuxedos and top hats – are grouped behind two identical glass coffee tables littered with sets of similar utensils (a mini stereo, a wine bottle, a book, eyeglasses). An arbitrator stretches a metering rule, furrowing his brow. Why are these tables at the centre of this hilarious Vaudeville face-off? The answer is a riddle wrapped in an enigma. The enigma is the title of the drawing, Ibiza, Ibiza (Par Hasard) (Ibiza, Ibiza, Accidentally, 2009). The riddle is the mannerist, referentialist echo chamber you enter once it's decoded, which even hipsters familiar with the Belgian record label Les Disques du Crépuscule might find difficult to do. In the 1980s the label released a string of beautifully designed records, including 'Par Hasard' (1982), a cute electro tune by French duo Mikado, and several records that featured a photograph captioned 'Ibiza (June 1984)' – in which is included the still life of the coffee table described above.
Göthe contributed the piece to a recent exhibition at the Cologne Kunstverein focusing on Les Disques du Crépuscule, in response to a weird coincidence: two other artists in the show – Claus Richter and Christian Flamm – had both suggested, independently of each other, creating a replica of the coffee table, including all the utensils. Riddle or not, to realize that the drawing is a striking parody of the art world's obsession with referentiality you don't need to be a connoisseur. However, Göthe's burlesque is not scornful but reveals its maker to be effusively entangled in a game of allusions, of which the drawing is full (such as a woman wearing a brooch emblazoned with the logo of Les Disques du Crépuscule).
Bearing all of the above in mind it's not really surprising that most of Göthe's Berlin living room is taken up by stacks of records. They reveal something about the artist's curiosity about avant-garde experiment popping up in mainstream culture, and the odd mixture of comedy and earnestness this often results in. A good example is the record Barbra Streisand … and other musical instruments (1973), in which Streisand bravely sings along to the sounds of Ghanaian instruments and kitchen appliances, much in the spirit of John Cage (who performed his 1958 Water Walk on the prime time television show I've Got a Secret in 1960).
Last year Göthe created a similar clash of cultures in the opulently baroque foyer spaces of Munich's Nationaltheater, home of the State Opera. Works including Exit and 'Voices from the Off' became the backdrop for the champagne intermission, the oddly comical rigour of the sculptures obliquely reflecting the elaborate hairdos and facelifts of the audience. Göthe is not averse to the idea that sculptures can be both autonomous and props for social comedy; after all, he started out painting landscape backdrops for a children's television series. Many cartoons have a tendency to discuss social relationships via coded subtexts of desire. With Göthe it's the other way round: while the libidinous investments are vibrantly present, social characteristics – bourgeois conservatism, or queer bohemianism – appear in the guise of allusion and allegory. As with the language of screwball comedy, this seems to be the best way to address them, without becoming didactic or patronizing.