Is Keith Haring's Art for Everybody?
A survey at The Broad, Los Angeles, balances the artist's claims of universality with an acknowledgement of his freewheeling appropriation
I predict few will linger long enough to absorb the four paragraphs of potted biography on the neon yellow wall welcoming visitors to 'Keith Haring: Art Is for Everybody', before surging onward into the first gallery, which is painted with fluorescent pink and orange stripes. The green and orange Statue of Liberty (1982) commands the room, graffitied to high heaven by Haring and his then-15-year-old collaborator, LA II (Angel Ortiz). Nearby is a Corinthian column, similarly improved, while on the walls hang Haring's Day-Glo paintings on muslin, aluminium and Formica.
So it begins. 'Art Is for Everybody', the first museum exhibition in Los Angeles of Haring's work, is a deep dive that takes us from this part re-creation of the black-lit basement in Haring's breakout 1982 show at Tony Shafrazi Gallery, New York, through to his (intentionally) Unfinished Painting (1989), done months before his death from AIDS-related illnesses. The entire span of the show – which includes early works on paper from 1978, when Haring was just 20 – is just 11 short years; the enormity and impact of Haring's output is awesome. Despite the relative consistency of his style and subject matter, it is also – perhaps surprisingly– never boring. 
The exhibition, which has all the makings of a blockbuster at the perennially popular Broad, is not without its complications, though. The first thing that struck me about it – beyond those eye-popping colours – was how widely Haring drew from antiquity, and from non-Western forms including Egyptian hieroglyphs, pre-Columbian and Aboriginal Australian art. The second thing that struck me was how keen the exhibition seemed to pre-empt criticisms of cultural appropriation.
The show's curator, Sarah Loyer, had a tricky balance to strike between playing to her museum's diverse public and gently moderating its inevitable excitement for Haring's snazzy graphics and Day-Glo paints. By and large, she succeeds, especially in the exhibition's catalogue where she gamely acknowledges and attempts to weigh the artist's weaknesses. ('Haring had Black and Puerto Rican boyfriends and often collaborated with artists of colour, but neither love nor collaboration neutralizes structures of privilege,' she cautions.) In the exhibition itself, however, wall texts can sometimes feel like health warnings printed on packets of candy.
From one angle (a perspective Loyer is understandably keen to emphasize), Haring was an activist who protested apartheid, nuclear armament, police brutality and the hypocrisies of former US president Ronald Reagan's Christian right – especially its callous failures during the AIDS epidemic. But the meaning of Haring's art isn't really in his politics or his symbology. Sure, you can interpret his barking dogs as representations of brute power, or his radiant babies as emblems of purity and innocence, and try to put them together with his other, less cryptic pictographs, such as hearts, dollar signs and dicks. But that will only get you so far.
The real significance of Haring's art lies in the way he reinvented the role of the contemporary artist, building on (and further commercializing) the radicality of his friend and mentor, Andy Warhol. It's in his ubiquity as a brand, his self-proclaimed ambitions toward accessibility and universality, and his eager-to-please embrace of fun and levity – even alongside fury, horror and disgust.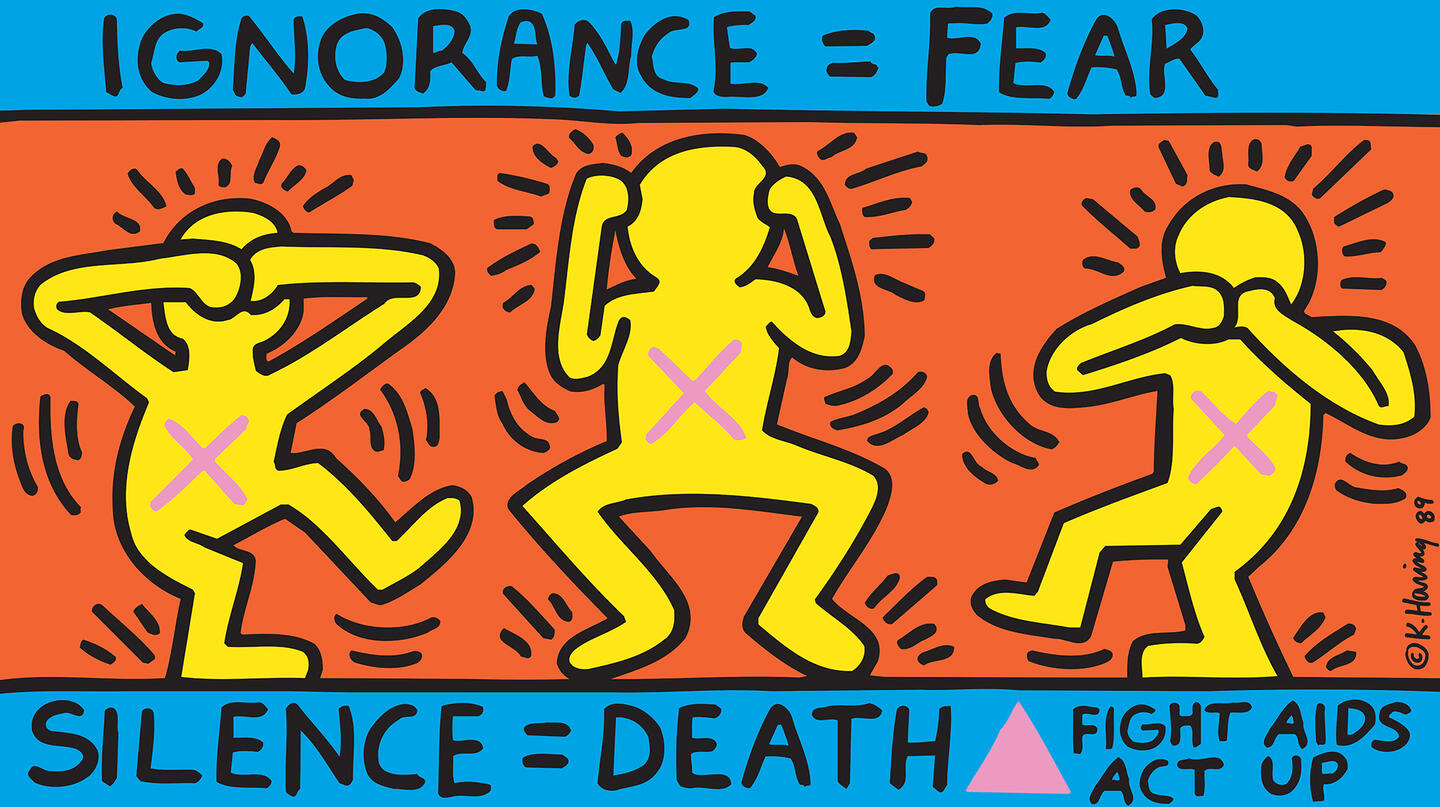 It's also in his contradictions. Haring was an anti-capitalist who opened a shop selling self-branded merchandise to undermine 'the "commodity-hype" art market', as he wrote in his journals in 1985, and who let his work be used in product advertisements in order to connect with a broader public. He was a white artist from a supportive suburban family who came relatively late to graffiti (at the age of 22), who collaborated with graffiti artists of colour (Jean-Michel Basquiat, Fab 5 Freddy, Ortiz and Lee Quiñones among them), who called out white supremacy in his work but who seemed unfazed about the protections his own whiteness gave him. He freely appropriated Indigenous and non-Western aesthetics in pursuit of universality, while seemingly not considering how his work would look to those whose cultures he had taken from.
I appreciate Loyer's openness to thinking critically about Haring, because it is all too easy to apotheosize an artist who died tragically young, and whose star rose so fast and so high. The surety of his line, his prodigious imagination and his early establishment of a singular style all contribute to his enduring canonical status. It is easy to enjoy the work in 'Art Is for Everybody' – whether the joyous green and pink Tree of Life (1985), done in acrylic on tarpaulin, or his outrageously foul capitalist pigs (such as Untitled, 1984), or the 15-metre-long The Matrix (1983), an intricate sumi ink drawing on paper featuring snakes and televisions, dogs, babies, crucifixes and flying saucers.
But what comes across most strongly in 'Art Is for Everybody' is Haring himself. Whether at his most politically earnest or entertaining, Haring was always selling Haring. It is his work's strength and its limitation. The dancing dog and the crawling baby: they're both self-portraits. To criticize an artist for narcissism is like criticizing a mathematician for being nerdy; however, Haring's inability to decentre himself was probably why he was unable to recognize fully his own privilege, why he may have neglected to carry others along with him despite his collaborative and cross-disciplinary practice. (Ortiz has long fought for full recognition from the Haring estate.)
It is tempting to imagine that Haring's urge to self-proliferate was connected to AIDS, and his awareness, even before his own diagnosis in 1988, that time on Earth was fleeting. But I think the urge was always in him. Life, after all, is its own terminal diagnosis; many of Haring's close friends, including Basquiat and Warhol, died in the late 1980s – not all of them from AIDS. 
The question 'Art Is for Everybody' leaves us with is: what if Haring had continued to proliferate? What if he had lived? 
Keith Haring's 'Art Is for Everybody' is at The Broad, Los Angeles, until 8 October 
Main image: Tseng Kwong Chi, Pop Shop, New York, 1986. Photograph: © Muna Tseng Dance Projects Inc. Courtesy: © The Keith Haring Foundation