Does viewing art require standing before it in person, or is it enough to look at reproductions? Although this question predates the time when art became increasingly viewed online, it has taken on a greater urgency since. With the onset of digital image circulation, exhibition photographs are often prepared even before a show is opened. But just what kind of photographs are these, and what constitutes good exhibition photo­graphy? Should photographs not only give an overview of a show or an artwork and provide a basis for judging it, but evoke a reaction, too? We asked three photographers from Germany and Switzerland experienced in documentating artworks and exhibitions to talk about their different approaches to photographing art.
GUNNAR MEIER studied photography and fine art at the Zurich University of the Arts. He began by photographing his own exhibitions and curatorial projects as well as those of his artist friends. Since 2009, Meier has worked for the Kunsthalle Bern, SALTS in Basel, the Kunst Halle Sankt Gallen, and RaebervonStenglin gallery in Zurich, among others, photographing works by artists such as Claudia Comte, Raphael Hefti and Pamela Rosenkranz.
Every photographic documentation of art entails a change in its perception. Factors such as perspective, cropping, the distance to the object and a lens' depth of field influence the effect of a work or an exhibition, and consequently the way it's seen. For example, the same exhibition or work can be made to seem spatial or flat, static or dynamic, small or large, quiet or chaotic, boring or playful. Art documentation is never solely about representing reality, it is also performative. In a sense it's reality-forming.
The aim of documenting art via photographs is, of course, to be generic, factual, and objective. It is important to note, however, that to most people a photograph only seems 'documentary' when it corresponds to their idea of what a documentary photograph should look like. This idea is determined by a consensus regarding the documentary 'look'. Indeed, most people wouldn't even recognize an unretouched photograph. It's never shown as it was originally taken, but reworked according to how we would think it should look. In my field, developing an obvious photographic signature only makes sense up to a point. A unique signature compromises the documentary nature of the image and its impression of objectivity. Good photographic art documentation depends mainly on how well the photographer reproduces the documentary look – the consensus. The skill is in influencing perception within these parameters without this influence being noticed.

WILFRIED PETZI has been photographing in his home town of Munich since 1993 for clients including Haus der Kunst, Galerie Rüdiger Schöttle, Galerie Barbara Gross and a number of Munich-based artists. Trained at the Bavarian State Institute for Photography, Petzi is also a musician and, with author Thomas Meinecke and artist Michaela Melián, is a member of the band FSK. As a photo­grapher, he works in both analogue and digital formats.
When photographing exhibition spaces, it's important to use a wide-angle lens sparingly, in order not to distort the spatial proportions too much. For the same reason, when reproducing paintings and sculptures, I work with telephoto lenses. Video installations are a technical challenge when it comes to showing the space itself and when including visitors. The level of contrast is usually too high. That's when I take a series of shots of the space with the video screen overexposed, and another series of the video screen, with the space underexposed. Using Photoshop, I then insert the masked, darker screen into the lighter room image.
Artists, dealers and curators often have different requirements of photo documentation. It's important to develop a sense of what they need in order for them to see their works, installations, and exhibitions adequately reproduced. I usually begin by making suggestions to establish stylistic preferences. It's not my opinion of an exhibition or a work of art that matters here, but rather a mixture of 'documentary' and 'staged' photography.
I like to think back to a shoot I did in late 1995 for the Haus der Kunst. David Hockney was there as a participating artist in the exhibition Pierrot, which he designed stage sets for. He didn't want 'normal' documentation, but asked me to use flash units, spots, and an 8 × 10 inch large-format camera (which I had to rent). I arrived in quite a state due to his profile and the technical challenge involved, but I was greeted right away with British politeness, and was completely set at ease. The staging we came up with, during which Hockney and his assistant cast huge shadows onto the walls – over painted Pierrots holding framed pictures – is among the most beautiful experiences I've ever had working in art documentation.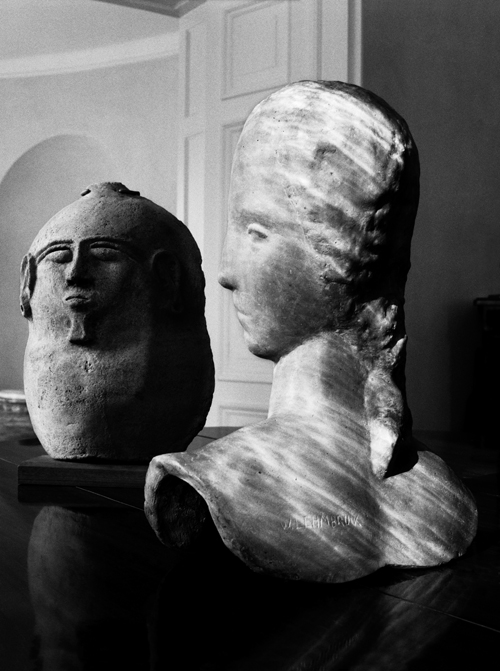 ANDREA STAPPERT is known chiefly for her artists' portraits. A collection of them, including intimate portraits of Martin Kippenberger, Lawrence Weiner and Sarah Lucas, were included in her book Under the Radar. Photographs 1983–2011, published by Kerber in 2012. Stappert studied painting at the HfbK in Hamburg before moving to Cologne. There she took up photography and worked intensively in exhibition documentation, collaborating with galleries such as Christian Nagel, Gisela Capitain, Rafael Jablonka, Max Hetzler, and Michael Werner, whom she first met in 1985.
In the spring of 2012, a short time after my book Under the Radar was published, I received an invitation to Michael Werner's Schloss Märkisch Wilmersdorf. He said there was a large project that he wanted to talk to me about on-site. I remember our walk through the park surrounding the palace, past sculptures by Barry Flanagan, Per Kirkeby, Markus Lüpertz, Etienne Martin and A.R. Penck. Werner told me about his plans for a large exhibition at the Musée d'Art moderne de la Ville de Paris, where 900 works from his collection were to be shown (The Michael Werner Collection, 2012). To accompany the show, a 600-page catalogue was planned, each of whose 20 chapters was to be introduced with a black and white photograph. Werner wanted these photographs to create moments of peace and concentration between the other colour images. He asked me if I could imagine taking such pictures – pictures that would not only document but that captured the essence of his collection in a magical, mysterious way. There would be a certain set of requirements, such as the com­bination of a bust by Auguste Rodin depicting Charles Baudelaire with a work by Marcel Broodthaers, or a Gustave Moreau painting in con­junction with two small bronze sculptures by Markus Lüpertz and Georg Baselitz. In this regard, it would of course be a commission, but in the main he was looking for me to make my own decisions. He said I could move around the palace freely and change the arrangements of things 'into something completely different.'
I began by exploring the palace's many rooms – each with its own story and a beauty and peace that I didn't want to disturb. I spent days there, initially without a camera, as though it were a matter of earning the trust of the place before even thinking of photographing it. I studied the light and shadow and internalized the various different views onto the park. Step by step I began to sharpen my eye to the environment.
It requires quite some courage to pick up a bust by Lehmbruck or from an Egyptian sarcophagus, or a vase by Picasso, and to carry it through a series of rooms to another location. It also says a lot about the trust Werner placed in me. I forged personal relationships with these objects – in my opinion, an essential prerequisite to photographing them. If I found a mise-en-scène interesting, I would wait for the right light and monitor it, sometimes for days. When things went very well the moment came and I pressed the shutter at just the right time.
It's interesting what a subjective view can bring forth. In the best cases, you discover a secret that, even if you've caught hold of it, never really reveals itself. It's a very particular beauty that is both present and immediately withdraws, as though it were in a sense protecting itself.
Since the catalogue was published my relationship with the palace has continued. There's even the idea of making a publication about the original project using the black and white photographs I took. For me, it's not just a special portrait of a collection, but at the same time a special portrait of Michael Werner himself.
Translated by Andrea Scrima