Featured in
Looking Back: Emerging Artists
frieze asked the following critics and curators from around the world to choose what, and who, they felt to be the most significant shows and artists of 2006: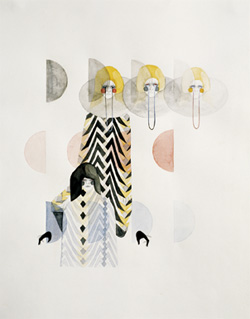 Sara Arrhenius
At Momentum 2006, in Moss, Norway, Swedish artist Kajsa Dahlberg's exquisite remake of Virginia Woolf's novel, A Room of One's Own, consisted of margin notes taken from every copy of the book held in a Swedish library. The piece spoke convincingly and touchingly about the history of an artwork – whether it be a written text or an image – and about how it enters into our private, intimate histories. Dahlberg's work shares an attentiveness to the workings of time and history with Paul Chan's wonderful series The 7 Lights, which I saw two parts of in his recent solo show at Magasin 3, Stockholm.
Luca Cerizza
Roberto Cuoghi, Ryan Gander, Loris Gréaud, Massimo Grimaldi, Marine Hugonnier, Diego Perrone, Florian Pumhösl, Tomas Saraceno, Haegue Yang.
Bice Curiger
My attention was caught by women artists including Anne Collier, Carol Bove, Christine Streuli, Ulla von Brandenburg and Elodie Pong, whose video features a young woman hypnotically and insistently repeating the words: 'Je suis une bombe ...' (I am a bomb).
Stuart Comer
Ian White's 'New Semantics' screening programme at the Whitechapel Gallery in London highlighted that the energy among the city's young artists lies in the moving image. Redmond Entwistle, James Roberts and Samuel Stevens all presented memorable projects that link them to other talented Londoners Mark Aerial Waller and Ben Callaway. Artists working elsewhere whose work has stayed with me include Akram Zaatari, Ayreen Anastas, Duncan Campbell, Sharon Hayes, Michael Queenland, Klaus Weber and Susanne Bürner. Los Angeles continues to add to its embarrassment of riches with artists Lisa Anne Auerbach, Dave Hullfish Bailey, Lecia Dole-Recio, William E. Jones, Mark Flores, Erika Vogt, Stephanie Taylor and Fritz Haeg (who holds the whole thing together in the epicentre of his hillside geodesic dome).
Dominic Eichler
Among the works of art that held me and didn't let go was Nairy Baghramian and Jan Timme's collaborative installation, which they devised for Galerie Christian Nagel's Art Forum Berlin stand. It bore, with considerable grace, the modest title, Everlasting layers of ideas, images, feelings, have fallen upon your brain softly as light. Each succession has seemed to bury all that went before. And yet, in reality, not one has been extinguished, (2006), and was like a giant butterfly settling on Modernist ruins in a desert oasis.
Charles Esche
Given the immensity of artistic output this year, and the overwhelming mediocrity of much of the work, some new images and gestures nonetheless stood out for me. Often, these were instances in which existing promise was realized, at other times they were simply works that were full of energy. Amongst them were: Keren Cytter at Kunstwerke, Berlin, Erwin van Doorn in my Eindhoven backyard, Ahmet Ögüt at Platform Garanti CAC, Istanbul, Ahlam Shibli at Kunsthalle Basel, Cezary Bodzianowski and David Maljkovic around and about.
Alex Farquharson
Michael Beutler, Mark Titchner and Goshka Macuga – Macuga especially – successfully revived the ghost of experimental exhibition design in shows at Iaspis, Arnolfini and Greenland Street (Liverpool) respectively. In London, Simon Martin at Counter (a meditation on time and a Memphis shelving unit), Francis Upritchard at Kate MacGarry (further creepy faux-ethnographic findings), Chris Evans at Studio Voltaire ('Radical Loyalty', a mind-bending post-Wall, post-Utopian political allegory) and Klaus Weber at Herald Street (mad, water-spewing statues made from what looked like petrified lava) made for an unusually rewarding trawl of galleries in October.
Douglas Fogle
Two exhibitions by younger/emerging artists stood out for me this year, both of which alluded to humour in their titles. Andro Wekua's exhibition 'I'm Sorry if I'm Not Funny Tonight' at Kunstmuseum Winterthur was an incredible intervention in the museum's collection galleries, featuring a haunting sculpture of a disfigured boy sitting at a desk, evoking equal doses of empathy and despair. Meanwhile, back in Texas, Edgar Arceneaux' video installation 'The Alchemy of Comedy' at Artpace in San Antonio took us on a Dante-esque descent into the nine circles of hell that make up the psychological and cultural topography of humour, guided not by Dante's Virgil but by the professional comedian David Alan Grier. The lessons learnt? The line between comedy and tragedy is much more blurry than we might think. (Full disclosure: I chose Arceneaux for his Artpace residency but had no idea what he would do.)
Jennifer Higgie
Sue Tompkins, at Glasgow's Modern Institute, employed the most minimal of materials – glue, a typewriter, paper, her voice – to explore and explode what words can do. (How can so little do so much?) Donna Huddleston created a sunlit summer house for her first show at Juliette Jongma in Amsterdam: her watercolours of otherwordly women are mesmerizing. In London, Emily Wardill's intriguing film at Fortescue Avenue/Jonathan Viner employed music, repetition, doubling and the everyday in a way that promised things to come. Nathaniel Mellors' show at Alison Jacques revealed a relentless imagination fuelled by a surreal sense of wordplay and humour. I love Janice Kerbel's work; her radio play for insomniacs produced by Artangel and broadcast on BBC Radio 3, Nick Silver Can't Sleep, was a dreamy treat. Also of note were Karin Ruggaber's sculptures at Tate's Art Now, Charles Avery's mythological universe at Cubitt and Matthew Brannon's enigmatic silkscreens in 'USA Today'.
Raimundas Malasauskas
Juozas Laivys spent most of 2006 in Vilnius, but every month he visited Klaipeda, a Lithuanian seaport, to modify the letters on the facade of the Klaipeda Exhibition Palace, adapting the Soviet-style chunks of metal to become letters in gold, then letters in flour, then letters in cardboard on people's heads, etc. He also recited rhymes in different historic styles at public poetry readings, and recently rewrote a sentence by Pierre Bismuth: 'everybody is an artist, but only artists know it', to 'art has ended, but only artists don't know it.'
Shaheen Merali
Parastou Forouhar, Florian Merkel, Rui Toscano and Chiho Aoshima have helped reposition the floating entities of drawing, animation and context with invention, wit and wisdom, enriching these organic notions with their vivid imaginations. Likewise, the ability of Thomas Zipp, Fred Wilson and Lisl Ponger to constantly engage the margins and voids of history has helped redefine the boundaries of art: they effect change without resorting to the anonymity so regularly abused by artists who use the playing field of art theory to create a caricature of intelligent pretence.
Helen Molesworth
K8 Hardy works with fellow artist Wynne Greenwood; she organizes performance events and street fairs, and is part of the collective LTTR. Hers is a self-conscious attempt to make art in the 'minor' vein, filled with small gestures on the brink of failure; this is where Hardy locates the possibility of laughter, feminism and resistance to our spectacle-dominated, warmongering culture. Her self-portrait perched on a kitchen counter, legs spread wide to reveal stained underpants – part spoof, part 'I dare you', part goofy, part earnest – is emblematic of her generation's investment in producing new models of sexuality, in which 'old-fashioned' notions of straight and gay are merely episodic moments in a vaster trajectory of pleasure and identity.
Simon Njami
Amal Kenawy's work at the Sydney Biennale was remarkable. Using video to tell personal stories, she is following in the footsteps of the best video practitioners. Kenawy is lives and works in Cairo, simple facts that don't make her a sensation, but in a region where women artists have so much to prove and to fight, her strength, commitment and poetry are evidence of someone who is going to have a significant presence in years to come.
Olu Oguibe
Odili Donald Odita's majestic solo show 'Fusion', at Jack Shainman Gallery, New York confirms the artist's maturity. Odita's vibrant, hard-edge abstract paintings explore the limn between colour and space with vague but apparent references to nature and politics.
Daniel Palmer
In 'New06' at the Australian Centre for Contemporary Art, Melbourne, Helen Johnson's work consisted of enormous painted paper panels glued like wallpaper to the wall. Young figures hinted at the complexities and contradictions of trying to live an ethical life. Johnson and frequent collaborator Michelle Ussher inspired controversy with their work at Gertrude Contemporary Art Spaces' Project Room at the 2006 Melbourne Art Fair, The Only Thing You Taught Me Was The Only Thing You Know (2006), which explored Australia's white history. Their reworking of a 1950s' David Moore photo of indigenous children had to be removed after a complaint from a local indigenous artist – revealing the thorny issues of cultural representation. Fortunately a productive discussion ensued.
Cristina Ricupero
Keren Cytter's filmic works mix elaborate narratives with rough, hand-held shooting, caught my attention. Funny and ironic, her works refer to a variety of genres ranging from home movies, documentaries, satires and soaps to melodramas and musicals. Pablo Pijnappel's investigations of memory through curious combinations of his own footage, family archive material, fragments from feature films and media images are full of promise. Nathalie Djurberg's perverse animations and Aida Ruilova's fast-paced, ultra-rhythmic, spooky videos are also worth mentioning.
Ali Subotnick
Harry Dodge and Stanya Kahn's video Can't Swallow it, Can't Spit It Out (in the group show 'Locale', curated by Kris Kuramitsu at Margo Leavin), following a cracked-out lady in a Viking hat with smeared lipstick on an eccentric and paranoid journey, is whacked and hilarious. Nathalie Djurberg's twisted tales of bad girls gone badder are unabashed, sick, and sickly sweet. With a twinkle in her eye Djurberg tells the fairytales of damaged Madeleines and vengeful Alices.
Jochen Volz
The subtle studies of narrative and time developed in Marcellvs L.'s videos. Cinthia Marcelle's politically charged performances in public and institutional spaces. The transformation of spaces by Renata Lucas, through which she examines their geographical, social and architectural conditions. Marilá Dardot's investigations of language. The creation of universes, orders and logicistics by Sara Ramo. And especially Débora Bolsoni's creation of a fabulous grotto in the auditorium of the Museu da Pampulha, Belo Horizonte – one of Oscar Niemeyer's early masterpieces – by minimal means of intervention.