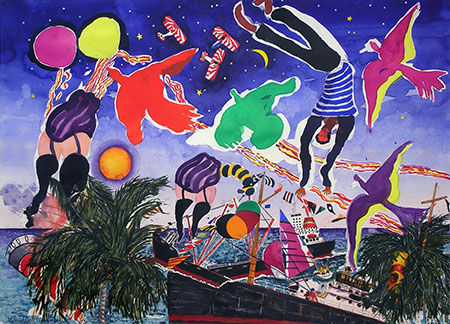 'Malcolm Morley: Painting, Paper, Process' at the Parrish Art Museum is only a fragment of the artist's sprawling oeuvre, presenting Morley's use of paper in 49 works since 1986. His first major retrospective came in 1984. Organized by Nicholas Serota at the Whitechapel Art Gallery in London, it travelled around Europe and the US to much acclaim. Comprising works from 1965 to 1982, the show was a testament to Morley's dominance in the nascent Neo-Expressionist movement. Previously, he was often exhibited in connection with the reawakening of realist painting during the late 1960s and '70s. His 1965 painting of a postcard depiction of the S.S. United States in New York harbour (S.S. United States with New York Skyline) prefigured later work by urban photorealists like Richard Estes and Ralph Goings. Though celebrated as a pioneer throughout his early career, he has more recently opted for deadpan reproductions that tempt associations with philistinism. The past decade has witnessed Morley's visually seductive reproductions drawn from popular culture, folding his photorealist practice into what one might accurately term 'art fair art': bright, legible, super-realist renderings of athletes, racing and iconic photographs. Motorcycle racers, football players and photographed scenes of ships are celebrations of banality reproduced as mere paint, mere surface.
Morley has a stated inability to fix on one style, claiming a continual impulse to reinvent. His production having ranged from AbEx idioms to the most formally precise photo-realism, a consistency remains only his systematic mining of his own subconscious. Like a Freudian iconography of his own life, Morley's subject matter – including ships, nautical scenes and World War I fighter planes – is deeply connected to his psychoanalysis. Paradoxically, few artists offer more overt visual sensations: in execution Morley's work is preoccupied with surface. To wit, 'painting is paint' is Morley's brusque position on a series of otherwise probing aesthetic debates.
The Parrish turns not to Morley's photorealism, but to a challenging section of his practice that displays his skill as a watercolourist in pursuit of his most psychologically pregnant subjects. The selections are either executed on paper or instead use paper as a three-dimensional sculptural object that enhances the illusionism of the support. Fallen Hero (1997) uses paper to model a rigid medieval knight in armour, expressionless due perhaps to the paper and the process's inability to render subtleties in design. The aircraft and boats in Man Overboard (1994) appear pasted onto the nautical landscape, as if Morley has given up the search for an agreeable arrangement in order to reanimate the trauma of flotsam/jetsam. These painterly workouts of war planes and boats are thematically lorded over by Morley's large replica of a Fokker, Flight of Icarus (1995). The aircraft floats above the rest of the work, appearing as though it has crashed clean into the gallery wall. Works depicting boats, we are told, are Morley's attempts to reclaim a connection with a model ship lost during his early childhood when a World War II air strike hit his home; this claim ensconces the works further within the psychoanalytic resolution of the artist-subject.
Morley also employs the trope of catastrophe as venue for formal tactics, as various examples throughout the Parrish's selection attest. Abandon Ship I (2008) is an askew composition of a collision among several planes and boats. Such distraught scenes likewise signal affinity with a species of the Pop fascination with disaster in addition to the imagery of the repressed material of Morley's past.
The exhibition's exploration of paper's role in the artist's process is anchored by Morley's Ring of Fire (2009) a life-size papier-mâché sculpture of a motocross stunt man plunging through a burning hoop. Using folded paper, Morley precisely replicates each detail of the bike and its rider. The work is Morley's most vocal assertion of a universal theme in his recent practice: objects of great visual intensity are celebrated for their surface qualities, here manifested in a three-dimensional celebration of the sports star as modern day hero.
Morley's variegated aerial and nautical scenes operate in concert with the cultural milieu of the east end of Long Island, a cross-pollination of the pastoral American scene, rugged individualism of maritime living and, most recently, imported nouveau riche cosmopolitanism. With Morley's impressionistic handling of watercolour and depiction of highly personal iconography, he tenuously marks a path back to Fairfield Porter and Childe Hassam; and even to William Merritt Chase and John Henry Twachtman, all of whom are aesthetic forbears of the institution on display in the Parrish's nearby galleries.
Apart from a tight study of the manner in which Morley works in the medium of paper, 'Painting, Paper, and Process' divulges some limitations of the Parrish's responsibilities as a regional institution. The large scale of the installations necessary for the Flight of Icarus and Ring of Fire do not so much defamiliarize the white cube as remind us that the Hamptons is also where many New York collectors keep their biggest works.