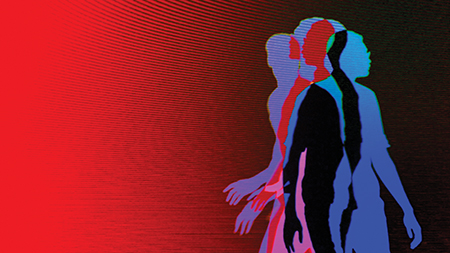 Sexuality, war, love and death were fertile grounds for debate in the cacophonous installation that was 'DAILY LOVEMAKING', Angolan artist Nástio Mosquito's first solo show, at Ikon Gallery, Birmingham. The exhibition brought together a selection of the video works that have been Mosquito's primary output over the last ten years, with elements of sculptural and architectural intervention. Underpinning these is the artist's interest in language – its power and possibilities – and the show featured works in which humour, irony and satire are the weapons of choice against the rhetoric of global politics. Throughout, Mosquito plays with, performs and undermines language, and the resulting installation is a forceful proposition that is as entertaining as it is provocative.
The exhibition opened with the video I Am Naked (2005). It lasts for just under five minutes and was one of the most poignant works on display. Mosquito delivers a captivating monologue, spoken in broken, patois English. The film is shot in night vision and a green light demarcates a hazy field of vision in which a naked male body is occasionally visible, at times face to face with the camera. He calls out things like: 'Heavens allow me to speak,' and 'Am I the only one wanting to feel free?' Within this raw outpouring, Mosquito speaks of fatherless sons, survival, making love, maltreatment by the powers that be and the importance of maintaining your sanity. Embodiment and selfhood, social position and economic power emerge as the video's central concerns – themes that recurred throughout the exhibition.
In Acts (2012), a video work produced with Spanish artist Vic Pereiró under the collaborative name Nastivicious, Mosquito's silhouette is writ large against a spectrum of coloured backgrounds by turns yellow, red, purple and blue. He sings popular songs a capella, such as Bob Marley's 'I Shot the Sheriff' (1973), or Prince's 'Purple Rain' (1984). Unmelodic singing veers into exasperated cries and what sound like protestations in Portuguese, whilst the moving figure is abstracted through low-fi special effects. Mosquito often employs the aesthetics of music videos and infotainment television, and his films have the ability to feel 'lite' yet unveil layers of insight and provocation. Without the speech being translated, Acts (2012) doesn't quite achieve this, as a large number of the audience are excluded from the work's central argument.
Installed on a floor-based circular screen, Nástia's Manifesto (2008) introduces Mosquito's feminine alter ego Nástia, who dictates a manifesto entitled 'Hypocritical, Ironical and Do Not Give a Fuck'. Listing 17 points that oscillate from profanities to profound notions, Nástia declares: 'Everyone is a leader. Feel your own balls, and that means you too girls'. Gender norms are to be flouted along with all other codes of conduct.
In Frozen War (2010) chairs are upturned in the gallery space to suggest an anger-fuelled walk out. A monitor plays a speech in the style of a political press conference, which discusses a 'Frozen War'. The Cold War saw the triangulation of power and violence between Africa, Europe and the US play out on Angolan soil, and works such as Frozen War (2010), 3 Continents (2010) and Fuck Africa (2015) dare to articulate the legacy of this turbulent history, from perspectives that official histories tend to overlook.
Fuck Africa (2015), projected within the main gallery space, makes a potent comment on the consequences of neoliberal capitalism. Nástia, with an American accent embodying the blind consumerism of the global elite, announces the recent purchases of Europe and the Americas. But the real purpose is to talk about Africa: images of privileged passtimes, world leaders, the London Stock Exchange and International Monetary Fund give way to images of the dying and homeless, forming a backdrop to Nástia statement, 'I don't want that place for me. I say: Fuck Africa.'
In his catalogue introduction, Ikon director Jonathan Watkins describes 'DAILY LOVEMAKING' as a complete installation and, in the central gallery, multiple works can be seen and heard at one time. The vocal of Acts merges with the pseudo-Russian voice delivering Nástia's Manifesto and the reggae interludes of Fuck Africa. Live performance and recorded image occupy interchangeable positions within Mosquito's practice: screen-based works can operate as stage sets with the artist playing himself or other characters, and many videos result from filmed live performances. Despite the show's lack of live elements, Mosquito's image is present throughout 'DAILY LOVEMAKING'. As a caution to the malleability of words, their tendency for political co-option and their ability to deliver both dreams and broken promises, Mosquito offers a pointer in a floor text: 'Believe Experience'.