A facelift is a strike against time, an attempt to reverse the effects of ageing: to smooth those wrinkles, lift that sagging jowl. Natalie Dray's exhibition, 'Facelift', at Studio_Leigh, feels like the setting for an odd sort of beauty salon, with bright-pink rose petals dotting the walls of the two floors of the gallery. The treatment you'd get here, though, may be a bit rough: occasionally punctuating the petals are thin, thorny branches, also painted pink, and coral-coloured metal tubes that have been crudely bent to point into the room. Inverse electrical sockets, tinted salmon and a pinky-brown, appear intermittently. In fact, this installation might actually be the perfect place for a facelift because, in here, it feels like time has stopped altogether.
The rose petals are fake, for want of a better word – made from pewter, veiny and overdone in their attempt to appear like their organic counterparts. Some are pinned to the wall with their hyper-pink painted side facing outwards; others are pewter side up, glinting like mother-of-pearl. These assemblages of unevenly spread petals, branches, makeshift crowbars and dysfunctional wall sockets are apparently separate works, various gatherings of Facelift numbered 1–28 (all 2016). They create a kind of 3D wallpaper whose most fascinating detail is the variation in the means used to fix the curled petals to the wall: some are set with screws, nails or bolts (all golden-coloured), while a few are caught with a thin rod of shiny (yes, pink) metal that has been curled back, as if those specimens were proving particularly troublesome to pin down. They are reminiscent of a butterfly collection, a thought that comes with attendant tensions: a desire for preserving beauty that destroys the very beauty you're trying to preserve.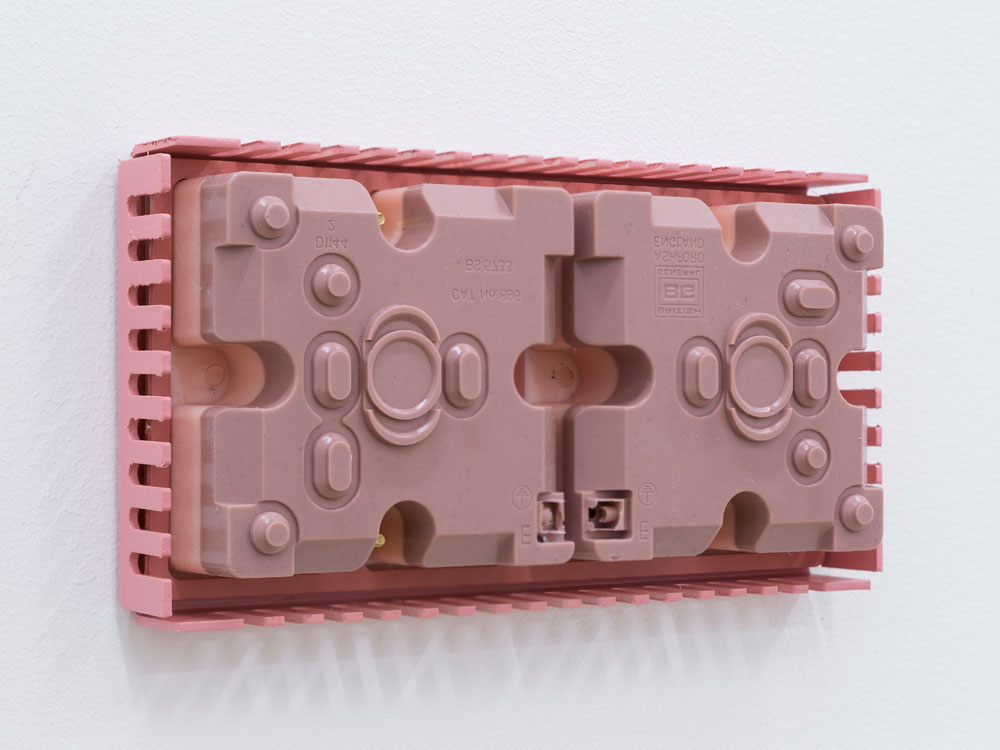 Studio_Leigh is a commercial space that invites guest artists on a project- by-project basis to 'explore the space between use-value and art for art's sake' which, to date, has resulted in wayward versions of chairs, gates and wallpaper. This directive is already a given for Dray, whose work comprises bespoke versions of manufactured objects. Her show at Cell Project Space early last year was a sparse set-up of hanging fluorescent lights, space heaters and ventilation fans done up in eye-popping purples, reds and oranges: more Pimp My Patio than your usual appliances. The lists of materials accompanying her work are minutely detailed and always revealing, a sort of hardware shop haiku: the set of ornate power sockets at Cell, Face-Lift Contactum V1 (2015), included 'brass, steel, powder coat + 2 pole and thermoset + 25 year guarantee'. Here, at Studio_Leigh, there is '1k solvent-base paint, brass, aluminium' and the pewter that makes up the majority of the show is listed with an aside that gives the alloy's composition (tin, bismuth, copper and silver). There isn't such an overt lean towards functionality in 'Facelift' but, rather, an insistence on the materiality behind these dainty pink petals: the graft that goes into making things look 'nice'. The material list provides a subtext that emphasizes production; as a consequence, the gallery feels like a vacated stage on which the action has already taken place.
The minute uniformity of this empty set does make certain things stand out, such as a stray screw on the wooden parquet flooring or the harsh silver square of a functioning electrical socket in the downstairs gallery. But, mostly, you feel stuck, as though you were standing in an immersive version of a computer screensaver, surrounded by unreal floating objects. 'Facelift' is an attempt to stop time; but, if you stop time, nothing happens.