Featured in
Nikita Gale Deploys Space, Sound and Audience
A commission for BMW Open Work, and a concurrent Frieze Week show at London's Chisenhale gallery, reveal an artist deeply involved with perception and reception
In 1960, my grandfather borrowed a car for the weekend and drove my grandma, my mother and her three sisters on holiday. My mother said that, when they set off, their little cheeks glowing out the windows, the whole street came out and waved them off cheering. Surrounded by an audience, they felt like celebrities, rock stars.
This transformative potential of the audience is explored in the work of American artist Nikita Gale, who frequently creates (and disrupts) moments of witnessing. Gale's sculptures and installations require the audience's physical presence to catch the frequency at which the works operate – like a car radio antennae, extending to pick up a signal. 'Having an audience to witness, distribute and share experiences is crucial to the recognition of something existing or having happened,' Gale told curator Amy Jones in an interview published to accompany the artist's exhibition 'IN A DREAM YOU CLIMB THE STAIRS', at Chisenhale Gallery, London, on view during Frieze Week. 'It's the way that the audience or the witness produces a thing, and then reproduces it […] and how that site of encounter between objects and audience is the moment at which a new relationship is produced.'
In the Chisenhale exhibition, Gale orchestrates the viewer's passage through an environment of metal, concrete, light and sound. Huge curtains and snarled dog leads are both stilled in concrete, lingering in the space, while roving spotlights trace around the hard landscape. Inspired by the character Circe from Toni Morrison's novel Song of Solomon (1977) – who lives with a pack of dogs in a decaying mansion that once belonged to her now-deceased former employer – Gale reimagines the house as a space haunted by oppression, collapsing outside of time. The Chisenhale's windows are treated so that the space appears to be in perpetual dusk; lavender, associated with sleep, is intertwined among discarded dog leashes. Beyond the dog whistle noises, frequencies inaudible to humans are played, bringing forth the imperceptible. As viewers, we await the mansion's fall.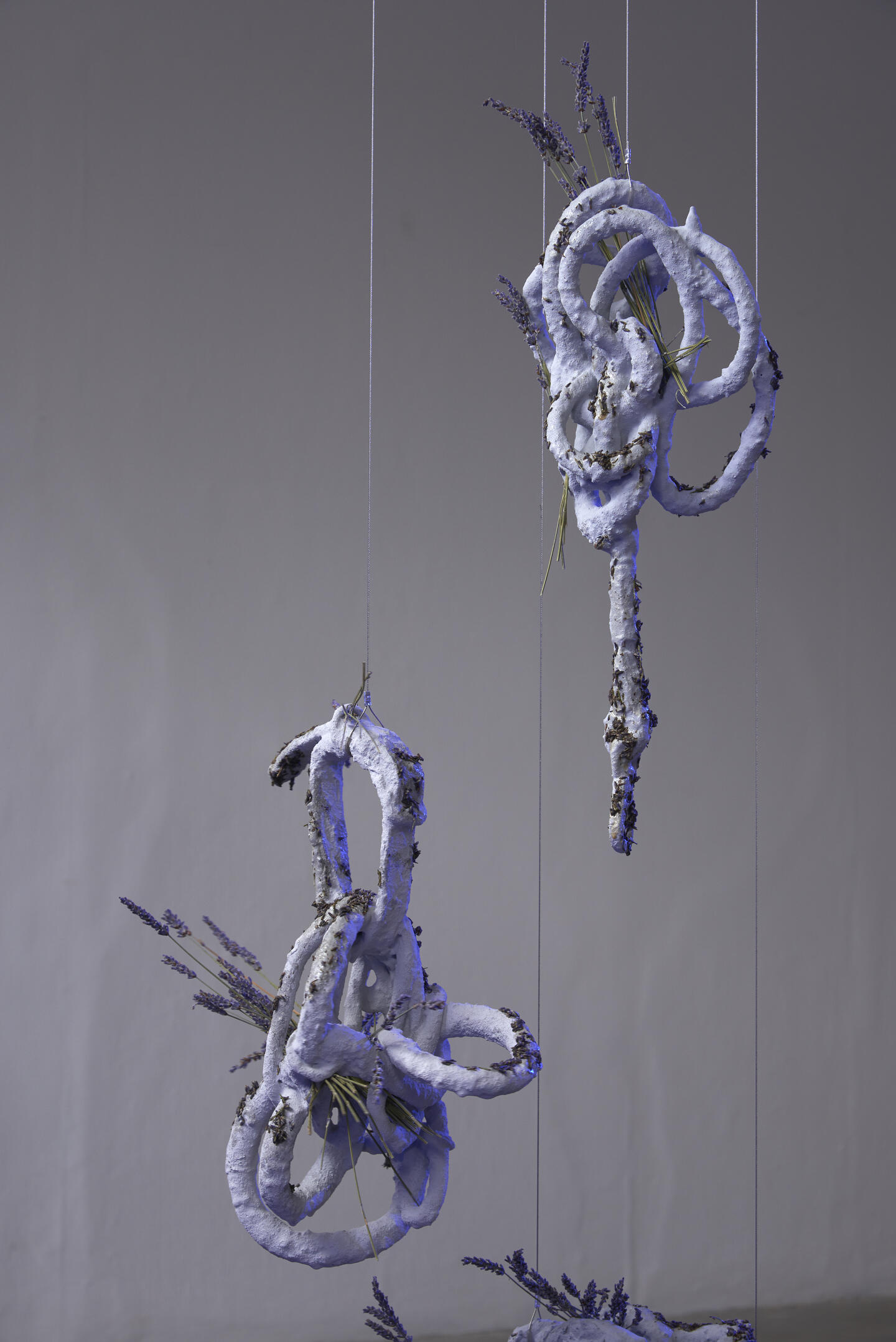 Sound will also feature in Gale's upcoming commission for BMW Open Work at Frieze London, 63/22, in the form of custom-made guitars that the artist has realized in collaboration with BMW designers, which will be played by performers alongside a BMW i7 vehicle. As Open Work curator Attilia Fattori Franchini notes, by inviting BMW designers to imagine a series of electric guitars, 'Gale brings to the foreground a historical investigation of the relationship between technologies of speed and technologies of sound, whilst transforming the BMW lounge into an experimental music venue.' Cars and guitars – both vehicles for escape or release, both so often described as 'sleek' – share a long history of mutual influence, mirroring one another's curving lines and evolving forms. Early standardised guitars made by Leo Fender were offered in the bright shades of automotive paints manufactured and sold by Dupont, so a guitar could be colour-matched to a Cadillac. Raymond Dietrich, who designed iconic cars such as the Checker Cab, would go on to fashion the legendary Gibson Firebird guitar in 1963.
Inspired by, and building on, this history, Gale's guitar designs draw on key moments from the BMW i7's interior and the processes for forming its body, such as the negative pressings that shape its door panels. In this way, the character and atmosphere of the car is embedded in the instruments, and they speak a shared language. In the words of Hedwig Solis Weinstein, Head of BMW Arts & Thought Leadership Collaborations, the vision of the Open Work series 'is to bring together art, innovation, technology and design: it's all about the importance of dialogue between individuals across disciplines'.
A former student of archaeology, Gale digs into the ways in which things are made, exposing how, through these methods of production, objects move beyond their basic forms into cultural symbols and signifiers that hold expansive tensions. In exhibitions 'EXTENDED PLAY' at 56 Henry, New York and 'RIFF FATIGUE' at Artist Curated Projects Los Angeles (both 2018), Gale has referenced guitars in terms of the mythology of American rock music, and its intertwined social and political histories – as tools of rebellion or protest, icons of the spirit of raw individuality at the heart of the 'American Dream'. Yet, as instruments, guitars also have more intimate, tender relationships to the body and to touch. Practicing this touch, developing a feel, produces a mastery that can make the guitar player into a 'Rock God'. Like cars, guitars offer to make our bodies bigger, amplifying them, extending our possibilities into something superhuman, unearthly.
In 63/22, Gale both mines earlier explorations of the concrete histories of sound, manufacture and popular culture, and reaches beyond these concerns to ask: what songs will be played next? What will it sound like when the mansion's walls finally fall?
Nikita Gale's BMW Open Work commission 63/22 is on view in the BMW Lounge at Frieze London throughout the week.
'Nikita Gale: IN A DREAM YOU CLIMB THE STAIRS' is on view at the Chisenhale Gallery, London, until 16 October.
About the Partnership: Further information on BMW Open Work here. 
Main image: Nikita Gale, OBSOLETE LEASH I-XI, 2022. Courtesy: the artist and Chisenhale Gallery, London; photograph: Andy Keate