Featured in
Restless States
Jessica Warboys works with film, painting, sculpture and stained glass. But her main medium may be our ability to recognize resemblances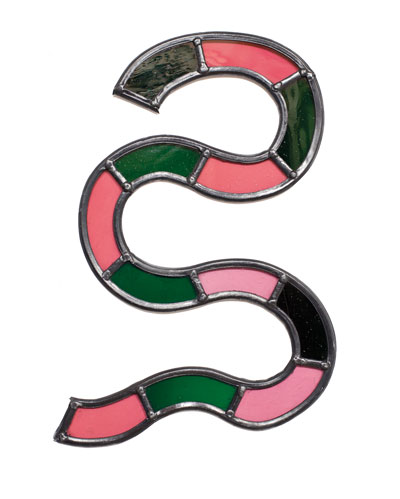 Imagine an artistic practice that traverses from medium to medium, without ever settling down, while still managing to pull its many parts together. Jessica Warboys, an artist based in Paris and London, makes a solid case for such a mode of occupying exhibition-spaces with two recent presentations: the work Pageant Roll Thunderclap (2012) at dOCUMENTA (13) and the solo show Tails at Bielefelder Kunstverein. Each presentation featured four different media: film; large, unstretched expanses of canvas, hanging from the walls more like lose textiles than paintings; flat, stained glass pieces; and geometrically intricate objects made of painted wood and canvas.
At dOCUMENTA (13), the film Pageant Roll (2012) takes the viewer on a trip through a Cornish coastal landscape with wind-swept grass and rock formations, accompanied by a slightly eerie synthesizer soundtrack. Strange objects appear, like a red square wedged into a cleft of stone or a large green parasol magically rolling across a field. Looking away from the film, the viewer could rediscover the red square in the exhibition space where it leaned against a wall to the right of the plywood-encased monitor showing the film. Studied up close, the object turned out to be an interlock of wooden frame and cross-stretched canvas, forming a system of diagonal planes painted in oxblood red. Sea Painting, Minack (2012) – hanging on a wall to the left of the screen – suggested yet another revenant from the film. Minack refers to the southernmost region in Cornwall where Warboys created the work by putting a canvas prepared with pigment into the sea so that the colour was fixed into the textile by the movements of water, salt and sand. The process results in an unevenly shaded field of yellow, orange, washed out purple, pink and black, as if J.M.W. Turner had produced a messy moiré of superimposed chromatic values. A stained glass work in the room – an eye-shaped symmetrical double arch – echoed not only the painting's palette of orange, pink and black but also the green tones in the film.
Warboys wove a similar web of interconnections in the Tails show at the Bielefelder Kunstverein where she screened the film À l'étage (Upstairs, 2011), which was made at the defunct turn-of-the-century library Smith-Lesouëf in Nogent-sur-Marne, just outside of Paris, where the estates of the inhabitants of a nearby artists' retirement home are kept. The camera first explores a salon where it moves along shelves of books and documents piled up on a desk. At one point, the camera turns towards the ceiling and captures a person, most likely a woman, slowly making her way along the balustrade of an upper floor balcony. We see only her arm, reaching straight out over the railing into open space and carrying a yellow hoop which slowly circles around it – an oversized bangle, so to speak, spun into motion by the limb's ever so slight rotation. Shortly after, the film shows the hoop leaning against a board of black and white photographs. Then, the camera captures the same scene, except the hoop is suddenly gone, as if it had magically vanished. Outside the screening room in two adjacent galleries, two small, yellow stained glass rings hung on the wall, awaiting the viewer, while circular shapes and yellow tones also appear in the accompanying Sea Paintings, Dunwich (2009–ongoing), made at Dunwich at the shore of the Suffolk Coast.
For these shows, Warboys trusts in the organizing powers of resemblance and our capacity and willingness to engage in its detection. For her, a filmed hoop, a circular form on a Sea Painting and a stained glass circle – all in similar shades of yellow – constitute a tie strong enough to bind her different media together. Correspondingly, her ideal viewer willingly engages in a play of recognition, without asking which of these media ranks first. Film, object, glasswork and canvas are coeval, and none of them takes priority over the others. In this sense, her practice could be described as 'lateral': it does not mark out an origin but simply brackets the question of which of these media precedes the others.
Warboys also relies on the invention of what could be called 'liminal' objects. Her works on canvas are created through processes that originate in craft – the Sea Paintings are essentially textile dyes made with the help of nature – but she displaces these techniques to the realm of so-called autonomous art production by applying them to the elevated materials of painting (canvas, pigment). In a similar way, she employs stained glass – usually regarded as belonging to the 'applied arts' – to produce abstract pieces of pure colour and geometry, as opposed to practical objects, such as windows or lamps. And her wood and canvas works clearly derive from the basic structure of easel painting, but, in her hands, they are nudged just far enough into a complex geometry so that they register as 'objects'. Moreover, their most auratic appearance occurs in the artist's films, sometimes as things, sometimes as quasi-actors. They occupy a threshold zone between painting, object and filmic prop. Reciprocally, the artist's filmic work never quite detaches itself from the material objects which the viewer sees on screen since these objects are encountered once again in the same gallery space where the film is projected. Every single piece sends the viewer in more than one direction and hence functions as a relay among others in a network of interconnections.
And then, there's the quasi-magic in Warboys's filmic practice. In Pageant Roll, her red wood and canvas objects first appear in tranquil shots, pitted against a stone that could be a menhir. While the synthesizer soundtrack modulates on, the red thing suddenly falls over, as if pulled by invisible forces, in a moment of slapstick. Again, looking away from the film, the visitor encounters the very same red object propped against the wall. This object seems to be casually leaning against the wall, now endowed with a nearly person-like, weirdly smirking presence. It's like a lighthearted Odradek – that bizarre thing of a wooden spool in Kafka's very short story Die Sorge des Hausvaters (The Cares of a Family Man, 1920), which is also somehow a living being and whose strangely voiceless laughter echoes through the stairwells. Ghostly, perhaps, and only half alive, but all the merrier for it. This air of lightness is the necessary antidote to the borderline esotericism that could otherwise overtake the filmic part of Warboys's work. Without mocking ambitions towards the magical, its tone turns more towards a stylistic mode of fairy tales about elves, pixies and sprites – if this is a stylistic category – than towards the occult. Warboys's films are also refreshingly free from any portentous ambitions at mysterious meaningfulness that makes some parts of historical Surrealism and its scions – to which her work is close – so hard to bear.
It could also be argued that this animating anthropomorphism is a spillover from Warboys's engagement with the very capacities of film itself. The artist here taps into cinema's archaic origins on the fairgrounds, what film theorist Tom Gunning defined as the 'cinema of attractions' that emerged around 1900, when film existed in proximity to the world of magicians and illusionists. At that time, movies did not yet concern themselves with storytelling. Rather, they figured as marvellous apparitions, showcasing the sheer capacities of the medium, such as making a figure appear and disappear, showing smaller or larger mishaps, like someone tripping, or documenting the outrageous and the bizarre, such as the execution of an elephant by electrocution. Warboys channels, in a modest way, the cinematic medium's wondrous power as it manifested itself for its first viewers, a potential that still inheres within the moving picture: in animating the image, film also brings the things it shows to life.