Olafur Eliasson at Tate Modern Review: Spectacle in an Age of Climate Crisis
Amid a carnival atmosphere, Eliasson elicits an emotional reaction to the urgent issues of the day
Since 2003, when Olafur Eliasson's luminous orange sun illuminated Tate Modern's Turbine Hall (The Weather Project), sea levels have risen by more than five centimetres and CO2 levels surpassed 400 parts per million for the first time in recorded history. The doomsday clock has ticked five minutes ever closer to midnight. If 2003 was a misty golden hour, 2019 feels like the dead of polar night.
Late last year, heralds of Eliasson's return to the Tate appeared on Bankside. Fished from Nuup Kangerlua fjord in Greenland, 24 dripping, pooling icebergs were installed outside the museum, melting slowly in the December air (Ice Watch, 2014/2018). (A further six were placed outside the Bloomberg building in London's financial district). The installation indicated the artist's serious intent, an agenda immediately declared in 'In Real Life', his first major retrospective at London's Tate Modern. 'Ultimately, [Eliasson] believes that art can have a strong impact on the world outside the museum,' the exhibition programme boldly states.
You could be forgiven, however, if you forgot all this and got caught up in the fun-fair atmosphere. Presented with a map to guide you around the 40 or so attractions in this sprawling exhibition, you might visit Wavemachines (1995), Big Bang Fountain (2014) or Your Spiral View (2002). The latter is a cylindrical house of mirrors, composed of hundreds of triangular slices and arranged according to complex geometry – one of Eliasson's three cited interests alongside the natural world and perception. Walking through the sculpture you catch glimpses of a disembodied arm, a leg, an ear – whose, it's hard to tell.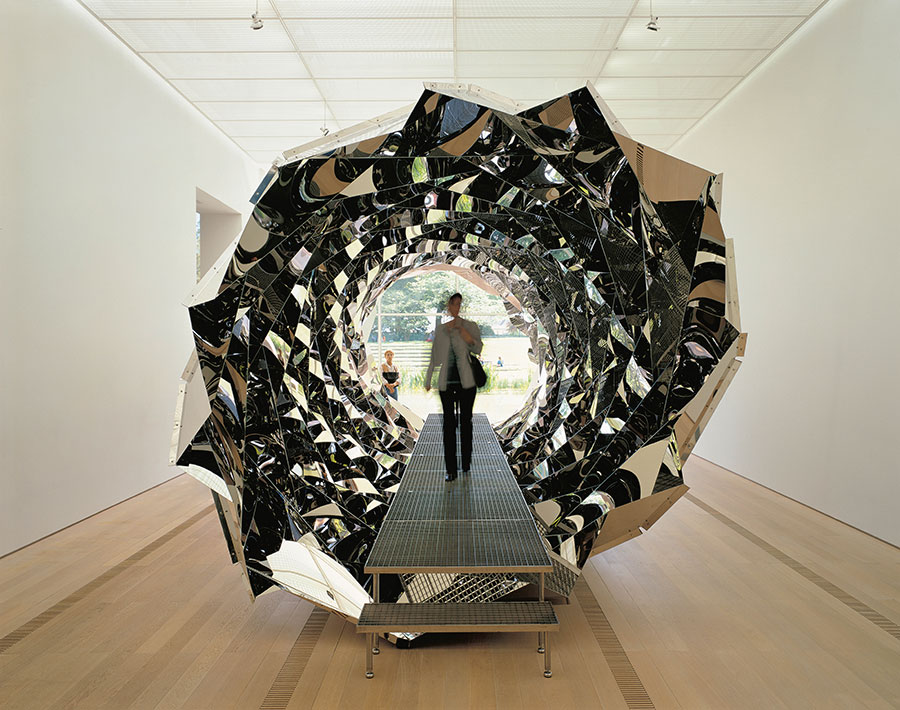 At the back of the show, the weather changes. Perhaps Eliasson's best known work, Din blinde passager (Your blind passenger, 2010) is a 39-metre-long corridor with simulated fog so thick you can barely see beyond your own outstretched arm. Lit with alternating white fluorescent and yellow monofrequency lamps, your eyes adjust to the lights and – using a smart optical trick – invent a rainbow of additional hues. All around you, shadowy outlines of fellow travellers surface and then disappear again into the murky depths and you become finely attuned to your senses. It will, no doubt, be the most Instagrammed artwork of the summer.
After the fog, comes the thaw. Amongst the carnival of interactive artworks are more recent sculptures, photographs and paintings on the theme of climate emergency. The presence of absence pavilion (2019), one of five works created for 'In Real Life', is a negative cast of an iceberg, large enough to step inside, while nearby hang two watercolours created by melting glacial ice with drops of pigment on paper (Glacial currents, both 2018). The two works feel like keepsakes to remember a natural formation headed for extinction. Having sharpened your senses in earlier rooms, here, Eliasson elicits an emotional response – something the artist is adept at.
The final room in the show exhibits the interests and activities of Eliasson's Berlin studio, which range, energetically, from the impact of big data, to understanding feelings and the art of fermentation (you can read the full set of resources here). Amongst films and display cases documenting past projects is a pin-board wall where team members post articles, images and news clippings. One article explains why our culture is so slow to react to alarming statistics about climate change: 'Abstract representations of consequences in the distant future lack the concrete associations that are connected to emotional reactions.' We find it hard to have an emotional, and therefore urgent, response to climate change because even eleven years – the time we have left to prevent irreversible damage – seems a long way away.
Surely, if art can have a practical effect on the world it's here, in prompting emotional, as well as intellectual reactions to urgent issues. 'The glacier series' (1999), Eliasson's set of 42 photographs of Icelandic ice forms taken from the air, will be updated this autumn when images taken from the same vantage point are exhibited alongside the originals. Undoubtedly, the ice will have shrunk at an alarming rate. It's a very simple gesture, but one that many will see, understand and react to. Hopefully visitors will share it on social media, reaching an audience outside the gallery – after all, it's the Instagram generation who is leading the way on climate protest.
As well as shaping the hearts and minds of a culture, the art world must consider its own environmental footprint. Appropriately, Tate and Eliasson made practical decisions to limit the carbon emissions of 'In Real Life': they chose works from European collections which all arrived by ferry or truck, rather than air freight; downstairs, the Terrace Bar is serving a lunch with 52% lower CO2 emissions than an average homecooked meal; and the sponsor, AKO Foundation, is committed to supposedly 'responsible investing.' At least it's not a fossil fuel company.
'We need to express a better world,' Eliasson said in a panel discussion on art and sustainability in the week his exhibition opened. Maybe art can forecast the weather.
'Olafur Eliasson: In Real Time' runs at Tate Modern, London, UK until 5 January 2020.
Main image: Olafur Eliasson, Your uncertain shadow (colour), 2010, installation view, Thyssen-Bornemisza Art Contemporary Collection, Vienna. Courtesy: the artist, neugerriemschneider, Berlin and Tanya Bonakdar Gallery, New York / Los Angeles; photograph: María del Pilar García Ayensa / Studio Olafur Eliasson