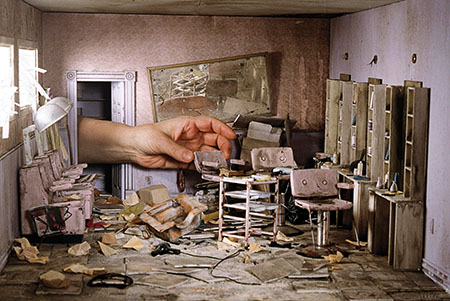 An interminably long and narrow hallway, illuminated in half-shadow by a string of flickering light bulbs, leads past a dozen anonymous doors, one of which stands ajar and exposes the faint sounds of radio from within. At the far terminus of the passage is a single window that opens into the darkness of an unfamiliar skyline, whose concrete, steel and glass gives shape to intermittent flashes of lightning. Although it might be difficult to infer any playfulness in Rick Araluce's The Longest Hours (2011), the fact that the entire construction is a mere one-and-a-half metres long only adds to the installation's sinister ambiguity. 'Otherworldly: Optical Delusions and Small Realities' collected hundreds of similarly crafted miniatures, trompe l'oeil, dioramas, zoetropes and peepholes, transforming two entire floors of its seven-storey complex into a vast, metropolitan wunderkammer. Arranged in a labyrinthine hodgepodge, and occasionally hidden away in caches – at least one object hangs unassumingly from the ceiling – the sense of Lilliputian scale is a disorientating pleasure.
While such a collection would have more than sufficed for an enchanting diversion, the show's ambitions surpassed mere juvenescent reverie. Inserted between the three-dimensional installations was a cross-section of media – including photographs, video and animation – that reformatted or recontextualized the still-life tableaux in question. For example, an in situ photograph of an inner-city wasteland, littered with abandoned automobiles and boarded tenement buildings, is revealed to be a tiny, tabletop creation by miniaturist Peter Feigenbaum (187.4, 2010). Nearby, a model of an abandoned warehouse by artist Mariele Neudecker affords tortuous, half-occluded views of life-like trees and street scenes from within its interior, but, from another angle, discloses tiny flat-screen monitors positioned in such a way as to simulate the building's environmental backdrop (Everything is Important and Nothing Really Matters at All, 2009). Of a slightly seedier sort, Jonah Samson's Weegee-esque photographs of peep shows and corpses reveal, in their sculptural iteration, the solitudes of perversion after the camera's departure (Press Photographer, 2010, and Peepshow, 2011).
These kinds of violent narratives, whether actual or potential, are a recurring motif in many of the artists' vignettes, an intriguing attestation of the miniature's capacity to disturb, even from within its innocuous dimensions. Themes of voyeurism, apocalypse and artifice abound. As Susan Stewart observes in the exhibition catalogue: 'The miniature is a world of arrested time; its stillness emphasizes the activity that is outside its borders. And this effect is reciprocal, for once we attend to the miniature world, the outside world stops and is lost to us.' The lure, whether in Araluce's passageways or the fisheye peepholes of Patrick Jacobs (Raked Leaves, 2008), is often further pronounced by the omnipresence of doors, windows and other portals, which suggests invitation – into imagination, derangement, the void. This unconditional hospitality, while a source of existential delectation for the child, appears to simultaneously threaten the adult psyche with its map of secret place-ness and must be resisted at all costs. The alternative is to confess, alongside Charles Baudelaire, that miniatures are 'infinitely closer to reality […] because they are false'.