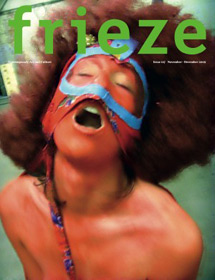 Featured in
Pieces of the Puzzle
A new exhibition and publication examine the evolution of Marcel Duchamp's most enigmatic work
In the summer of 1968, Marcel Duchamp hand-selected 150 bricks in Cadaqués, Spain, to be shipped to New York; however, he died soon after and so things didn't proceed as planned. It was only after an outstanding invoice for 32,500 pesetas ($468 at the time) from the Spanish contractor had been settled that 149 of the original 150 bricks arrived at their destination in Philadelphia – although 28 had been broken in transit. What's that you say? You don't care about the details of the construction of great works of art? Then read no further, since you won't appreciate the abundance of minutiae currently on display in 'Marcel Duchamp: Sources for Research' at the Philadelphia Museum of Art, or the large catalogue that accompanies it. The show focuses on a single work permanently installed at the museum and first revealed to the public 40 years ago: Duchamp's Étant donnés: 1. La chute d'eau, 2. Le gaz d'éclairage (Given: 1. The Waterfall, 2. The Illuminating Gas, 1946–66). Conceived by curator Michael Taylor, the exhibition takes us on a behind-the-scenes tour of one of the most intellectually stimulating and puzzling works of the 20th century.
Duchamp had been working on Étant donnés in secret for two decades until 1966, but it wasn't until 1969, a year after his death, that the work was inaugurated. Through two peepholes in a wooden door (which is framed by the aforementioned bricks but has no hinges, keyhole, handle, knob or lock and so, in a sense, is not a door), you can see a larger hole in a brick wall, behind which a naked woman lies spread-eagled on autumn branches and leaves – her hairless genitalia exposed – clasping a lit gas lamp with her raised left hand. In the background is a faux-forest landscape with cotton clouds and a waterfall made from layers of transparent glue, which is illuminated from behind and, thanks to a rotating perforated disc, looks as if it is moving.
From the accounts of how the outer archway for the door was created (including the size of the bricks used) to Duchamp's preliminary drawings, the name of the contractor, the shipping company and its location, the details that make up the construction of Étant donnés read like a spellbinding page-turner. But even for those new to the fascinating conundrum of Duchamp's final work, the exhibition has a lot to offer: it includes dozens of heretofore unknown pieces all closely related to Étant donnés, such as various parts of the nude figure, landscape studies for the background – on which the artist collaborated with Salvador Dalí – and stereoscopic photographic studies, as well as five untitled 'erotic objects' mostly made from copper-electroplated plaster. The latter are related to a number of plaster and bronze editions, including Feuille de vigne femelle (Female Fig Leaf) and Not a Shoe (both 1950), Objet-dard (Dart-Object, 1951) and Coin de chasteté (Wedge of Chastity, 1954), all of which were used in the casting process of Étant donnés. Three of them fit snugly to the torso's genital area and pubic mound, while Not a Shoe surprisingly fits the gap between the arm and the right breast of an earlier version of the figure.
The catalogue contains new and rich details of this kind on every page and will be the major reference on Duchamp's final work for many years to come. It also makes available for the first time the entire surviving correspondence between Duchamp and Maria Martins, the Brazilian sculptor and wife of the Brazilian ambassador to New York. Between 1943 and the early 1950s, Duchamp fell under the spell of this strong-willed, free-spirited woman, and he based the torso of his final work on her body. Quotes from their letters – 'Kisses everywhere at the same time'; 'I often think about your hand […] which has given me more joy than any lover could wish for'; 'I am within you and you only have to knead me to make us happy'; – provide a rare and intimate glimpse into Duchamp's emotional life. Yet they also reveal his sadness at being unable to convince Martins to live with him; he is often in 'a state of great laziness and disgust' feeling that 'life is empty, the city is empty' and that 'isolation hurts'. This is Duchamp at his most vulnerable – and witnessing him this way comes as a relief, since for most of his life he emanated an aura of indifference. Referring to Étant donnés, he wrote to Martins in great detail about the process of working on 'our lady of desire'. Stating that he and Martins 'both need physical love' and that 'these long interruptions of chastity only serve to sharpen a new razor blade', he also says that 'work is a sexual stimulant' and that working on plaster casts of Martins' body made him feel as though she were with him.
Early on in his career, Duchamp made it clear that he wasn't interested in mere 'retinal art', intending instead to engage the 'grey matter' of the onlooker. Eroticism plays a crucial part in this. 'I would like to grasp an idea as the vagina grasps the penis', he once remarked, believing that sexuality and eroticism were 'the basis of everything and no one talks about it'. In his letters from the late 1950s and early 1960s to the Swiss Duchampian Serge Stauffer (still unpublished in English), Duchamp compares the act of love to a 'four-dimensional situation par excellence'. This from an artist who maintained that a three-dimensional object relates to the fourth dimension in the same way that the shadow of a readymade relates to the object itself.
A lengthy 1963 interview with Duchamp about chess and his first ever retrospective (at the Pasadena Art Museum)
Although the exhibition and catalogue are full of scholarship, the chapter on Étant donnés' impact on contemporary art is disappointing, as most of the artists included – from Francesco Vezzoli to Marcel Dzama – only seem to appropriate the visual, not the conceptual, content of Duchamp's work for their own ends. Another question that arises is whether Duchamp really was, as Taylor states, the leader of the Surrealists to whom André Breton ceded his powers for the duration of World War II. In fact, Duchamp never signed any manifestos and was determined throughout his life to remain aloof from any artistic movements.
In the end, what we look at through those peepholes is the strangely un-erotic view of a naked woman with a distorted body and genitals, which, in my opinion, were certainly not the result of problems with the casting process, as the catalogue would have us believe. Rather, as with all of Duchamp's work, I believe Étant donnés was created to resist a straightforward visual reading. Throughout his life, the artist made it clear that the audience he was most interested in was the posthumous one that would come 50 or even 100 years after his death. When first revealed in 1969, Étant donnés did not create shock waves in the way his Nude Descending a Staircase, No.2 did in 1912. Yet with anti-intellectual and hypocritical moral sentiments on the rise, the greatest challenges for an assemblage permanently installed in an American institution and involving the display of a female torso with wide-open legs may still lie ahead.
'Marcel Duchamp: Sources for Research' is at the Philadelphia Museum of Art, USA, until 7 November, 2009.