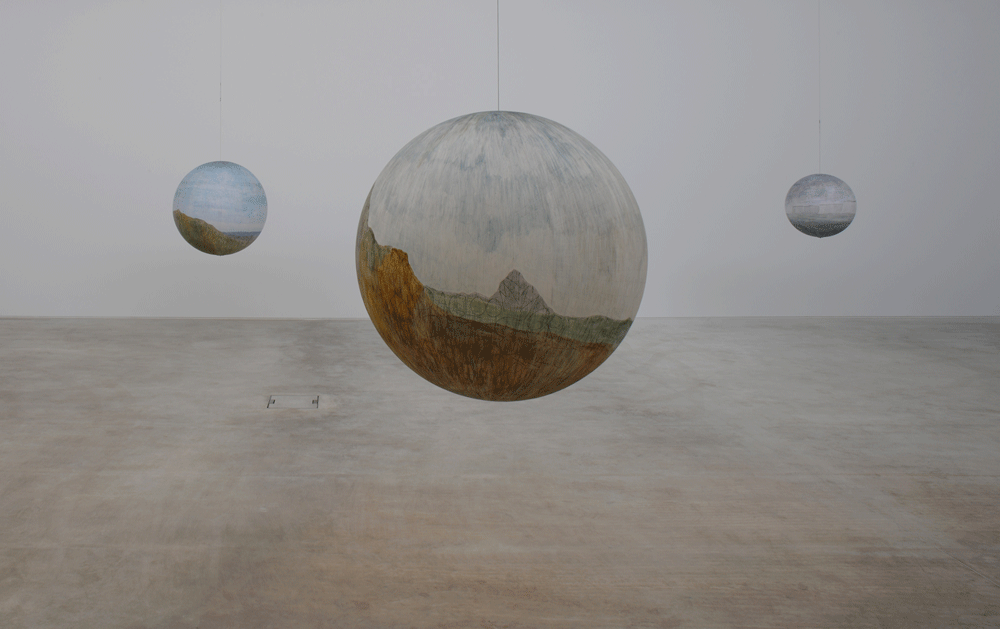 Turner Contemporary has been on the verge of opening for almost as long as I can remember, due to various complications concerning the building's design and site. Now the institution is open but, weirdly, it still feels like it's on the verge of opening.
The David Chipperfield-designed architecture is certainly appealing: resembling a receding row of sails and tinted a washed-out blue that equivocates neatly between sky and sea, it sits on Margate's seafront both strikingly and harmoniously. Inside, the spaces are expansive and individuated, flooded with J.M.W. Turner's beloved northern light, and – encouragingly for the town, which is banking on cultural regeneration – bustling. The seascape is virtually inside the building, due to Daniel Buren's lovely co-option of its powers, Borrowing and Multiplying the Landscape (2011). Here the Frenchman's trademark vertical stripes are applied, in sunny yellow and white, to the gallery's seaward windows, leaving a circular aperture to frame water and sky like a giant porthole, while mirrors flanking either side of the window repeat view and stripes and circle into a horizontal infinity. It's a dazzlingly economic affair that one could happily see being permanent, though it won't be. The rest of the show, however, for all its virtues, feels oddly tentative.
Turner, who wasn't born in Margate but spent plenty of time painting here (and not painting; the gallery is built on the site of his mistress's boarding house), is exploded into divergent facets in 'Revealed'. Those facets – force of imagination, strapped-to-the-mast empiricist, roaming cognoscente of landscape, aficionado of Margate, etc – are picked up by the six living artists showing here. The anti-elitist sign under which these aspects are organized is the first one, the innovative imaginer. Hung on a red wall, an 1815 oil by Turner serves as both a virtual inaugurating fireworks display – it's an explosion of lava and sparks into the night air above a Caribbean island – and a model of the artistic vision, since the artist never saw the event he depicted. (He did read a textual description and perhaps saw a sketch of it.) Here, the closest visual analogue is Teresita Fernández's elliptical floor-based piece Eruption (Small) (2005), at once a depiction of the fiery mouth of a volcano and a calm abstraction in modulating colours made up of a pointillist design of tiny glass beads. It's beautiful, this placid threat; it's also hard to see as not somehow – its predating of this exhibition notwithstanding – a contemporizing of the Turner that hangs nearby, which also treats violent volcanology on a manageable scale.
Ellen Harvey at once tacks closely to the local context and to Turner, expanding outward from there. Her multipart installation involves a scaled-down, shed-like replica of the private London gallery where Turner hung his paintings, in whose darkened space she's placed an arrangement – mimicking that of Turner's paintings in the original venue at the time of his death – of 34 lightbox prints: a wraparound view of Margate's hotchpotch seafront today. Outside the structure are leant metal letters, studded with lightbulbs, spelling out 'ARCADIA' in the lettering used at New York's Coney Island, upon which Margate's now-closed Dreamland amusement park was based. (A video projection shows the New York shoreline, counterpointing the two former-glory coasts.) Arcadia, it's hard to overlook, is a word that cuts two ways in Margate now, vouchsafing both loss and possibility. Another American artist, Russell Crotty, latently taps Turner's link to the land while showing his own work – involving laborious biro transcriptions of night skies and landscapes, filled in with relentless field notes – to be adaptable for anywhere. On one of several globes hung from the ceiling, a walking trip in Margate is recorded in image and text; here, the artist looks surprisingly like a Californian cousin of Hamish Fulton and Richard Long.
Elsewhere, Turner as industrial-age amateur scientist is handled via Conrad Shawcross's windmilling wooden gizmos and sculptural and drafted transcripts of sound waves, with their calculated modern admissions of the limits of knowledge; Douglas Gordon, meanwhile, touches on the painter's heliocentrism. In Afterturner (2011), texts printed on the stairs essay the Scotsman's trademark dualism, black on the left and white on the other, in a sequence that spins off from and progressively bastardizes Turner's quote 'The Sun is God', systematically inverting the variations ('bad is good' / 'good is bad' / 'god is the son' / 'the son is god' / 'bad is the sun' / 'the sun is bad', etc). Rich, poetic and open, it's one of the best things here – probably because Gordon doesn't jettison anything of himself in engaging with Turner and operates by using, as DNA, a textual fragment that isn't necessarily overtly Turneresque.
As such, he plays as well as possible the game that Turner Contemporary has to play in living up, at the moment of launching, to both halves of its name. Having traded on J.M.W. Turner to give itself identity and purpose, the institution can hardly ignore him; at the same time, this isn't an artist whose aesthetic or concerns artists can easily respond to, and there's a damned-if-you-do, damned-if-you-don't undertow to a show like 'Revealed', whose contents invite themselves to be judged on the efficacy of their response to a specific figure and also for what they are. It's not a small ask, and the subtly hamstrung result feels somewhere between throat-clearing and muted fanfare. That said, the future programme – a solo exhibition for the aforementioned Fulton, an excursion into youth culture keyed to Margate's mods-and-rockers past, an individual Turner showcase – suggests that separating out and smart populism will be the order of the organisers' day. Wish them well.