Featured in
Mapa Teatro's Haunted Laboratories
At a retrospective at Museo de Arte Miguel Urrutia, Bogotá, 40 years of the collective's work demonstrates their trans-disciplinary explorations of Colombian histories of violence and displacement
'The dialogue of the dead cannot stop until they hand over the future that has been buried with them.' This invocation, by dramaturgist Heiner Müller from Germania Death in Berlin (1971), intellectually and emotionally animates Mapa Teatro's exceptional exhibition at Museo de Arte Miguel Urrutia in Bogotá. Curated by Carolina Ponce de Léon, this 40-year retrospective is subtitled 'Laboratory of a Social Imagination' – a phrase often used by Müller – in another nod to the influence of the dramaturgist's non-linear and poetic theatre on the collective. Founded in 1984 in Paris by Colombian-Swiss siblings Heidi and Rolf Abderhalden, Mapa Teatro relocated to Bogotá in 1986, and a year later, adapted Julio Cortázar's short story Casa Tomada (House Taken Over, 1946), in which a brother and a sister are gradually driven out of their family home. The narrative's central mystery is who, or what, compelled them to leave.
These themes of displacement, loss, domesticity made uncanny, and the haunted moments that infiltrate and shape our reality permeate the exhibition's two floors of trans-disciplinary works. Pioneers in the field of live art in Latin America, Mapa Teatro draw from visual art and theatre alike to evidence their intuitive understanding of how concepts migrate across media to form experience.
Equally significant is Mapa Teatro's engagement of what they've referred to throughout their career as 'experimental communities' or 'laboratories' via their exploration of the diverse social imaginaries and landscapes of Colombia. The most powerful works unite these complex networks of reference, technique and process with specificity of place. From 2010 to 2017, for instance, Mapa Teatro developed a cycle titled 'Anatomy of Violence in Colombia' to consider, in the words of the exhibition literature, the 'theatricalization devices of violence' and the use of the fiesta as both 'necropolitical stage' and 'resistance tactic'. One such work, The Holy Innocents (2010), explores the eponymous December celebrations in the municipality of Cauca, in which men of Afro-Colombian descent run through the streets wearing women's clothes and whipping anyone who is unmasked. While some in the community buy Halloween masks as protection, many others throw themselves on the ground to receive the blows. A collection of these commercially available, grotesque costumes is installed as a frieze alongside video documentation of Mapa Teatro collaborators enacting this historical ritual of violence and catharsis. Outside the installation, an automaton gyrates as it propels a whip against an adjacent wall that gradually accumulates traces of black leather (Variation III on The Holy Innocent, 2015).
If the first floor of the exhibition explores ethno-fictions within Colombian communities, the second focuses on the 'laboratories' that Mapa Teatro have developed through mentorship, pedagogy and exchange. Both teachers at the National University of Colombia, the siblings have also, since 2010, been the occupants of a 19th-century, Republican-era mansion in Bogotá's historic centre. In Hotel Atlanta (2022), the most recent and stirring of the projects on this floor, stadium seating faces a makeshift theatre where different generations of Mapa Teatro members will perform works throughout the exhibition's run against a filmic backdrop comprising slow pans of the mansion. In disrepair but not in disuse, embedded with the ghosts of previous actions, it is a house consumed by possibility, memory and loss.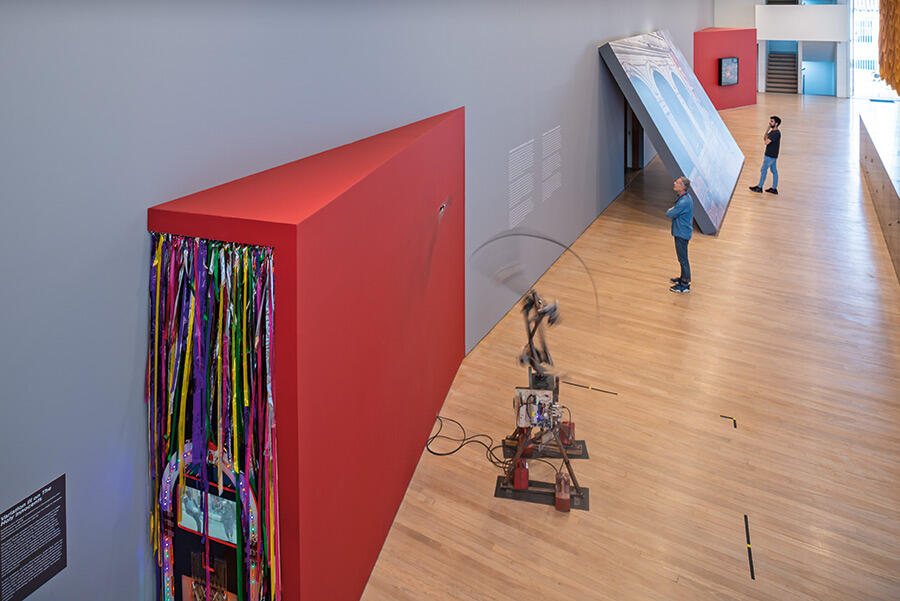 Hallucinatory and elegiac, this exhibition speaks to those who have experienced an extended grief that will never make sense. It is dedicated to that wish to embed yourself in spectral fantasies of celebration; to reincarnate the mask – however ghoulish – by cloaking yourself with memory. Which is to say: it is meant for Colombia, a country whose unceasing violence is enveloped by spectacle and fiesta. On the exhibition's opening day, a cascade of iridescent party streamers trailed through the museum's hallways carried by visitors' shoes, just as the resounding lash of the whip reverberated beyond the museum walls.
'Mapa Teatro: Laboratorio de la imaginación social' is on view at the Museo de Arte Miguel Urrutia (MAMU), Bogotá, until 6 March 2023.
Main Image: 'Mapa Teatro: Laboratorio de la imaginación social', exhibition view, Museo de Arte Miguel Urrutia, Bogotá. Courtesy: © Banco de la República; photograph: Oscar Monsalve