Featured in
Richard Mosse's Take on Amazonian Plight Delivers Spectacle
At Altman Siegel and Minnesota Street Project Foundation, San Francisco, the artist shows a colour-shifted feature-length film and photographs that use controversial Geographic Information Systems technology
It's difficult to deny the good intentions of Richard Mosse's multi-channel, feature-length film Broken Spectre (2018–22): it seeks to represent the complex, dire situation playing out in the Amazon, where massive industrial extraction has destroyed vast swathes of environmental habitat. There is also no denying the film's overwhelming post-production choices, which create a media tour-de-force that immerses viewers in highly wrought images, both seductive and disturbing. Projected in the dark, cavernous former warehouse of Minnesota Street Project Foundation, Broken Spectre is delivered with an intensively tooled soundtrack by Ben Frost at viscera-trembling volume.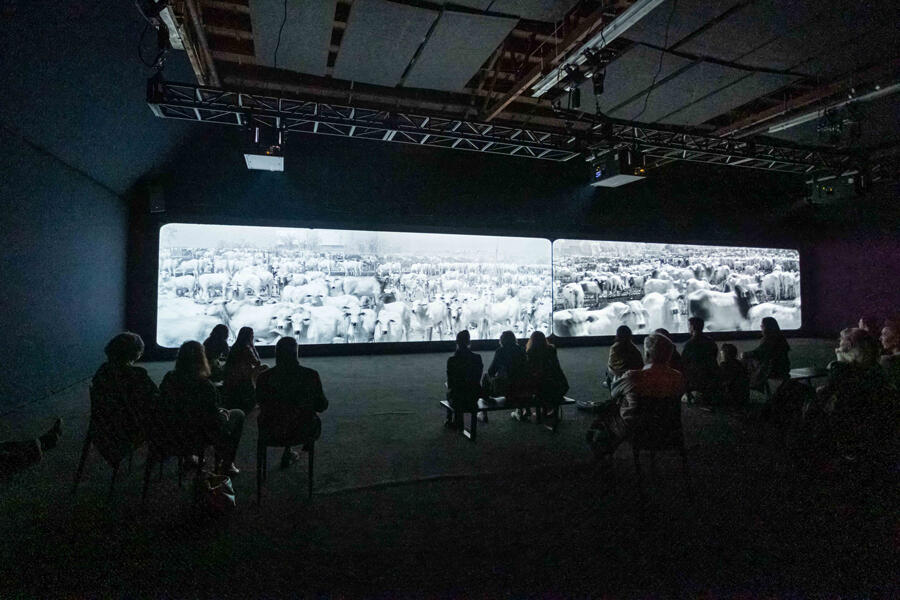 Prior attempts to investigate devastation in the region have proven extraordinarily dangerous for would-be documenters: in 2022, indigenous representative Bruno Pereira and journalist Dom Phillips were victims of a targeted assassination. Mosse is no stranger to danger: previous projects include The Enclave (2013) – shot on infrared stock that generates hyperbolic pinks and magentas – which orbits around deadly conflicts in the Democratic Republic of Congo.
Broken Spectre's evocations of nature are also frequently colour-shifted, sometimes at blown-up microscopic scale, creating the effect of life on an alien planet. Other footage of jungle being clear-cut for timber, soy, cattle or gold is presented in sepia. While these transmutational aesthetic choices position Mosse's work on the cusp between art and journalism, such manipulations can obscure as much as they reveal about the landscapes they depict. Equally distancing – and arguably exoticizing – is Mosse's choice to depict his human subjects in muted, nostalgic-inducing black-and-white.
The absence of people portrayed directly for much of the film's 74-minute duration makes for a greater shock when a late panning shot in a jungle clearing locks tightly on Adneia, a Yanomami woman who, along with her family, has been aggressively displaced by resource extractivists. She launches into a seven-minute tirade, delivered straight to camera, with the simple declaration: 'I am going to speak.' Her fierce anguish combines displays of vulnerability, anger and pleas for help, as she lambasts rapacious, mine-supporting Brazilian former president Jair Bolsonaro, before addressing the film crew: 'If you're just here to film us for money […] we don't want that.'
Everyone is implicated in her furiously abject speech, from the audience to the camera operators, whose technology has been instrumental in continuing extraction processes: possible resources are identified via aerial Geographic Information Systems (GIS), the same colour-shifting apparatus Mosse utilizes. In Broken Spectre's case, both camera and viewers eventually withdraw their gaze from the spent testifier. A QR code on the wall near the gallery exit solicits donations on behalf of the indigenous – a faint parting gesture.
Meanwhile, in 'Occidental', a coordinated gallery-based exhibition up the street at Altman Siegel, Mosse's large-scale photographs confront viewers in a more restrained manner with evidence of defunct, still-leaking oil pipelines in the Amazon. Again, colour shifts in the photographic processes yield obscured signs of devastating ecological impact viewed from above dense, expansive landscapes (Abandoned Oil Plant Infrastructure, San Jacinto, Block 192, Loreto, 2022). Other still-life images suggest intertwined and alienated relationships between people and highly domesticated and dislocated plant life. Oblique human presence bleeds through an absence of actual human figures via rich displays of flora in provincial marketplaces (Herbalist's Stall, Ver-o-Peso, Belem, Pará, 2023) and sad potted plants held captive indoors nearby hulking HVAC apparatus (Cactus, Belem, Pará, 2023). The assignment of new colour schemes via aerial-image surveillance intends to push back against typical uses of GIS but, in many ways, reiterates the distancing language of relentless industrial production. As in the spectacle of Broken Spectre, the photographs in 'Occidental' enact mixed messages, calling attention to the media of representation while impotently calling out paths to action as foregone in their occlusion.
Richard Mosse is on view at Altman Siegel and Minnesota Street Project Foundation, San Francisco, until 30 June
Main image: Richard Mosse, Studio for Igor Oliveira, artist, I, Belem, Pará, 2023, c-print, 76 × 102 cm. Courtesy: the artist and Altman Siegel, San Francisco