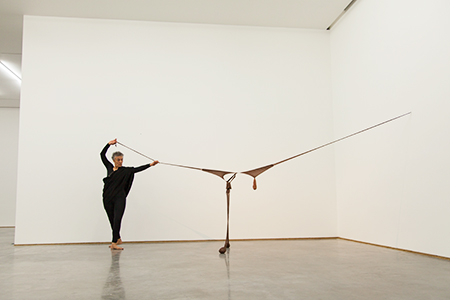 In a 2011 interview with curator Kellie Jones, Senga Nengudi described how the sand-filled, stretched and knotted nylon tights sculptures that make up her 'R.S.V.P' series (begun in 1975) came about: 'Because there was always an issue about money, my concept was I could take a whole show and put it in my purse. I could take it out […] and hang it up and there you are [...] I liked this idea that a woman's life is in her purse.'
It would have to be a purse of fantastical, Mary-Poppins-like proportions to contain the menagerie of anthropomorphic stocking-forms that spread between the walls and the floor of the North Galleries at White Cube's Bermondsey space. Born in Chicago and now based in Denver, Nengudi is perhaps best known as a member of Studio Z, a loose collective of African-American artists active in Los Angeles in the 1970s. This exhibition, her first solo presentation in the UK, brought together works from a 40-year period, focusing on the physically and symbolically pliable stocking as the talismanic material of a career that has spanned dance, performance, happenings, collaborations, installation, sculpture and video.
In The Interpretation of Dreams (1900), Sigmund Freud suggests that the purse, or handbag, is a symbol for the female genitalia: Nengudi's stocking work, with its flesh-coloured folds, perhaps knowingly flirts with such associations. But the purse could also be seen as a kind of feminized analogue of Freud's mystical writing pad – a model for the layers of the psyche – in which bodily neuroses, economic worries, sexual desires and racial complaints sediment, like the dust that gathers at the bottom of a bag, in the depths of the unconscious.
Works such as R.S.V.P Reverie 'T' (2014), with its sand-filled balloons of nylon, conjure bodily let downs (in all senses of those words) of a particularly feminine kind. The sand-stretched nylon captures the sag of the breasts or the pillowy roll of the belly, the spent elasticity of flesh that has been stretched and stuffed for childbirth. In a kind of oddly literal sense, the 'R.S.V.P' works could be mothers to Sarah Lucas's stuffed-tights 'Bunny' series (1997), made almost two decades later. Both generations of artist respond to an enduring patriarchal fantasy that the female body be both pliant and compliant, and a metonymic tendency to reduce women to what they wear ('skirts' etc.). But whereas the flaccid, splayed stockinged legs of Lucas's 'Bunnies' poke fun at the supposed sexiness of Playboy's cartoon mascot, the largely dark brown and tan palette of Nengudi's sculptures, and her own experience as an African-American artist, means that something additional is at stake. They remind me of a different set of cartoon animals: MGM's Tom and Jerry and, specifically, the black Mammy character that appeared in episodes from the 1940s and '50s, visible only as a pair of stockinged feet as she sweeps and fusses – doubly desexualized, through her motherliness and her servitude.
Elsewhere, the high, pronounced buttock forms of R.S.V.P Reverie – Stale Mate (2014) make me think of Saartjie Baartman, the so-called 'Hottentot Venus', a Khoikhoi woman from southern Africa exhibited as a freak show attraction in the early 19th century, first in Britain and then in France where, after her death and subsequent dissection, her skeleton and preserved brain and genitalia remained on view at the Musée de l'homme in Paris until 1974.
The Khoikhoi women's large buttocks and elongated labia were taken as evidence of their sexual primitivism; Baartman was an attraction meant to titillate. The tension between the sexualized forms of Nengudi's soft-heavy stocking sculptures and their evocation of the maternal body relates to the specific, historical injustices that female bodies of colour have suffered, particularly in the US, in their role as either sexually available (since she has no means of refusal) slave girl or wet nurse, who gives her own body to raise the children of others.
In spite of the heaviness of the themes and histories that Nengudi evokes, her forms are playful. In R.S.V.P Reverie 'P' (2011), a row of tights, weighted by sand in their bulbous feet, stand supported by a pole, like club-footed ballet dancers lined up at the barre, or a particularly indelicate troupe of cancan girls. Other works are defiantly hopeful: the tree-of-life-like Internal I (1972/2014), the only piece in Bermondsey's properly cubic 9×9×9 gallery, extends from a root network made of a pair of tights pulled into consecutively finer threads, nearly touching the floor, to push against the luminous, white-bathed scrim of the ceiling.
The cautious dynamism of Internal I highlighted what was, at times, missing from White Cube's elegant and serenely paced presentation. In their original iterations, the 'R.S.V.P' works were frequently the material component of performances. In a series of black and white photographs reproduced in the exhibition catalogue, the lycra-leotard-clad body of Maren Hassinger, one of Nengudi's long-time collaborators (who, like Nengudi herself, originally trained in dance alongside the visual arts) is threaded through loops of stockings that extend from the wall. Titled Performance Piece (1978), the work recalls Simone Forti's Slant Board (1961), in which the dancers move across an angled wooden panel by means of heavy knotted ropes – a similar experiment in balance and leverage, the force of muscle and the pull of gravity. Hassinger is restricted by the slender nylon threads surrounding her, but she is also cradled by them. An elasticated waistband sits on the crown of her head with the stocking-legs extending upwards from it like bizarre antennae, as though she were caught in a web of her own secretion.
At the opening of the White Cube exhibition, Hassinger – youthful-looking and wondrously supple, as if in defiance of the sagging skin-approximations around her – unfastened one end of R.S.V.P X (1978/2014) from the gallery wall and performed a slow, deliberate dance with the tense nylon, accompanied by the low thrum of scraped cello strings. Unfortunately, the performance was a one-off and I missed it but, watching it online, it feels as if a kind of ritual is being enacted – a reminder that the body has innumerable ways of understanding and making itself understood.
'R.S.V.P' extends an invitation (respond, please): a cry for interaction and a – very human – request not to be alone. The title might be an abbreviation, but Nengudi's entire oeuvre stands as a reminder that bodies can't be reduced to forms nor defined by singular characteristics. Tights can be slipped off but skins can't and bodies are inseparable from the thinking, feeling people that inhabit them.