The Shows You Need to See During Berlin Art Week
From Anne Imhof's sunset paintings to Bettina Pousttchi's site-specific photographic installations, a guide to the city's best exhibitions
Yael Bartana, 'The Graveyard'
Capitain Petzel
14 September – 9 November
The focal point of Yael Bartana's latest solo show, 'The Graveyard', is The Undertaker (2019) – a documentary film of the artist's public funeral procession performance Bury Our Weapons, Not Our Bodies! (2018). Carrying arms from differing historical contexts through the streets of Philadelphia, the assembled crowd then disposes of their weapons in a mass burial accompanied by eulogies on war and survival. A celebration of the living rather than a shrine to the dead, the work investigates the role of weapons in systemic structures of violence, repression and displacement. In addition to the film and a small series of sculptures, which depict fossilized weapons that approximate those carried in Bury Our Weapons, Bartana will give a performance based on choreographer Noa Eshkol's 'War Dances' (1987) during the exhibition opening.
Iman Issa, 'Book of Facts'
DAAD Galerie
12 September – 10 November
Spread over two-floors of DAAD Galerie, 'Book of Facts', an exhibition of works by Iman Issa, features the series 'Lexicon' (2012–19), as well as a sound installation, video works and artist's books. In 'Lexicon', Issa reinterprets historical artworks in a variety of media, alluding to – without fully disclosing – their original sources. Labouring (Study for 2012) (2012), for example, is a wall text under glass that reads, in part: 'A 1964 ink and pencil drawing on paper depicts four human figures, each engaged in some form of work.' Next to this is Issa's rendering: a sleek mahogany sculpture on a white plinth. Focusing on form and technique, enabling diverse meanings to be ascribed to the original works, the artist's revised representations examine relationships between history, language and objects.
Eli Cortiñas, 'Free Circulation = Free Copulation'
Soy Capitán
13 September – 26 October
The title of this show, 'Free Circulation = Free Copulation', is taken from the audio in Eli Cortiñas's video installation The Excitement of Ownership (2019) – which, in itself, is a title the artist used previously for a 2010 collage and exhibition at Galerie Waldburger in Brussels. The collage depicts three suited, decapitated men who stand behind and point towards a seated woman, whose head has also been removed with a triangular cut. Like much of Cortiñas's work, The Excitement of Ownership examines female representation and, more broadly, identity politics. From faces obscured by scold's bridles to lips speaking from the centre of a pink carnation, the found imagery Cortiñas appropriates is not only spliced together but reconstructed to be seen entirely anew.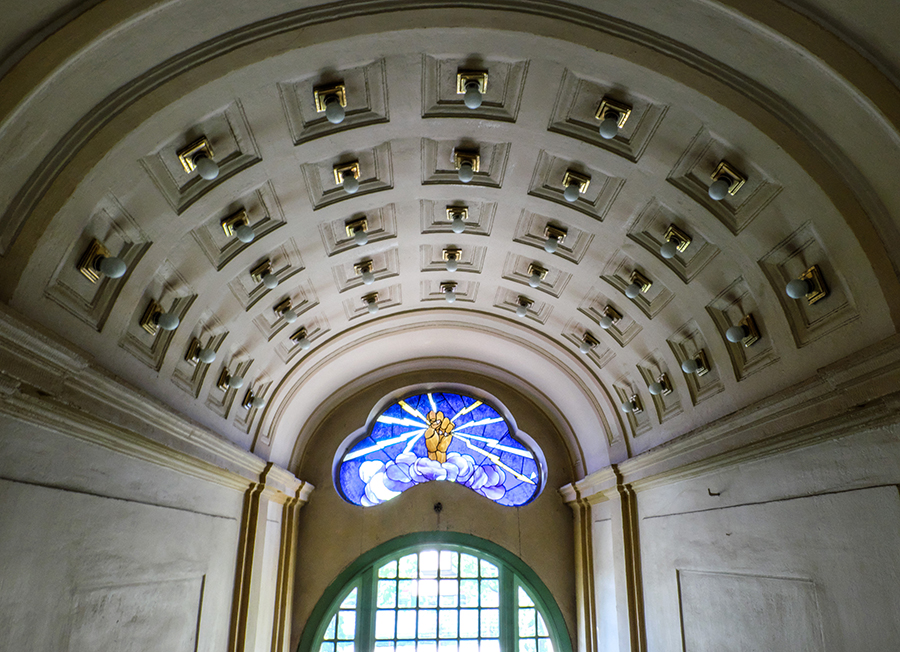 'Power Night'
E-WERK Luckenwalde
14 September – 28 March 2020
Located in the countryside south of Berlin, this contemporary art institution is set to open on 14 September with the first of its bi-annual public programmes, 'Kunststrom' – a portmanteau of the German words for 'art' and 'electricity'. The title reflects the space's creative repurposing by its owners, Performance Electrics gGmbH, who have turned the former coal plant into an art venue that will also generate and supply renewable electricity on an industrial scale. To celebrate the launch of E-WERK, there will be a one-night event programme, 'Power Night', developed in partnership with Block Universe, which will feature performances by Nina Beier, Cecilia Bengolea and Nora Turato, amongst others.
Bettina Pousttchi
Berlinische Galerie
12 September – 6 April 2020
KINDL - Centre for Contemporary Art
1 September – 10 May 2020
With this double bill of solo shows, the German-Iranian artist Bettina Pousttchi is undoubtedly in the Berlin spotlight. At KINDL, she presents Panorama (2019), her largest interior photographic installation to date, featuring eight floor-to-ceiling images made to 1:1 scale. At a height of 20 metres, these photographs conflate reality and fiction, proposing alternative windows and walls that appear to integrate seamlessly with the space's original physical attributes. At Berlinische Galerie, Pousttchi again interrogates the notion of the façade through another site-specific work, In Recent Years (2019), which will be on display at the museum's entrance, accompanied by further sets of sculptures within the galleries. Together, the two shows provide visitors with a valuable overview of Pousttchi's interdisciplinary practice, which explores our relationship to time and space. 
Ulrike Ottinger, 'Paris Calligrammes'
Haus der Kulturen der Welt
23 August – 13 October
Through this exhibition's eponymous video, Paris Caligrammes (2019), filmmaker and photographer Ulrike Ottinger charts her time in the French capital as an artist during the 1960s. Combining archival footage with her own material, she meanders poetically through the city at a time when the discrepancy between postwar utopian ideals and people's lived experiences was such that tension and unrest were fermenting. While viewers can sense the effects of World War II, the Algerian War (1954–62) and the 1968 student protests, they are also introduced to the Librairie Calligrammes – a meeting place of exiled German intellectuals – as well as the Cinémathèque française, where the artist herself fell in love with film.
Anne Imhof, 'Imagine'
Galerie Buchholz
13 September – 26 October
Ahead of presenting the final chapter of her acclaimed exhibition and performance trilogy Sex, Anne Imhof is showing two new series of paintings alongside large-scale sculptural works for her first exhibition at Galerie Buchholz's Berlin space. In the series, 'Sunsets' (2019), Imhof uses oil to render stock images of sunsets, which she then rotates 90 degrees, turning the horizons into vertical lines; in the other paintings, she continues exploring colour gradients, this time through car paint on aluminium. The sculptures include three red metal beds and viewing platforms. Derived from the colour scheme of the performers' wardrobe to the pieces used as backdrops in Sex, the works in 'Imagine' serve to concretize the ephemerality of Imhof's performance practice.
Berlin Art Week is at various locations across the city from 11 – 16 September 2019.
Main image: Bettina Pousttchi, The City, 2014, installation view, Castle Wolfsburg. Courtesy: the artist and Buchmann Galerie, Berlin; photograph: Norbert Miguletz