The Shows You Need to See in New York this July
There's impressive and unexpected art in the city, even during the summer doldrums
Julie Becker, 'I must create a Master Piece to pay the Rent'
MoMA PS1
9 June – 2 September
'I must create a Master Piece to pay the Rent', the first museum survey of Julie Becker's work (which originated at London's Institute of Contemporary Arts in 2018), hints at the artist's preoccupation with home – and the fear of losing it. The exhibition centres around an installation, Researchers, Residents, A Place to Rest (1993–96), which features dollhouse-like architectural models lit by desk lamps as well as a display of papers, photographs, videos, furniture and other ephemera about the potential 'residents' of the proposed development. Pictures of decrepit homes in Los Angeles hang alongside a projection of The Wizard of Oz (1939), accompanied by Pink Floyd's The Dark Side of the Moon (1973) and drawings with glimmering lights attached to them. Everything is slightly frayed in the corners; everything is hesitant, impermanent, rendered in Becker's witty, intimate and melancholic style.
'Closed for Installation, Fiona Connor, SculptureCenter, #4'
SculptureCenter
29 April – 29 July
A trolley leaning against a wall, a broom and dustbin in a corner, a stool in the middle of a corridor and a piece of cardboard on the ground: all made of bronze, these items are dispersed across SculptureCenter's cavernous basement space. It's as if the artist has collected detritus from previous installs at the museum and reframed it as her subject. (The show's title is, after all, 'Closed for Installation, Fiona Connor, SculptureCenter, #4'.) To see every sculpture, the exhibition insists we look with the same degree of attention – to the space, to the materiality of the pieces, to the experience of viewing – with which it was created.
Olga Balema, 'brain damage'
Bridget Donahue
25 May – 26 July
The other night, one of my friends was reminiscing about how we used to play with elastic when we were little: two girls would stretch out a circular band between their legs, while a third would use it like jump rope. In Olga Balema's latest exhibition, 'brain damage', elastic – some painted, some white – has been stretched across the floor of the gallery. The thin lines create a painterly effect against the distressed wooden floorboards, yet the works are in keeping with Balema's previous sculptural pieces, which have often referenced the body. Signs at the gallery – 'Please tread carefully', 'Fragile art!' – prompt a new consciousness of my presence in space, as I walk uncomfortably and uncertainly around the work. 'brain damage' not only evokes the game of my childhood, but speaks to the awkward awareness of having a body.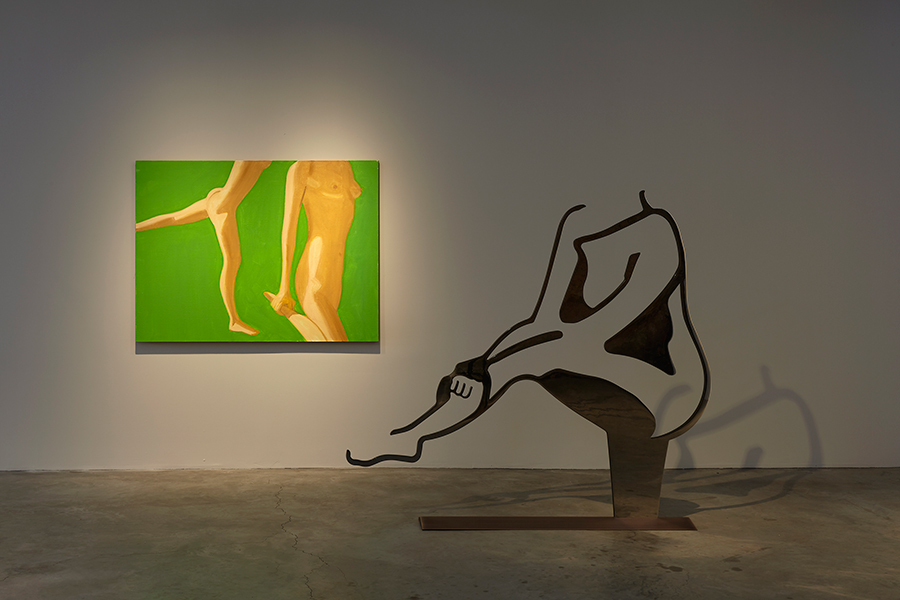 'Alex Katz'
Gavin Brown's Enterprise
27 April – 3 August
Encompassing two new bodies of work, this exhibition features a series of paintings and sculptures of dancers and another of landscapes, for which Katz has drawn on the natural environment surrounding his home in Maine. The dancer paintings – all nudes against a bright green background – are titled 'Homage to Degas' (2018) and celebrate bodies in motion, stretching, displayed. The sculptures, made of mirror-polished stainless steel, are thin and flat, capturing the dancers mid-move. With titles including Sunset (2019), Sunrise (2019) and Late Spring (2018), Katz's landscapes likewise reference art history and subjects typically explored by 19th-century painters. Yet, their sparseness, flatness and elegance are unmistakably his.
Priyanka Dasgupta and Chad Marshall, 'Pigeonhole: The Life and Work of Bobby Alam'
Knockdown Center
29 June – 18 August
A hat, a bunch of records, a performance poster, a few photographs and some fine fabrics strewn across a chair in Dasgupta and Marshall's installation provide the backdrop for a video assembled from rehearsals and performances by jazz musician Bahauddin 'Bobby' Alam. For 'Pigeonhole', the artists have gathered these artefacts not only to celebrate a story that might otherwise have not been told, but also to raise questions about contemporary American life: Alam arrived in the US in 1918 as a refugee; he assimilated by swapping out one identity (his Bengali heritage) for another (a black jazz musician playing in Harlem and New Orleans). It's a narrative that, brought into the present day, suggests another way of thinking about race and personal history, of refusing to be 'pigeonholed' in a singular identity where several may exist.
Jacky Connolly, 'Ariadne'
Downs & Ross
19 June – 2 August
At the entrance to Jacky Connolly's show, a series of Tiffany-style lamps with titles such as The Lightning Flower (all works 2019) and Our Lady of the Highways are displayed on white plinths. Their hand-painted, stained-glass designs reference the artist's new animated film, Ariadne, which was created using computer graphics from The Sims. Recognizable environments – a teenager's bedroom, a diner, a suburban home, a porch – are imbued with gothic darkness while the characters that inhabit them never converse. The convoluted narrative arc of the 50-minute video only contrives to make the atmosphere more foreboding.
'Kiki Kogelnik'
Mitchell-Innes & Nash
23 May – 29 June
This first presentation by Mitchell-Innes & Nash of Kiki Kogelnik's work at their Chelsea space includes several of the artist's colourful, large-scale paintings of women from the early 1960s and '70s – many of which also feature the circuit boards and wires of the new technology that she found so fascinating. A later sculpture, Divided Souls (c.1986), extends the paintings into real life: female silhouettes cut from vinyl dangle from clothes hangers on a metal garment rack. Evoking the flayed skins of martyred saints, like Michelangelo's depiction of St. Bartholomew in The Last Judgement (1536–41), they're a reminder that, despite its Pop sensibilities, the late Austrian painter's work was always marked by ambivalence.
Main image: Jacky Connolly, Ariadne, 2019, HD colour video still. Courtesy: the artist and Downs & Ross, New York