Featured in
Life Acts
The quasi-documentaries of Viennese filmmakers Tizza Covi and Rainer Frimmel
The quasi-documentary Der Glanz des Tages (The Shine of Day, 2012) by Vienna-based filmmakers Tizza Covi and Rainer Frimmel begins with an unexpected encounter. Austrian theatre actor Philipp Hochmair has just taken a picture of himself wearing a bald wig in a photo booth (he is suited up for the evening's dress rehearsal at the Thalia Theater) and is returning home for a brief rest. At his front door, he is accosted by an old man he has never seen before: 'Hello, I'm your uncle Walter, from Rome.' This man, Walter Saabel, is from a different world and, in a sense, also from a different time. He's from a different film, too, having already featured in Babooska (2005) and La Pivellina (The Little One, 2009), two earlier joint-productions by Covi and Frimmel. With Der Glanz des Tages, they add a number of significant new aspects to their long-term project: the quasi-documentary. Essentially, this involves rethinking film narrative: how does a story begin? What is a character? What does it take to give a fiction the necessary plausibility?
Not long after their first meeting, Hochmair sits with Saabel in a bar. Somewhat baffled by this person who doesn't fit into his world, Hochmair admits: 'I really didn't know a thing about you.' The notion of Saabel being Hochmair's uncle – erased from memory by the actor's father – is a fictional element of the film, but when Saabel the actor talks about himself, he tells his actual life story: 'I am, I was, a circus performer. Acrobat. Knife thrower. Animal tamer. Bear wrestler. Nice work, but hard.'
This work and lifestyle already featured in Babooska and La Pivellina. In Babooska, which comes closest to the conventional documentary format, Saabel is more of a minor character, sidelined by the film's focus on the young artiste after whom the film is named. In La Pivellina, specific observations from everyday life are combined with a fictitious plot: Patti, Saabel and Tairo are a troupe of circus performers, modest guardians of an old tradition. They live in containers on the outskirts of Rome, having no need for a fixed abode as they have to set off again after the winter. Occasionally, Patti, Saabel's wife, stands against a wall while knives fly past her, reprising one of the oldest acts in the trade.
As Covi and Frimmel show, these people cannot and do not wish to live entirely outside of society; they need some form of connection to the city's energy supplies; and the young Tairo needs to get some schooling. And finally, there is the fate of a little girl, Asia, who strays into the family's precarious home one day, becoming the focal point of the story. And she really is irresistible, with all that has ever mattered in acting: powers of imitation, seduction, play, communication.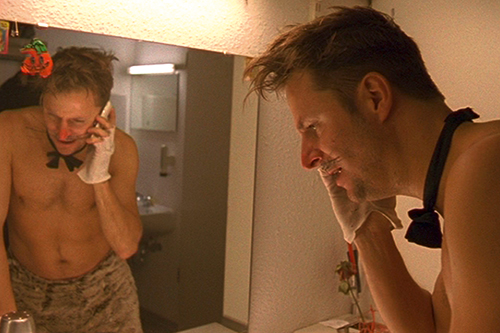 The film casually reveals the miracles of growth and wisdom, but there is another side to the story. A child cannot simply switch families just because he or she was found sitting alone on a swing one day. There are claims and counterclaims; authorities and jurisdictions, letters to be read, understood and answered. La Pivellina addresses elementary social issues, examining freedom in a world where the scope for freedom is shrinking. In Covi and Frimmel's work, everything that would have been connotated as being exotic and archaic in the classic post-war European cinema of Fellini – a world of likeably grotesque outsiders – is shown through minimal differences, but differences whose observation has far-reaching consequences for narrative filmmaking.
In Der Glanz des Tages, this becomes apparent above all when Saabel embarks on a quest relating to a prehistory that may or may not be based on his own life. Saabel in the film, in any case, hints that he had a terrible childhood, while establishing a strikingly relaxed rapport with the children that need looking after in Hochmair's Viennese existence (no trace of repetition, compulsion or the transferral of traumatic experiences to new situations).
In Covi and Frimmel's work, childishness, irrespective of age, seems to be an ideal that returns cinema to its conceptual core, namely the indistinguishability of two forms of play – that which is oblivious to the world around it, and the highly reflexive kind as seen in the world of theatre, represented here by Hochmair. He is someone who becomes totally absorbed by his roles, who has no actual life of his own, while Saabel shows him both the encumbrances and the attractions of his everyday life.
The roots of Covi and Frimmel's project are twofold: both romantic and neorealist. The film's poetic approach is already apparent in the title, which refers to minor epiphanies, the kind all the more easily captured by the camera the more effortlessly the story unfolds. If there is a model for this method, then it may be found in the early work of Werner Herzog. His film Stroszek (1977), detailing a trip across America by three Berlin personalities, anticipates much of what Covi and Frimmel have developed into a distinctive method. The neorealist aspect concerns the film's detailed observation of small and smaller still tasks and problems being resolved in the life of people who are variously marginalized or excluded from institutions. Children are a special case here, dependent as they are on responsible treatment, and this vulnerable status is frequently used by Covi and Frimmel as a test for today's individualistic society.
Within recent Austrian cinema, which has rightly drawn attention at international festivals, the work of Covi and Frimmel has a slightly different emphasis: they show a way out of the aporias into which Ulrich Seidl in particular, with his strong aestheticization of semi-documentary realities, has strayed. In Der Glanz des Tages there is almost no conspicuous framing, hardly a moment that is identifiably staged. But this doesn't mean that the film is an artless venture. On the contrary: with their openness to those unexpected qualities of everyday life whose place in film usually lies below the level of plot, Covi and Frimmel rediscover the act of storytelling.
Translated by Nicholas Grindell
Der Glanz des Tages is in German cinemas from 26 September 2013.